Toyota 8NR-FTS 1.2T Engine Specs, Problems & Reliability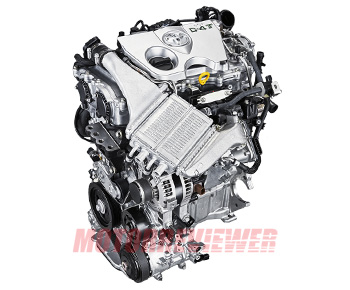 The 8NR-FTS engine is a new member of Toyota's NR family. It was introduced in 2015 and became offering first in the Toyota Auris, and later as an option for the Toyota C-HR. The 8NR-FTS is a 1.2-liter (one of the smallest in the NR-series) four-cylinder gasoline turbocharged engine equipped with direct fuel injection and it represents Toyota's next step in thermal and fuel efficiency improvement of internal combustion engines.
The launch of a new powertrain with the concept of a small displacement turbocharged engine (not for Kei cars available only in the domestic Japanese market) looks a bit late. Perhaps this is due to the desire of the Toyota to look at potential problems and successful solutions of other manufacturers such as VW (1.2 TSI and 1.4 TSI EA111) and Ford (1.0L EcoBoost).
The 8NR-FTS has a lightweight aluminum "open deck" cylinder block with thin cast iron liners fused into the block. The block has the water jacket spacer which allows more intensive coolant circulation near the top of the cylinder. The 8NR engine block also has additional horizontal reinforcement ribs on sides compare to NA engines of the NR series. Like other NR engines, the 1.2l Turbo engine has the crankshaft shifted by 8 mm relative to the cylinder axis lines. The engine got new crankshaft with 8 counterweights and T-shaped pistons with a resin coating on skirts. The engine is equipped with piston-cooling oil jets controlled by electronics.
There is an aluminum cylinder head with integrated water-cooled exhaust manifold to reduce exhaust temperature. The cylinder head has 16 valves (2 intake and 2 exhaust valves per cylinder) and double overhead camshafts driven by the timing chain. Engineers seriously worked on intake ports designed and achieved a strong tumble flow inside the cylinder which improved combustion speed. They also applied sodium-cooled valves. Valves itself are actuated via roller rocker arms equipped with hydraulic lash adjusters. The exhaust camshaft also drives a vacuum pump for the brake booster and turbocharger control. The intake camshaft drives the high-pressure fuel pump by an additional 4-lobes cam of the camshaft. The engine has Toyota's VVT-I for the exhaust valve timing and VVT-iW (continuous variable valve timing) for the intake timing. On top of the head, there a cylinder head cover made of aluminum. The high-pressure fuel pump for direct injection is also attached on top of the engine. It delivers fuel to the forged iron fuel rail under the pressure 2.4-20 MPa, and after that, directly into the cylinders by slotted nozzle injectors (several times at the cycle). The name of that Toyota's fuel injection system is D-4T.
The 8NR-FTS uses a water-cooled single-scroll turbocharger with a classic wastegate valve control. The water-cooled exhaust manifold in the head allows cooling the exhaust gases before its entering to the turbocharger what favorably affects the durability of that unit. The turbocharger has own cooling system with the independent circuit, radiator, and an electric water pump. Charged air goes through a water-air type intercooler. The coolant flow in intercooler is managed by electric pump speed and controlled by ECM.
The Variable Valve Timing-intelligent Wide (VVT-iW) allows the engine to switch between the Atkinson and Otto cycle: start in the Otto cycle; switch to the Atkinson cycle at low and mid-rev operation to reduce fuel consumption; back to the Otto cycle at high engine rpm for more power. With the last loss-reduction technologies and improvements in cooling and turbocharging, Toyota's 1.2-liter turbo engine produces maximum thermal efficiency of 36% - one of best results among mass-produced gasoline engines.
Engine Specs
Manufacturer
Toyota Motor Corporation
Production years
2015-present
Cylinder block material
Aluminum
Cylinder head material
Aluminum
Fuel system
Direct fuel injection
Bore, mm
71.5 mm (2.81 in)
Stroke, mm
74.5 mm (2.93 in)
Displacement, cc
1,197 cc (73 cu in)
Type of internal combustion engine
Four-stroke, turbocharged
Power, hp
114 hp (85 kW)/5,200
Torque, lb ft
136 lb-ft (185 Nm)/1,500-4,800
Engine oil weight
SAE 0W-20
Engine oil capacity, liter
4.0 (4.2 qt) - service fill0.3 (0.4 qt) - oil filter.
Oil change interval, mile
10,000 (15,000 km) or 12 month
Applications
Toyota Auris, Toyota C-HR, Toyota Corolla/Levin (China)
8NR-FTS Engine Problems and Reliability
The 1.2T engine doesn't have a long report history yet to highlight significant issues/problems, but it seems that Toyota did a good job at the start. The 8NR-FTS delivers a wide range of torque and enough power for a small vehicle with low fuel consumption. It also produces heat which important for cold climates (a huge problem for new Honda's 1.5T engine which led to the service campaign after 2 years of production).
The 8NR-FTS is not a quiet engine. It features different sounds, especially produced by VVT-i/W components. Some owners complain about the progressive oil consumption from the first miles. That can be explained by love to eat oil at lower engine revs like mostly all new turbocharged small engines do. The EGR valve quickly becomes dirty. The cleaning process for EGR valve may be needed already at 20,000 miles mileage.