Toyota 3S-GTE 2.0T Engine Specs, Problems & Reliability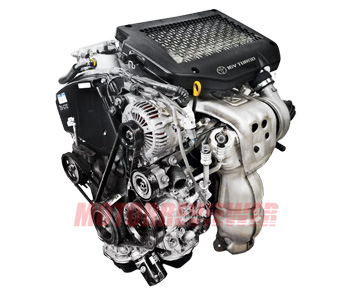 The 3S-GTE is a 2.0-liter inline-four turbocharged gasoline engine, produced by Toyota from 1986 to 2007. The engine is based on a naturally aspirated version of Toyota's 3S family - 3S-GE. This 2.0L turbo engine was offered for the Toyota Celica (ST165, ST185, ST205), MR2, and Caldina GT-T/GT-Four.
Like the 3S-GE, the turbocharged version has a cast iron cylinder block, a forged crankshaft and connecting rods, and lightweight aluminum pistons. The 3SGTE differs from 3SGE by the reduced compression ratio for the turbocharging and the addition of piston oil jets (squirters) inside the cylinder block. On top of the block, there is an aluminum cylinder head designed by Yamaha. It is a 16-valve DOHC aluminum alloy head with the pent-roof combustion chambers where spark plugs are located in the center. The engine also uses a timing belt and solid buckets in the valvetrain (valve clearance is adjusted by adding shims over/under buckets). Intake valve diameter is 33.5 mm (1.32 in) exhaust valve diameter - 29.0 mm (1.14 in).
3S-GTE Gen 1. The first generation (1986 - 1989) has Toyota CT26 turbocharger with single entry turbine housing and a single wastegate port design. It was equipped with 138 mm long connecting rods, 430 cc fuel injectors, a 55 mm (2.2 in) throttle body, Toyota's T-VIS (a variable intake manifold), and a water-to-air intercooler. Intake and exhaust valve lift are both 7.15 mm (0.281 in). With 8.5:1 compression ratio and 8-9 psi (0.55-0.62 bar) of boost, the engine produces 185-190 hp at 6,000 rpm and 184-190 lb-ft (250-258 Nm) of torque at 4,000 rpm. This generation can be found in the Celica GT-Four ST165.
3S-GTE Gen 2. The second gen 3S turbo engine was produced from 1989 to 1993. It was fitted with Toyota CT26A turbo, which has a twin entry turbine housing with dual wastegate ports. The Gen 2 engine has increased compression ratio to 8.8:1 and camshafts with following specs: 236/236 degrees duration; intake and exhaust valve lift is 8.2 mm (0.32 in). Intake air is cooled by an air-to-air intercooler (top-mounted in the Celica GT-Four ST185 and side-mounted in the MR2). The 3SGTE Gen 2 remained injectors and throttle body from Gen 1, but with new parts and the increased boost to 10-11 psi (0.69-0.76 bar), it produces 200-232 hp at 6,000 rpm and 200-224 lb-ft (271-304 Nm) of torque at 3,200 rpm.
3S-GTE Gen 3. The third-gen 3S GTE (1993 - 1999) got a lot of changes. It received a Toyota CT20b turbocharger, which has an improved turbine housing and larger compressor wheel comparing to CT26A turbo. The intake system was equipped with a water-to-air top-mounted intercooler and the 4-runner intake manifold without T-VIS. There are new camshafts (duration - 240/236 degrees, valve lift 8.7/8.2 mm), 540 cc injectors, and 60 mm (2.4 in) throttle body. The max boost pressure also was increased to 13 psi (0.90 bar). The engine output is 245-255 hp at 6,000 rpm and 224 lb-ft (304 Nm) of torque at 4,000 rpm. Gen 3 engines were installed in the Celica GT-Four ST205 and MR2.
3S-GTE Gen 4. The fourth generation was produced from 1999 to 2007. This engine was used in the Toyota Caldina GT-T (ST215) and GT-Four (ST216). The 3S-GTE Gen 4 got a CT15B turbocharger, which made as one piece with a cylinder head exhaust manifold. The max boost kept the same. Charged air goes through an air-to-air intercooler. The engine got new cams (duration - 248/246 degrees, valve lift - 8.75/8.2 mm) and electronically controlled ignition system with the coil-on-plug feature. The compression ratio is 9:1. In this configuration, 3S-GTE produces 260 hp at 6,200 rpm and 239 lb-ft (324 Nm) at 4,400 rpm.
In 2002, the engine was modified again. This version was installed under the hood of the Toyota GT-Four (ST216) only and has minor differences compared to the previous configuration, touching the fuel system, ignition, and some components arrangement. The 2002+ 3S-GTE engines have 8.4 mm (0.33 in) intake valves. The final engine output has not changed.
Engine Specs
Manufacturer
Kamigo Plant, Japan
Production years
1986-2007
Cylinder block material
Cast iron
Cylinder head material
Aluminum
Fuel system
Multi-point fuel injection
Stroke, mm
86 mm (3.39 in)
Displacement, cc
1,998 cc (122 cu in)
Type of internal combustion engine
Four-stroke, turbocharged
Compression Ratio
8.5:1 - Gen 1;
8.8:1 - Gen 2;
8.5:1- Gen 3;
9.0:1 - Gen 4
Power, hp
185-260 hp (136-191 kW)/6,000-6,200
Torque, lb ft
184-239 lb-ft (250-324 Nm)/3,200-4,400
Engine oil weight
SAE 5W-30
Engine oil capacity, liter
3.9 l (4.1 qt) - Gen 1;
4.2 l (4.4 qt) - Gen 2;
4.5 l (4.75 qt) - Gen 3/4
Oil change interval, mile
6,000 (10,000 km)/6 months
Applications
Toyota Celica, Toyota MR2, Toyota Caldina
3S-GTE Engine Problems and Reliability
When Toyota built the 3S-GTE, it was an extremely reliable engine. But now, most have 20+ years of unknown maintenance and inappropriate mods. Hard enough to find a good stock 3S turbo engine with low mileage and it is the main problem of this engine. But if you got one, your engine will last as long as you keep it maintain following the maintenance schedule. Like all turbocharged engines, the 3S GTE likes a more frequently changed, good engine oil. Stock 3S-GTE engine life is about 180,000 miles (300,000 km).
Read also about some common engine problems for the NA 3S-GE engine.