Toyota 3RZ-FE 2.7L Engine Specs, Problems & Reliability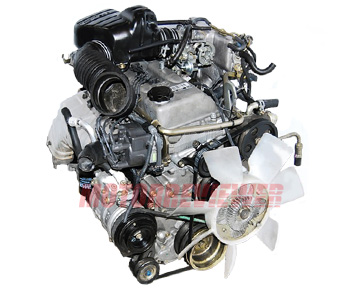 The 3RZ-FE is a 2.7-liter inline four-cylinder gasoline engine produced by Toyota from 1994 to 2004. It was a replacement for the well-known 22R-E and used mostly in commercial trucks and four-wheel drive vehicles such as Toyota Tacoma, T100, Land Cruiser Prado, 4Runner. After 10 years in production, the engine gave way to a new 2.7L engine - 2TR-FE.
The 3RZ engine has a deep-skirt cast iron cylinder block. Bore and stroke sizes are both 95.0 mm (square engine). The engine uses a forged crankshaft - fully balanced, with eight counterweights and a torsional damper pulley. Connecting rods are shot-peened and forged from carbon steel. The 3RZ also got aluminum pistons with resin-coated skirts. Inside the cylinder block, there are oil jets installed to spray oil on the bottom of the pistons for additional cooling. Engine crankcase is equipped with two gear-driven balance shafts.
On top of the engine block, there is an aluminum cylinder head with two overhead camshafts (DOHC layout). It has four valves per cylinder - two intake and two exhaust valves with 19 degrees included valve angle between them. The intake valve diameter is 37.5 mm; the exhaust valve diameter is 30.5 mm. There are no hydraulic lifters/buckets. Valve adjustment is provided by a shim over bucket arrangement (preferably every 25-30k miles). The 3RZ FE engine has a timing chain, which drives the intake camshaft only. The intake camshaft rotates the exhaust camshaft by a scissors gear. Camshaft specifications: intake duration - 230 degrees; exhaust duration - 224 degrees. The engine has a hydraulic timing chain tensioner and oil jet to lubricate the chain.
The intake manifold is made from aluminum alloy. It has by two intake runners for each cylinder, specially designed to increase torque. The engine got an electronically controlled, multiport fuel injection system and Toyota's Electronic Spark Advance (ESA) ignition which was able to determine ignition timing by the ECM based on inputs from sensors. The early engines had a simple distributor and one ignition coil instead of a coil pack.
Engine Specs
Manufacturer
Kamigo Plant, Japan
Production years
1994-2004
Cylinder block material
Cast iron
Cylinder head material
Aluminum
Fuel system
Multi-point fuel injection
Bore, mm
95.0 mm (3.74 in)
Stroke, mm
95.0 mm (3.74 in)
Displacement, cc
2,693 cc (164.3 cu in)
Type of internal combustion engine
Four-stroke, naturally aspirated
Power, hp
150 hp (112 kW)/4,800
Torque, lb ft
177 lb-ft (240 Nm)/4,000
Engine weight
381 lbs (173 kg)
Engine oil weight
SAE 5W-30
Engine oil capacity, liter
5.4 l (5.7 qt)
0.7 l (0.74 qt) - oil filter
Oil change interval, mile
6,000 (10,000 km)/6 months
Applications
Toyota Tacoma, Toyota 4Runner, Toyota T100, Toyota Granvia, Toyota Hilux, Toyota HiAce, Toyota HiAce Regius, Toyota Land Cruiser Prado, Toyota Touring Hiace
3RZ Engine Problems and Reliability
The 3RZ-FE is considered one of the most reliable engines produced by Toyota. The engine is equipped with a minimum of electronics, strong and reliable parts made from traditional materials such as cast iron, steel, and aluminum. Timing chain lifespan is close to 150,000 miles, but it would be useful to check the condition of the chain at 100-120k mileage to avoid unnecessary problems in the future. Also, do not underestimate the valve adjustment, otherwise it may affect the operation of the engine.
The main disadvantage of this engine is its quite low power and high fuel consumption. With proper maintenance, the average engine life of the 3RZ-FE engine is more than 250,000 miles (400,000 km).