Toyota 3S-GE 2.0L Engine Specs, Problems & Reliability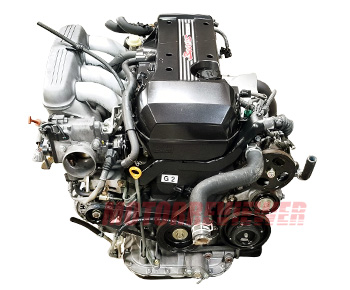 Toyota's 3S-GE engine is a 2.0-liter inline-four cylinder, naturally aspirated gasoline engine, produced from 1984 to 2005. It is a high-performance NA version out of the 3S engine series, jointly developed with Yamaha's engineers. This engine was used mostly in Toyota's sporty models such as the Toyota Celica, MR2, Camry/Vista Twin Cam 2000, and Caldina Active Sports GT. The 3S-GE also laid in the basis of the turbocharged version - 3S-GTE.
The 3S-GE engine has five different generations. But all of them use a cast iron cylinder block and aluminum cylinder head. The engine block is equipped with a forged crankshaft, balanced by eight weights, and lightweight aluminum pistons. The aluminum head has a cross-flow design - the intake and exhaust ports are directed in opposite sides. There are four valves per cylinder (16 valves total), no hydraulic lifters, and two belt-driven overhead camshafts. The spark plug is located in the center of the combustion chamber.
3S-GE Gen 1. The first generation was produced from 1984 to 1989. It features a 9.2:1 compression ratio and T-VIS (a variable intake system designed by Toyota). The intake valve diameter is 33.5 mm (1.32 in); the exhaust valve diameter is 29.0 mm (1.14 in). The angle between valves is 25 degree. In North America, this version was available only for the Celica GT-S (ST162) and produced 135 hp. On the Japanese market, the engine had another ECU settings and no EGR. JDM version riches 160 hp at 6,400 rpm and 137 lb-ft (186 Nm) of torque. This engine was offered for the Camry V10/V20 Twin Cam 2000, Corona T150.
3S-GE Gen 2. The second generation (1989-1993) has raised compression ratio up to 10.0:1. It remains the same cylinder head layout, valve angle, and intake/exhaust valve diameters. Camshafts specifications: duration 244 degrees for both intake and exhaust; intake/exhaust valve lift is 8.5 mm. Toyota replaced the T-VIS system by the more efficient ACIS (Acoustic Control Induction System). Gen 2 engines produce 156 hp at 6,600 rpm, and 137 lb-ft (186 Nm) of torque at 4,800 rpm.
3S-GE Gen 3. The third-gen 3S-GE was introduced in 1993. It had a 10.3:1 compression ratio and new cams. Actually, there were two different sets of camshafts for automatic and manual transmission applications. Engines, which go with automatic transmission, had the following camshaft specs: duration 240/240 degree, valve lift 8.7/8.2 mm. For manual gearbox applications, they were equipped with camshafts with 254/240 degree duration and 9.8/8.2 mm valve lift. The engine output is 180 hp at 7,000 rpm for the Japan market and 170 hp at 7,000 rpm for others due to more stringent emission requirements. The max torque is 140 lb-ft (191 Nm).
3S-GE Gen 4. The fourth generation, produced from 1997 to 1998, includes two versions known as 'Red Top BEAMS' and 'Grey Top BEAMS' 3S-GE engines. The 3S-GE Red Top was equipped with a new cylinder head with Toyota's variable valve timing technology - VVT-i. The redesigned aluminum head has a reduced to 22.5-degree valve angle. The intake valve diameter is 34.5 mm (1.36 in); the exhaust valve diameter is 29.5 mm (1.16 in). Engineers installed new camshafts as well (248/248 degree duration; valve lift is 8.56/8.31 mm). The compression ratio is 11.1:1. The 3S-GE Red Top delivers 200 hp at 7,000 rpm and 155 lb-ft (210 Nm) of torque at 6,000 rpm. For cars with an automatic gearbox, the power was reduced to 190 hp.
The 3S-GE Grey Top has a black valve cover and it remains all internal components of the Red Top version. The main differences between the Red Top and Grey Top are the exhaust and the ECU.
3S-GE Gen 5. The final version of the 3S-GE was released in 1998. The fifth generation, also known as Black Top 3S-GE, got an electronic throttle body and variable intake and exhaust valve timing - Dual VVT-i. The Black Top engine also came in two different spec levels dependent on which transmission it was coupled to. Version for an automatic transmission is similar to the 3S-GE Gen 4 but with Dual VVT-i. This engine made 200 hp at 7,000 rpm and 160 lb-ft (216 Nm) at 4,800 rpm.
The MT version has different camshafts with a more aggressive cam profile, titanium valves, 33mm buckets, and 11.5:1 compression ratio. It also has larger intake valves - diameter is 35 mm (1.38 in). It produced 210 hp at 7,600 rpm and 160 lb-ft (216 Nm) at 6,400 rpm.
Engine Specs
Manufacturer
Kamigo Plant, Japan;
Toyota Motor Manufacturing Kentucky, the USA
Production years
1984-2005
Cylinder block material
Cast iron
Cylinder head material
Aluminum
Fuel system
Multi-point fuel injection
Stroke, mm
86 mm (3.39 in)
Displacement, cc
1,998 cc (122 cu in)
Type of internal combustion engine
Four-stroke, naturally aspirated
Compression Ratio
9.2:1 - Gen 1;
10.0:1 - Gen 2;
10.3:1- Gen 3;
11.1:1 - Gen 4/5 AT;
11.5:1 - Gen 5 MT
Power, hp
140-210 hp (103-155 kW)/6,200-7,600
Torque, lb ft
137-160 lb-ft (186-216 Nm)/4,800-6,400
Engine weight
315 lbs (143 kg) - Gen 1
Engine oil weight
SAE 5W-30
Engine oil capacity, liter
3.9 l (4.1 qt) - 2 Gen;
4.5 l (4.75 qt) - Gen 3 and4;
5.1 l (5.4 qt) - Gen 5
Oil change interval, mile
6,000 (10,000 km)/12 months
Applications
Toyota Celica, Toyota MR2, Toyota Caldina, Toyota RAV4, Toyota Altezza, Toyota Camry/Vista, Toyota Corona
3S-GE Engine Problems and Reliability
The 3S-GE engine is a good example of the famous Toyota's reliability. It has simple a durable cast iron cylinder block and straight forward design for the Gen 1, 2, and 3. Most problems are related to VVT-i and Dual VVT-i system failures founded on the last two generations. Another typical situation for the 3S-GE engine is exhaust gas recirculation valve failure. Common symptoms of this are rough idle, power drop, etc. The EGR valve problem happens due to the aging process. Over time, the valve clogs and needs cleaning.
But the most important, it is hard to find a 3S-GE engine in good condition in our days. Existing ones have noticeable wear. And relatively fresh engines of the last generation were available in Japan only. It is also worth noting that in most cases this engine was offered in sporty vehicles and was used appropriately (slam acceleration, high revs operation). All this is not good for longevity.