Toyota 2NZ-FE 1.3L Engine Specs, Problems & Reliability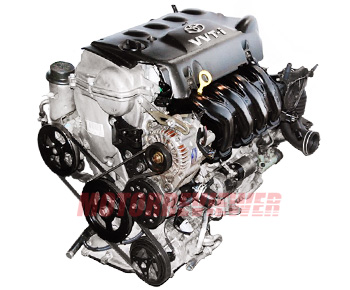 The 2NZ-FE is a 1.3-liter inline four-cylinder gasoline engine, the smallest version in the Toyota's NZ family. This engine is used for subcompact cars sold by Toyota since 1999 (Toyota Yaris/Echo, Toyota Porte, and etc.). The 2NZ is closely related to the 1.5-liter version - 1NZ-FE. In 2000, the 2NZ-FE won the International Engine of the Year award in the 1.0-liter to 1.4-liter category.
Like the 1NZ, the 1.3L engine has an open-deck type aluminum cylinder block with spiny type, thin cast-iron liners. Reduction in displacement was achieved by installing a new forged steel crankshaft with 73.5 mm (2.89 in) stroke. In order to keep the compression ratio on the same level, 1NZ engine block is lower than 2NZ block. In the rest, the bottom sides of the 1NZ-FE and 2NZ-FE are almost identical. There are a 12 mm crankshaft offset, forged steel connecting rods, and low-friction pistons (LFA). On top of the engine block, there is an aluminum 16-valve cylinder head with double overhead, chain-driven camshafts. The intake camshaft is equipped with variable valve timing (VVT-i). The valve diameter for intake valves is 30.5 mm, for exhaust - 25.5 mm. The valve stem diameter for both intake and exhaust valves is 5.0 mm. the engine uses a sequential fuel injection with 12-hole injectors. The Toyota's DIS (distributorless Direct Ignition System) has a modern coil-on-plug design and uses long-reach iridium-tipped spark plugs. The intake manifold is made of composite material for lightness, and the exhaust is stainless steel. Detailed information about these components you can find on the 1NZ page.
In 2003, the 2NZ-FE was upgraded to meet European STEP IV emissions regulations. The revised version has new-shaped pistons, new exhaust manifold, an additional three-way catalytic converter, and a 32-bit engine control unit (ECU). Also, the engine received hydraulic lifters and an electronic throttle ETCS-i.
Engine Specs
Manufacturer
Kamigo Plant in Toyota, Aichi, Japan
Indus Motor Company in Karachi, Pakistan
Production years
1999-present
Cylinder block material
Aluminum
Cylinder head material
Aluminum
Fuel system
Sequential fuel injection
Bore, mm
75.0 mm (2.95 in)
Stroke, mm
73.5 mm (2.89 in)
Displacement, cc
1,299 cc (79 cu in)
Type of internal combustion engine
Four-stroke, naturally aspirated
Power, hp
84 hp (63 kW)/6,000
Torque, lb ft
89 lb-ft (121 Nm)/4,400
Engine weight
204 lbs (92.5 kg)
Engine oil weight
SAE 5W-30
Engine oil capacity, liter
3.7 (3.9 qt) - service fill0.2 (0.21 qt) - oil filter.
Oil change interval, mile
9,000 (15,000 km) / 12 months
Applications
Toyota Yaris/Echo/Vitz, Toyota Vios/Belta, Toyota Platz, Toyota Porte, Toyota Corolla, Toyota bB, Toyota Ist, Toyota WiLL Vi, Toyota WiLL VC
The 2NZ-FE Engine Problems and Reliability
Since the 1NZ and 2NZ engines are almost the same, their problems are similar as well. Common problems include oil leaks, high oil consumption after 150,000 km, an unreliable timing chain, unstable idling, and others. More information on these issues can be found in the 1NZ-FE problems.
The 1NZ engine lacks power and especially torque. If you can still move around on a subcompact hatchback equipped with 1.3l 1NZ engine, then there is absolutely no dynamics at all on a small sedan like the Toyota Corolla. The 2NZ-FE engine life rarely exceeds 125,000 miles (200,000 km).