Toyota 3ZR-FE/FAE 2.0L Engine Specs, Problems & Reliability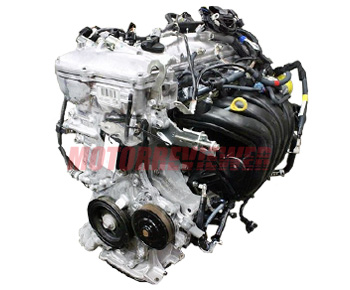 In 2007, Toyota introduced a 2.0-liter four-cylinder gasoline engine, which came out of the ZR series. The 3ZR version became successor for the 1AZ engines. The 3ZR-FE engine is used mostly in front-wheel drive vehicles such as Toyota Corolla, Avensis, and 2WD RAV4. The 3ZR-FAE is offered as a power unit for both FWD and AWD/4WD models (Toyota C-HR or RAV4).
Like the 1.8L 2ZR-FE engine, the 2.0-liter version has a die-cast aluminum cylinder block with spiny-type cast iron liners. The distance between its cylinder bores is only 7 mm. So, the engine block is very light and compact. Enlarged displacement was achieved by installing a new crankshaft with increased stroke by 9.3 mm. Also, the crankshaft is placed inside with 8 mm offset to the intake side of the bore centers. The cylinder bore size was unchanged. The engine got steel connecting rods and aluminum pistons with full floating-type piston pins, resin-coated piston skirts, and low tension piston rings. The 3ZR engine block is equipped with piston oil jets as well.
The 3ZR engine has an aluminum 16-valve cylinder head with chain-driven dual overhead camshafts. Valvetrain consists of two intake valves and two exhaust valves per each cylinder, hydraulic lash adjusters, and low-friction roller rocker arms. The engine uses a roller chain with an 8 mm pitch. The 3ZR-FE engine has a dual VVT-i (Variable Valve Timing - intelligent). The 3ZR-FAE engine has a dual VVT-I and Valvematic variable lift system for the intake valves. The Valvematic system offers continuous adjustment to intake valve lift and timing.
3ZR-FE/FAE engines have a sequential fuel injection system with 12-hole injectors and the latest Toyota's ignition system DIS with Electronic Spark Advance (ESA). Each cylinder was equipped with thin-electrode type iridium-tipped spark plug and individual ignition coil. The intake manifold made from plastic for weight reduction. It is fitted with a linkless-type throttle body and Toyota's Electronic Throttle Control System - intelligent (ETCS-i). Two three-way catalytic converters are integrated into a stainless steel exhaust manifold.
Engine Specs
Manufacturer
Toyota Motor Manufacturing West Virginia;
Shimoyama Plant
Production years
2007-present
Cylinder block material
Aluminum
Cylinder head material
Aluminum
Fuel system
Sequential fuel injection
Bore, mm
80.5 mm (3.17 in)
Stroke, mm
97.6 mm (3.84 in)
Displacement, cc
1,987 cc (121.3 cu in)
Type of internal combustion engine
Four-stroke, naturally aspirated
Power, hp
142-158 hp (104-116 kW)/5,600-6,200
Torque, lb ft
143-150 lb-ft (194-205 Nm)/3,900-4,400
Engine weight
255 lbs (116 kg)
Engine oil weight
SAE 5W-20
Engine oil capacity, liter
4.2 l (4.4 qt)
Oil change interval, mile
9,000 (15,000 km) / 12 months
Applications
Toyota RAV4, Toyota Corolla, Toyota C-HR, Toyota Avensis, Toyota Voxy, Toyota Noah, Toyota Corolla Altis, Toyota Corolla XEi, Toyota Allion, Toyota Premio, Toyota Wish, Toyota Harrier
3ZR-FE/FAE Engine Problems and Reliability
The ZR engine family brought together the most advanced technologies for the naturally aspirated engines that Toyota developed. All this affected negatively on reliability. The engine has a lot of small problems that spoil the overall impression of it.
Most often, owners report high oil consumption. Progressive oil consumption is typical for engines of the first years of production. Oil leaks are not rare, usually from an oil filter or from under the timing chain cover. Also, the water pump has short longevity (40,000 miles). Before its death, the pump usually starts to leak or produce noise. On the whole, the engine is noisy. Increased noise can be associated with the timing chain or chain tensioner. The timing chain becomes stretched out after a 100,000 miles mileage.
The intake manifold quickly covers with dirt, which leads to floating rpm. If you bought a car with high mileage, it is meaningful to clean inside the intake manifold and throttle body (valve). Despite its undoubted contribution to fuel economy and efficiency, Toyota's Valvematic system in 3ZR-FAE engines is another troublemaker. Any problem with it leads to a complete replacement of a pretty expensive Valvematic unit.
These problems are typical for the 2ZR as well. The average engine life for 3ZR-FE/FAE is about 150,000 miles (250,000 km).
Modifications
3ZR-FE - 143 hp (104 kW) at 5,600 rpm, 143 lb-ft (194 Nm) at 3,900 rpm. It is a basic version with dual VVT-i.
3ZR-FAE - 158 hp (116 kW) at 6,200 rpm, 144 lb-ft (195 Nm) at 4,400 rpm. This engine has dual VVT-i and Valvematic system.
3ZR-FBE - a flex fuel version of the 3ZR-FE. It produces 142/153 hp (104/113 kW) on gasoline/ethanol.