Toyota M20A-FKS 2.0L Engine Specs, Problems & Reliability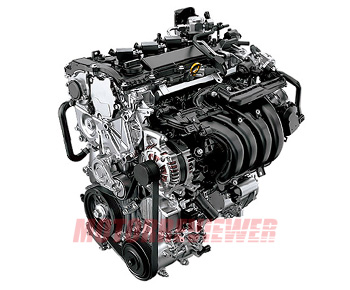 The engine code M20A-FKS belongs to a 2.0-liter inline 4-cylinder gasoline engine with combined port and direct injection. Toyota firstly introduced this new 2.0L (the smallest power unit in the Dynamic Force engine family) in 2018, two years after A25A-FKS release. The new engine is presented as an alternative to the 1.8-liter 2ZR-FAE and 2.0-liter 3ZR-FAE engine, used in the Toyota Corolla, Auris, Rav4 and etc.
The M20A-FKS engine has the same design as a 2.5-liter version - A25A-FKS. The engine block is aluminum, open-deck type with sleeves cast directly in the cylinder block. Comparing to the A25A, the M20A has a smaller bore size by 7 mm and reduced stroke from 103.4 mm to 97.6 mm. The 2.0L version also got new tumble-maintaining shaped lightweight pistons with improved piston skirt surface enhancing oil retention, and three oil jets for each piston providing additional lubrication and cooling. Connecting rods are made of high strength steel.
The M20A has an aluminum cylinder head with four valves per cylinder and double overhead chain-driven camshafts. Intake side has laser-clad intake valve seats; the exhaust valve seats are pressed. The timing chain is a light-weight, single-row roller chain with a small pitch of 8 mm. Intake and exhaust camshafts are placed in a separate casing mounted on top of the cylinder head. Camshafts have the concave profile increasing valve lift amount. The engine is equipped with hydraulic tappets as well. The engine also features the newest Toyota's Dual VVT-i, with VVT-iE (Variable Valve Timing-intelligence by Electric motor) on the intake side and simple VVT-i (with a conventional hydraulic actuator which uses an oil pressure to control variable timing) on the exhaust.
The M20A-FKS is equipped with Toyota's D-4S fuel-injection system. It uses a combination of high-pressure direct-injection and low-pressure port fuel injection. The high-pressure six-hole fuel nozzles installed inside cylinder head injects fuel directly inside the combustion chamber of each cylinder. The port injection uses ten-hole low-pressure nozzles. The ECU decides which method of injection is preferable and optimal based on driving conditions, loads, and rpm to optimize combustion. The intake system includes Toyotas ETCS-i (electronic throttle control) and simple plastic intake manifold without any geometry change devices. Ignition is the latest DIS-4 with individual ignition coil for each cylinder. Instead of Denso FC16HR-Q8 in 2.5L version, this engine has FC20HR-Q8 spark plugs. To compliant with Euro 6d, the engine was equipped with a particulate filter (GPF) similar to DPF for diesel engines.
If you want to find detailed information about all major components and systems, read our full review on the A25A-FKS engine.
Engine Specs
Manufacturer
Toyota Motor Corporation
Production years
2018-present
Cylinder block material
Aluminum
Cylinder head material
Aluminum
Fuel system
Direct injection + port injection
Bore, mm
80.5 mm (3.15 in)
Stroke, mm
97.6 mm (3.84 in)
Displacement, cc
1,987 cc (121.3 cu in)
Type of internal combustion engine
Four-stroke, naturally aspirated
Compression Ratio
13.0:1 - M20A-FKS;14.0:1 - M20A-FXS
Power, hp
171-175 hp (127-130 kW)/ 6,600
Torque, lb ft
150-153 lb-ft (203-208 Nm)/4,300-4,400
Engine oil weight
SAE 0W-16, API SN/RC
Engine oil capacity, liter
4.6 (4.8 qt) - with oil filter;0.3 (0.4 qt) - oil filter capacity
Oil change interval, mile
10,000 (15,000 km) / 12 months
Applications
Toyota Corolla/Corolla Hatchback, Toyota Rav4, Toyota Auris, Lexus UX 250h
M20A-FKS Engine Problems and Reliability
There is still not enough data available about the reliability of the M20A-FKS due to a short production and sales history. But surely, without new technologies, it is impossible to achieve high fuel efficiency and high levels of emission standards. In this case, the M20A-FKS engine has more complex electronically controlled systems and expensive parts compare to previous engine families.
Also, it should be noted, that the cylinder block design, and even cylinder head with laser-clad valve seats, make it impossible to rebuild or repair this engine with a reasonable budget - (this engine is kinda a one-off).
Modifications
The M20A-FXS engine. This version is offered for hybrid vehicles, such as the Lexus UX 250h. The M20A-FXS features increased compression ratio of 14.0:1 and Miller cycle mode. It produces 145 hp of power at 6,000 rpm and 133 lb-ft (180 Nm) of torque at 4,400 rpm.