Toyota 2ZR-FE/FAE/FXE 1.8L Engine Specs, Problems & Reliability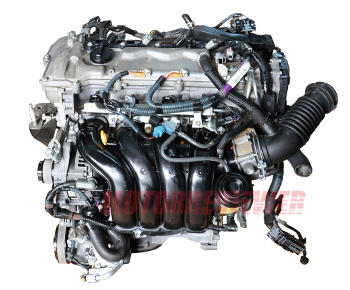 The 2ZR-FE engine took a middle place in the power range of the ZR family, between the 1ZR and 3ZR engines. This 1.8-liter four-cylinder gasoline engine was introduced in 2007 and rapidly became an alternative for the 1ZZ-FE power unit. Toyota produces some different variants of the 2ZR depending on vehicle models (for example, regular Toyota Corolla or hybrid Toyota Prius) and markets (Europe, Japan, North America and etc.).
The base 2ZR-FE has an aluminum cylinder block with spiny-type cast iron liners, steel connecting rods and lightweight pistons with resin-coated skirts. Pistons are cooled by engine oil sprayed on the bottom of pistons by oil jets mounted inside the engine block. An aluminum 16-valve cylinder head is mounted on top of the block with a triple-layer metal type cylinder head gasket in-between. The engine is equipped with a timing chain and two overhead camshafts. Valves are actuated by roller rocker arms. The valvetrain includes hydraulic lash adjusters for a constant zero valve clearance. Intake valve diameter is 31.9 mm; exhaust valve diameter is 27.4 mm. The 2ZR engine has variable intake and exhaust timing - Dual VVT-I system. Camshaft specifications (intake/exhaust): duration is 246/234 degrees; valve lift is 9.9/9.7 mm.
The engine got a plastic intake manifold, electronically controlled throttle body, and Toyota's ETCS-I (Electronic Throttle Control System - intelligent). The 2ZR-FE engine has a sequential fuel injection system, which equipped with 12-hole injectors. Also, this engine received a modern electronic ignition (DIS) with coil-on-plugs. Spark plugs are iridium-tipped thin-electrode type. The exhaust manifold is made from stainless steel.
The 2ZR-FAE version (2009 - present) replaced the 1ZZ-FED entirely and also the base 2ZR-FE engine in some vehicles. The 2zr-fae features the Valvematic system and increased compression ratio. The Valvematic system constantly adjusts an intake valve lift and improves fuel efficiency. With Dual VVT-I and Valvamatic system, this 2ZR version consumes 5-10% less fuel than the 2ZR-FE and produce slightly more power.
The 2ZR-FXE (2010 - present) is another modification of the 2ZR-FE engine, used mostly in Toyota's hybrid models such as Toyota Prius, C-HR hybrid, Lexus CT200h. This engine features Atkinson cycle operation, VVT-i for the intake camshaft only, 13.0:1 compression ratio, and cooled exhaust gas recirculation (EGR) system. The 2ZR-FXE replaced the 1.5-liter 1NZ-FXE engine, previously used in the Toyota XW30 Prius.
Engine Specs
Manufacturer
Toyota Motor Manufacturing West Virginia;
Shimoyama Plant
Production years
2007-present
Cylinder block material
Aluminum
Cylinder head material
Aluminum
Fuel system
Sequential fuel injection
Bore, mm
80.5 mm (3.17 in)
Stroke, mm
88.3 mm (3.48 in)
Displacement, cc
1,798 cc (110 cu in)
Type of internal combustion engine
Four-stroke, naturally aspirated
Compression Ratio
10.0:1 - 2ZR-FE;
10.5:1 - 2ZR-FAE;
13.0:1 - 2ZR-FXE
Power, hp
95-148 hp (71-110 kW)/5,200-6,600
Torque, lb ft
105-129 lb-ft (142-175 Nm)/3,600-4,400
Engine weight
214 lbs (97 kg)
Engine oil weight
SAE 5W-20
Engine oil capacity, liter
4.2 l (4.4 qt)
Oil change interval, mile
9,000 (15,000 km) / 12 months
Applications
Toyota Avensis, Toyota Corolla, Toyota Matrix, Toyota Allion, Toyota Premio, Toyota Yaris/Vitz, Scion xD, Toyota Corolla Rumion, Toyota iSt, Toyota Wish, Toyota Prius, Toyota C-HR hybrid, Toyota Voxy Hybrid, Toyota Auris, Toyota Verso, Lexus CT200h, Pontiac Vibe, Lotus Elise, Junpai D60
2ZR-FE/FAE/FXE Engine Problems and Reliability
2ZR engine problems are the same as for the 3ZR engine series. Among them are progressive oil consumption, unreliable cooling pump, Valvematic issues, and noisy operation. You can read about these and other problems here in the 3ZR engine review.
Modifications
2ZR-FE - 132-138 hp (98-103 kW) at 6,000 rpm, 128 lb-ft (173 Nm) at 4,400 rpm. This engine has dual VVT-I and 10.0:1 compression ratio.
2ZR-FAE - 139-148 hp (104-110 kW) at 6,600 rpm, 126-129 lb-ft (171-175 Nm) at 4,000 rpm. This engine has dual VVT-I, Valvematic system, and 10.5:1 of compression ratio.
2ZR-FXE - 95 hp (71 kW) at 5,200 rpm, 105 lb-ft (142 Nm) at 3,600 rpm. This is an Atkinson cycle variant of the 2ZR-FE.
2ZR-FBE - this is a flex fuel version. It produces 141 hp (105 kW) at 6,000 rpm and 131 lb-ft (178 Nm) of torque at 4,000 rpm.