Toyota 2AZ-FE 2.4L Engine Specs, Problems & Reliability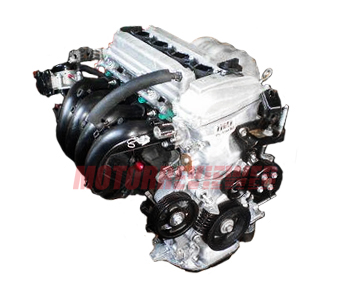 The 2.4-liter inline-four 2AZ-FE engine belongs to the AZ-series and is produced from 2000. The 2AZ engine is bigger displacement version of the 1AZ engine from the same engine family. The main idea of the 2AZ was replacing the old 5s engine.
Like 1AZ-FE, the 2AZ engine had an aluminum cylinder block with sleeves. The cylinder bore was increased to 88.5 mm, which required using bigger pistons compare to 1AZ pistons. For vibration reduction, there are two balancer shafts inside the crankcase. The engine has aluminum DOHC 16-valve cylinder head with variable valve timing system VVTi on the intake camshaft only. The 2AZ uses a timing chain to rotate camshafts. There are no hydraulic lifters. The adjustment of valve clearance is required every 60,000 miles (100,000 km). These two engines are almost identical expect the displacement.
In 2008 the engine was redesigned. 2008+ engine produces more power and torque. The compression ratio rose up from 9.6:1 to 9.8:1. The engine got new camshafts rising red line to 6,500 rpm. There are oil squirters for cooling pistons spraying oil on the bottom side of pistons. Engine output depends on the application: 161 hp (120 kW) for the Scion tC; 177 hp (132 kW) for the Rav4; 158 hp (118 kW) for the Camry, Corolla XRS, and Scion xB. In the same year, Toyota also released the 2AR which supposed to replace the 2AZ-FE from the production (but it is still available in some countries in our days).
Engine Specs
Manufacturer
Toyota Motor Manufacturing Kentucky, Inc.
Kamigo Plant
Shimoyama Plant
Production years
2000-present day
Cylinder block material
Aluminum
Cylinder head material
Aluminum
Fuel system
Fuel injection
Type of internal combustion engine
Four-stroke, naturally aspirated
Compression Ratio
9.6:1
9.8:1 (since 2008)
Power, hp
160 hp (120 kW)/5,600
Torque, lb ft
162 lb-ft (220 Nm)/4,000
Engine weight
305 lbs (138 kg)
Engine oil weight
5W-30, 10W-30
Engine oil capacity, liter
4.3
Oil change interval, mile
6,000 (10,000 km) or 12 month
Applications
Toyota Camry, Toyota Matrix S (USA)/XR (Canada)/XRS, Pontiac Vibe, Toyota Corolla XRS, Toyota Camry Solara, Toyota RAV4, Toyota Highlander/Kluger/Harrier, Toyota Estima/Ipsum/Previa/Tarago, Toyota Alphard, Toyota Blade, Toyota Avensis, Scion tC, Scion xB, Toyota MarkX Zio
2AZ-FE Engine Problems and Reliability
1. This engine consumes oil quiet significant due to the wrong piston rings design for North American Toyota models. Oil consumption usually starts after 45-50k miles.
2. The widespread problem is what cylinder head bolt threads wear out on back three middle bolts. This problem can be identified by coolant leakage from the rear end of the engine. It may cause an overheating as well. The manufacturer solved this problem with the new design of cylinder block in 2007.
3. The cylinder block is not rebuildable. If it is damaged, you have to replace it with new or used in good condition.
Some other problems are similar to 1AZ-FE. That is not surprising, considering the fact that they are almost the same. Without those disadvantages listed at the top, the engine is quite reliable and can run up to 180-200k miles.
Modifications
2AZ-FSE. Version with direct fuel injection system Toyota D4. The engine has high compression ratio - 11.0:1. The 2AZ-FSE produces 161 hp (120 kW) at 5800 rpm and 170 lb ft (231 N m) of torque at 3800 rpm.
2AZ-FXE. This 2.4 liter version works by Atkinson cycle. It shares the same bore and stroke but camshafts and pistons were made special for this engine. 2AZ-FXE were designed for hybrid vehicles: Toyota Camry Hybrid AHV40, Lexus HS 250h, Estima Hybrid. The engine is rated at 147 hp (108 kW) at 6000 rpm with 138 lb ft (187 N m) of torque at 4400 rpm.