Ford 5.4L V8 Triton Engine Specs, Problems & Reliability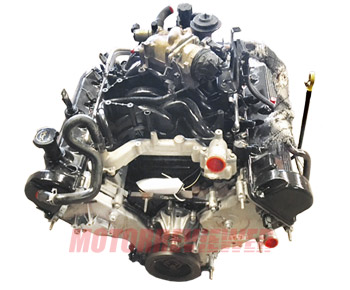 The Ford 5.4 Triton V8 is a part of Ford's Modular V8 engine family, a 5.4-liter naturally aspirated eight-cylinder gasoline engine, which was first introduced in the 1997 Ford F150. The 5.4 engine basically is a stroked version of the 4.6-liter version since the architecture of both engines is very similar. During the production history, there were three versions of 5.4L engine: 5.4 SOHC V8 with 2-valve heads or 3-valve heads, and more powerful, 5.4L DOHC 4-valve V8. 2- and 3-valve engines were used primarily in Ford F-Series pickups, while most famous Ford's sports cars (Ford GT supercar, Ford Shelby GT500, Ford Mustang SVT Cobra R) and luxury cars (Lincoln models) were equipped with 5.4L DOHC 4-valve engine.
The first engine, introduced in 1997, was a SOHC 2-valve 5.4L V8. It has a cast iron cylinder block. While the engine shared the bore diameter with a 4.6L version, the increased stroke demanded a taller engine block deck height - 10.079 in (256.0 mm) compared to 8.937 in (227.0 mm). The internal components include fracture-split powder metal connecting rods and light-weight aluminum pistons. Later, this engine will receive a forged steel crankshaft in some applications. On top of each cylinder bank, there is a SOHC aluminum head with two valves per cylinder. There are two timing chains at the front, one for each camshaft. The valvetrain features roller finger followers and hydraulic lash adjusters. The valve covers are aluminum and the intake manifold made of composite material. All 5.4L V8s were equipped with individual coil-on-plug electronic ignition system and electronic sequential multi-port fuel injection. The 5.4 2V engine was produced at the Windsor Engine Plant in Windsor, Ontario.
The 5.4 3V version was first introduced in Australia and used on the 2002 Ford Fairmont under the name Bara 220. On the North American market, that engine debuted together with the redesigned 2004 Ford F-150 model. Ford 5.4L Triton 3 valve engine has redesigned cylinder heads with two intake valves and one big exhaust valve per cylinder. Ford engineers also introduced a variable camshaft timing (VCT) system, which greatly improved power and torque over the 2-valve SOHC version as well as fuel efficiency. There are numerous small changes inside the 3v engine resulting in a higher 9.8:1 compression ratio and bigger oil capacity. From the beginning, the production and assembling of the 5.4 3V engine were at Essex Engine Plant in Windsor, Ontario. But the last 5.4 Triton 3-valve engine left Essex Plant in 2008 and then the production was moved to the Windsor Engine Plant.
Engine Specs
Manufacturer
Windsor Engine Plant in Windsor, Ontario;
Essex Engine Plant in Windsor, Ontario
Production years
1997-2017
Cylinder block material
Aluminum, Cast iron
Cylinder head material
Aluminum
Fuel system
Sequential multi-port fuel injection
Valves per cylinder
2/3/4
Valvetrain layout
SOHC/DOHC
Bore, mm
90.2 mm (3.55 in)
Stroke, mm
105.8 mm (4.17 in)
Displacement, cc
5,409 cc (330.1 cu in)
Type of internal combustion engine
Four-stroke, naturally aspirated
Compression Ratio
9.0:1 - SOHC 2-valve engine;
9.8:1 - SOHC 3-valve engine
Power, hp
230-260 hp (172-194 kW)/4,500 - 2-valve SOHC;
295-327 hp (220-244 kW)/5,000 - 3-valve SOHC
Torque, lb ft
323-355 ft-lb (438-481 Nm)/3,250 - 2-valve SOHC;
347-369 ft-lb (470-500 Nm)/3,500 - 3-valve SOHC
Firing order
1-3-7-2-6-5-4-8
Engine oil weight
SAE 5W-20
Engine oil capacity, liter
1997-2003 - 5.7 l (6.0qts) with oil filter;2004+ 6.6 l (7.0qts) with oil filter
Oil change interval, mile
5,000 (10,000 km)/6 months
Applications
Ford F-150, Ford F-Series, Ford Expedition, Ford E-Series, Lincoln Navigator, Lincoln Mark LT, Ford Fairlane G8, Ford LTD, Ford Falcon, Ford Futura, Ford Fairmont /Ghia
Ford 5.4 Triton V8 Engine Problems and Reliability
Like Ford's 4.6L V8s, the Modular 5.4L Triton engine has similar common problems for their engine family, which included blowing spark plugs and spark plug threads stripping (1997-2003 model years), stuck spark plugs due to a gap between the plug and the cylinder head which gets filled with carbon deposits (typical for 2004+ model years), and intake manifold cracking and leaking (poor design of plastic intakes). But it should be noted that these problems cannot be called widespread, and 5.4 Triton V8s have earned a good reputation in terms of reliability and longevity among the majority of owners.
The problems listed above are well known and are at least repairable and will not empty your pocket. With proper fluid changes and regular, scheduled maintenance, any 5.4-liter Triton engine will serve well over 200,000 miles (320,000 km).
Modifications
Ford SVT Lightning 5.4L engine. This 5.4-liter supercharged engine produces 380 hp (283 kW) and 310 ft-lb (610 Nm) of torque.
Ford F-150 Harley Davidson Edition. This 2002-2003 model was equipped with 5.4L supercharged and intercooled V8 engine. Power output: 340 hp (254 kW) at 4,500 rpm, 425 ft-lb (576 Nm) at 3,250 rpm.