Ford 3.5L EcoBoost Engine Specs, Problems & Reliability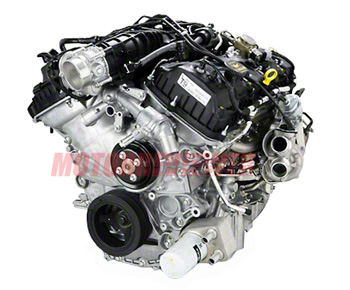 Ford 3.5L EcoBoost Info
The 3.5L EcoBoost is a 3.5-liter V6 gasoline direct-injected and turbocharged engine, firstly introduced in 2007 under the name TwinForce. The main idea behind this power unit was the creation of a solid alternative to a large-displacement V8 engine, such as the V8 coyote sourced engine. The new turbocharged 3.5L V6 engine provides equivalent power and torque to a naturally aspirated 6.0L V8 with less fuel consumption and emissions of harmful substances to air. Since the start of production in 2009 and further extension of using this engine in Ford's vehicles, the popular platform for this V6 engine became Ford's top-seller - the Ford F-150. And this is not surprising, because EcoBoost F150s have a cheaper price with no disadvantages of small displacement, NA 6-cylinder engines, compared to V8 F150s. Let's take an in-depth look at the 3.5 EcoBoost engine design, its common problems, reliability, and longevity.
Ford 3.5L EcoBoost Overview
The 3.5 EcoBoost is built around the Duratec 35 (Ford Cyclone V6 engine) engine block with the same bore and stroke dimensions. The EcoBoost block is all aluminum and an open-deck design with high strength steel sleeves. The engine is equipped with forged steel I-beam connecting rods and forged steel crankshaft with 6-bolt main bearing caps. High-strength aluminum and CNC machined pistons have low friction coating on the piston skirt and piston top shape specially designed for efficient combustion. The cylinder block got oil jets spraying oil on the underside of the pistons to keep them cool and strong. An oil pan is also aluminum.
3.5L EcoBoost cylinder heads are aluminum with four valves per cylinder, pent-roof combustion chambers, centrally located spark plugs (iridium spark plugs), and two overhead camshafts. GDI fuel injectors are placed below-center of the intake valves. The diameter of intake and exhaust valves is 37 mm (1.456 inches) and 31 mm (1.220 inches). The valvetrain has polished solid buckets - Direct-Acting Mechanical Bucket (DAMB). Camshafts are driven by a single primary chain. Ford also applied Twin Independent Variable Camshaft Timing (Ti-VCT) on this engine. The intake camshaft from the driver's side has an additional lobe driving a high-pressure fuel pump of the direct fuel injection system. The pump delivers fuel pressures up to 2150 psi.
The key component that provides excellent performance is a turbocharger. The 3.5 EcoBoost uses twin parallel mounted Borg Warner K03 turbochargers for truck version and Garrett GT15 for other applications. They are smaller, variable-vane, high-pressure turbos allowing peak torque faster (at just 2,500 rpm), and reducing turbo lag. Ninety percent of its peak torque is between 1,550 and 5,500 rpm. Turbochargers are attached to high strength cast iron low internal volume exhaust manifolds. After turbochargers, exhaust gases go through fast cat-converters to keep emissions low. The intake manifold, charge pipes, and stock intercooler end tanks are made of plastic.
The engine also features modern electronic components: Coil-On-Plug (COP) distributorless electronic ignition system, advanced Bosch engine computer unite, high accuracy knock sensors, IAT sensors, MAP sensors, wideband O2 sensors, etc.
The Second Generation of the 3.5 EcoBoost Engine
In 2017, Ford has revised the design of the 3.5L EcoBoost and a new more powerful version became available for the 2017 F-150, 2018 Expedition, and 2018 Navigator. The upgraded engine received a number of changes, but the most noticeable of them is the addition of multi-port fuel injection and new turbochargers. The operation of multi-port fuel injection is combined with direct injection. It covers a raised fuel output needs but also prevents a carbon buildup on the intake valves, keeping the engine on the same level of performance during a long mileage. New Borg Warner turbocharger has turbine wheel made of MAR-M-247 super alloy and electrically actuated wastegate reducing turbocharger lag even more.
The new 3.5 EcoBoost is equipped with a two primary chain system (there is one separate timing chain driving each cylinder bank). The cam chain drive sprocket on the crankshaft is a double gear arrangement. New chains are also more durable and less prone to stretch due to an increased thickness of the side plates. Cylinder heads now have a roller-finger follower valvetrain and light hollow camshafts. All these changes are aimed at reducing friction and mechanical losses. And finally, the compression ratio was increased from 10.0:1 to 10.5:1 (excluding H.O.).
Engine Specs
Manufacturer
Cleveland Engine Plant No 1, Ohio, the USA
Production years
2009-present
Cylinder block material
Aluminum
Cylinder head material
Aluminum
Fuel system
Direct injection;
Direct injection + port injection
Bore, mm
92.5 mm (3.64 in)
Stroke, mm
86.6 mm (3.41 in)
Displacement, cc
3,496 cc (213 cu in)
Type of internal combustion engine
Four-stroke, turbocharged
Compression Ratio
10.0:1
10.5:1 - 2017+ (except on the 3.5L EcoBoost HO for the Raptor, which remains at 10.0:1)
Power, hp
320-647 hp (239-482 kW)/ 5,000-6,250
Torque, lb ft
350-550 lb-ft (475-475 Nm)/ 2,250-5,900
Engine oil weight
SAE 5W-30
Engine oil capacity, liter
5.9 l (6.2 qt) - with oil filter
Oil change interval, mile
9,000 (15,000 km) / 12 months
Applications
Ford F-150, Ford F-150 Raptor, Ford Expedition/Expedition EL, Lincoln Navigator/Navigator L, Ford Transit, Ford Flex, Ford Taurus SHO, Ford GT, Police Interceptor Sedan, Ford Explorer Sport, Ford Police Interceptor Utility, Lincoln MKS, Lincoln MKT
3.5 EcoBoost Problems and Reliability
Is the 3.5 EcoBoost a good engine? Overall, the 3.5-liter EcoBoost has proven itself on the good side in terms of reliability. So many EcoBoost engines delivered hundreds of thousands of miles without a single breakdown and still going. But no engine is perfect. Let's try to highlight common problems and failures, as well as discuss the overall reliability of the 3.5 EcoBoost.
The Most Common 3.5 EcoBoost Problems
A few of the most common problems on the 3.5 EcoBoost engine include:
Timing chain problems
Carbon Build-Up
Spark plugs and ignition coils longevity issue
Ford 3.5 EcoBoost Timing Chain Problems
This issue primarily affects first-gen 3.5 EcoBoost engines from 2010-2014, and it is about stretching the timing chain. The most common symptoms that may indicate timing chain-related issues are the following: cold start rattle, drivability issues, check engine light, and DTC P0016 fault code. Turbocharged engines are very aggressive to the engine oil. A significant contribution to the durability of these engines is following the recommendation of oil change intervals (and even shortening them). In addition to a faulty timing chain, worn-out oil can damage the 3.5 EcoBoost timing chain guides, tensioners, and cam phasers.
Replacing the timing chain and other components is labor-intensive and not an easy and cheap job. The part costs can also add up. But if an issue does pop up, it is recommended that you replace the entire timing chain assembly. Ford did issue a service bulletin for these problems, and you may be able to work with Ford even if you are out of warranty.
3.5 EcoBoost Carbon Build-Up
Like the first problem mentioned above, this issue with carbon build-up is primarily a concern on the first-gen 3.5 EcoBoost. The following issue is common to all engines with direct fuel injection - a carbon build-up on the backside of the intake valves and on the walls of the intake ports. While port injection systems inject fuel before intake valves and help wipe off the oil deposits and prevent it's accumulating, direct-injected engines suffer from a lack of a natural cleaning process in the intake. Over time, carbon deposits build up and restrict airflow into the cylinders. That leads to loss of power, increased fuel consumption, rough idle, engine misfires, and stuttering or hesitation. The second-gen 3.5 EcoBoost utilizes both direct and port injection, and it's less prone to valve carbon build-up problems.
It is worth noting that not all 1st gen 3.5 EcoBoost engines suffer from this issue. Some engines go their whole lives strong without having any intake valve cleaning. But if the carbon deposits become excessive, the job of blasting the intake ports is not exactly cheap. Overall, the carbon build-up cleaning to be good maintenance to complete every 70,000 to 100,000 miles.
Spark plugs and ignition coils longevity
Putting a lot of stress on the ignition system and its components is the nature of a twin-turbo, direct-injection engine. Stock spark plugs last 40,000 to 60,000 miles on non-modified 3.5 EcoBoost engines. Expect the ignition coils to last maybe twice as long.
Ford 3.5L EcoBoost Reliability Summary
But still, is the Ford 3.5 EcoBoost engine reliable? There are no reasons to say it's not. There aren't too many common problems that pop up on these engines. Summarizing all of the above, the 3.5 EcoBoost is a reliable engine with an excellent balance of power, torque, and efficiency. As you may see, Ford learned their small mistakes and did a great job fixing them on the 2nd-gen engines. So, most of the reliability problems are associated only with the first-gen 3.5 EcoBoost.
Keep it in mind, turbo engines do add a bit of extra maintenance. Based on independent research, the Ford 3.5 twin-turbo V6s have good longevity and last up to 200,000 miles or beyond if owners precisely follow the maintenance schedule, use the recommended oil, and nip problems in the bud.