Ford 3.5L Duratec/Ti-VCT Engine Specs, Problems & Reliability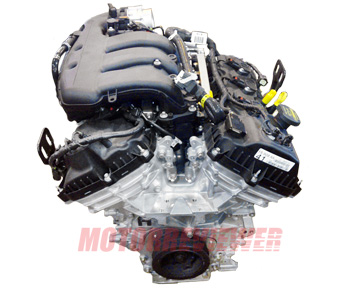 The Duratec 35 is a 3.5-liter V6 natural aspirated gasoline engine, member of the Ford Cyclone family. The engine first was introduced in 2006 for the Ford Edge and Lincoln MKX. The 3.5L Ti-VCT engine became available for the Ford F-150 in 2015, replacing a 3.7-liter version of the Cyclone series - 3.7L Ti-VCT V6 engine. This Ford 3.5l V6 also was used by Mazda for the 2007-2016 Mazda CX-9 (3.5 MZI engine).
The 3.5L Cyclone engine is all aluminum. It has a cast aluminum alloy open-deck type cylinder block with cast-in liners, fully floating at the top. It shares the same bore and stroke combination as the popular 3.5L EcoBoost, but nothing more other than the basic structure. Like the 3.7L V6, the 3.5L version was equipped with a forged crankshaft (4130 alloy steel), securely hold by 6-bolt billet steel main caps. There are lightweight, low-friction aluminum pistons and strong connecting rods. Additional cooling for the pistons is provided by cast-in oil squirters inside the engine, which spray engine oil on bottom ends of pistons.
The Duratec 35 has aluminum cylinder heads with four valves per cylinder. Valves are actuated via direct actuating mechanical buckets (DAMB). The engine features chain-driven double overhead camshafts (DOHC) with variable intake timing (iVCT) or variable intake and exhaust timing (Ti-VCT - twin-independent variable cam timing, implemented in 2011). The single roller timing chain drives the intake camshafts and they drive the exhaust camshafts via small chains. In 2011, a single roller timing chain was replaced by a silent type chain (small chains remain the same). In previous Duratec V6s, a water pump was located at the rear of the engine and was driven by the pulley on the intake camshaft via a rubber belt. But Cyclone engines feature a chain-driven water pump at the front, under a front-end engine cover. The engine has an electronically controlled sequential multi-port fuel injection and coil-on-plugs type ignition. The intake manifold is made from plastic and consists of a lower and upper intake pieces. The exhaust manifolds are made from cast iron.
The 3.5L V6 engine was on the Ward's "10 Best Engines" list. It has been used in various Ford and Lincoln vehicles since 2007. Ford still offers this engine for many of them, but also prepared a new Cyclone version - a naturally aspirated 3.3L Ti-VCT V6 direct and port injected engine, which already replaced the NA 3.5L V6s for the Ford F150 in 2017.
Engine Specs
Manufacturer
Lima Engine Plant, Lima, Ohio, the USA
Production years
2006-present
Cylinder block material
Aluminum
Cylinder head material
Aluminum
Fuel system
Sequential multi-port fuel injection
Bore, mm
92.5 mm (3.64 in)
Stroke, mm
86.6 mm (3.41 in)
Displacement, cc
3,496 cc (213.3 cu in)
Type of internal combustion engine
Four-stroke, naturally aspirated
Power, hp
262-290 hp (195-216 kW)/ 6,250-6,500
Torque, lb ft
248-255 lb-ft (336-346 Nm)/ 4,000-4,250
Engine oil weight
SAE 5W-30
Engine oil capacity, liter
5.7 l (6.0 qt) - with oil filter
Oil change interval, mile
10,000 (15,000 km) / 12 months
Applications
Ford F-150, Ford Edge, Ford Flex, Ford Taurus, Ford Explorer, Ford Fusion Sport, Ford Taurus X, Lincoln MKX, Lincoln MKZ, Mercury Sable, Mazda CX-9
3.5 V6 Duratec/Ti-VCT Engine Problems and Reliability
Ford's 3.5L V6 engines have one serious common problem related to the water pump failure. We mentioned before, that the water pump on the 3.5 is internal/driven by the timing chain. This design has two major issues. First, a bad water pump will leak for some time, and you may not notice this until the coolant level drops significantly, which will lead to overheating. Secondly, the leaked coolant ends up in the engine oil and creates an emulsion, causing lack of lubricant for all internal components, which is extremely bad for any engine. You have to remove the pulleys, front cover, and timing chains to get the water pump out. So, it is very labor intensive to replace and, as a result, expensive job.
But overall, the Duratec 35/3.5L Ti-VCT V6 is a completely satisfactory engine for light duty use and good on power and gas mileage. The engine life expectancy is about 200,000 miles (300,000 km).