Ford 6.4L Power Stroke Engine Specs, Problems & Reliability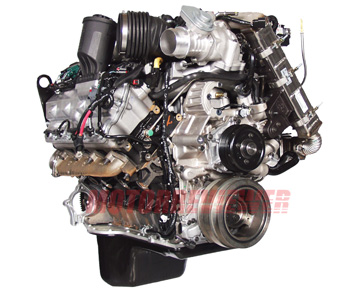 Ford introduced the 6.4L Power Stroke in 2008. It was cleaner, quieter, and more powerful than its predecessors - the 6.0L Power Stroke, and any engine yet built by International Navistar for Ford trucks. This new 6.4-liter diesel V8 was the first engine that utilized twin turbochargers from the factory and used a diesel particulate filter (DPF), which became necessary to meet the tougher emissions standards set by the government. Compared to the 6.0 PowerStroke, NOx and particulate matter emissions were reduced by 50 percent and 90 percent, respectively.
Like the 6.0L Power Stroke, the 6.4L version has a cast-iron cylinder block and a cast iron bed plate that eliminated traditional main bearing caps. This bed plate is securely cinched down to the engine block via four bolts per main. The 6.4L uses powdered-metal connecting rods which are much beefier and stronger than what you'll find in the 6.0L, and capable of handling more than 900 rwhp. On top, there are cast iron cylinder heads with four valves per cylinder. Like the 6.0L version, cylinder heads have just four head bolts per cylinder, but 6.7L got 16 mm head bolts instead of 14 mm. The 6.7 Power Stroke has a conventional single cam in block and OHV pushrod valvetrain. Valves are actuated by the rocker arms. Each rocker arm opens and closes two valves at once together.
The 6.4L Power Stroke engine moved from the HEUI to direct high-pressure common rail fuel injection system. The fuel is provided by the Siemens VDO K16 high-pressure fuel pump which is located at the rear of the lift valley. The K16 fuel pump is capable of producing 24,650 psi. The engine also was equipped a first in the segment with the piezoelectric injectors. These injectors are capable of pulling off five events during the course of each cylinder's power stroke and deliver much more precise fueling than the HEUI injectors could. The engine has the compound turbo setup - The compact package of turbochargers manufactured by BorgWarner. It combined a 65 mm fixed geometry low-pressure unit with a 52 mm variable geometry high-pressure turbocharger. This twin sequential turbocharger system gives such benefits as reduced turbo lag and improved overall performance characteristic. All 6.4L diesel engines come with an air-to-air intercooler.
The 6.4L was equipped with an additional exhaust gas recirculation (EGR), two EGR coolers, and EGR valve with a stronger DC motor. Almost 25 percent of intake air contains exhaust gases now, lowering NOx emissions. To reduce particulate matter production, the engine exhaust system received a diesel particulate filter (DPF). The manufacturer provided the special regeneration process for the DPF to make it as a self-cleaning device. During that active regeneration process, additional fuel is injected on the engine's exhaust stroke to effectively burn out the trapped particles in the DPF.
The 6.4L Power Stroke became the last diesel engine supplied to Ford by International Navistar. In 2011, Ford began offering the newest 6.7-liter V8 diesel engine - the 6.7L Power Stroke, designed and manufactured in-house by Ford.
Engine Specs
Manufacturer
International Truck and Engine Corp.
Production years
2008-2010
Cylinder block material
Cast iron
Cylinder head material
Cast iron
Fuel system
Common rail direct injection
Bore, mm
98.2 mm (3.87 in)
Stroke, mm
105.0 mm (4.13 in)
Displacement, cc
6,400 cc (389 cu in)
Type of internal combustion engine
Four-stroke, turbocharged
Power, hp
350 hp (261 kW)/3,000
Torque, lb ft
650 lb-ft (881 Nm)/2,000
Engine weight
1130 lbs (512 kg)
Firing order
1-2-7-3-4-5-6-8
Engine oil weight
SAE 10W-30 Super Duty Diesel Motor Oil or equivalent, SAE 15W-40 Super Duty Diesel Motor Oil
Engine oil capacity, liter
14.2 l (15 qts) - with oil filter
Oil change interval, mile
10,000 (15,000 km)/6 months
Applications
Ford F-250, Ford F-350, Ford F-450, Ford F-550
6.4 Power Stroke Engine Problems and Reliability
The 6.4L, based on the same basic architecture as the 6.0L, retained some of its bad and good design features as well. But 6.4 Power Stroke is perhaps the best you could achieve from the previous 6.0L version in terms of reliability.
In first, factory pistons are prone to crake. That happens more likely due to the high 40-42 psi stock boost pressure. On the other hand, the 6.4L engine has more durable connecting rods that can withstand the most abuse. In second, the problem with blown head gaskets is still happened due to stretched head bolts under higher cylinder pressure. Like the 6.0L, the 6.4 has four head bolt design, but the size of bolts was increased from 14 mm to 16 mm and the issue does seem to happen a little less. The third issue is a lack of oil lubrication for the rocker arms. That leads to accelerated wear of pressed-in balls of the rocker arms, increased friction and heat in the valvetrain.
Besides that, the 6.4L has the same design oil cooler, which prone to clogged up. Failed oil cooler also can block coolant flow to the EGR cooler, causing the EGR cooler to rupture. The downside to the DPF regeneration process on the 6.4L Power Stroke engine is that sometimes small amount of fuel content mixes with the engine oil. It's not rare for owners to report draining an extra gallon of oil at the oil change interval. Regeneration also negatively affects fuel consumption. The piezoelectric injectors are more sensitive to the quality of fuel because of the ultra-tight tolerances than the previous HEUI injectors had. Failed 6.4L injectors can wipe out pistons.
The 6.4L Power Stroke still had a lot of similarities in the design with the problematic 6.0L predecessor. But Ford engineers were focused to fix or at least minimize the previous issues. As a result, the 6.4 engine is relatively reliable and provides honest performance characteristics.