Ford 3.0L Power Stroke Engine Specs, Problems & Reliability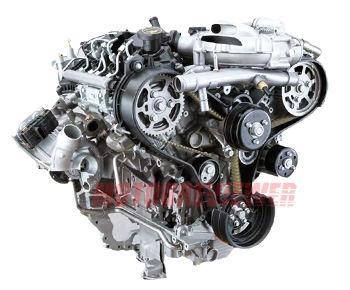 The 3.0 Power Stroke is a 3.0-liter V6 turbo diesel engine with high-pressure common rail fuel injection system and two turbochargers. This Ford's brand new engine was introduced in 2018 as the new power unit option for top-selling Ford F-150 pickup trucks to compete with its primary competitor in the segment - the Dodge Ram 1500 with FCA's 3.0L EcoDiesel. Ford's 3.0L twin-turbocharged V6 engine for F-150s was taken from the "Lion" engine lineup produced by Ford in the UK (also used in PSA Peugeot Citroen and Jaguar Land Rover), re-engineered and tested in-house by Ford for the US market.
Like the 6.7L Power Stroke, the 3.0L turbodiesel has engine block made of weight saving compacted graphite iron (CGI). The weight-saving approach in the design allowed keeping the dry weight of the engine within 500 lbs. The block has 60 degrees angle between cylinder banks. Inside, there is a new forged steel crankshaft, new bearings and lightweight aluminum alloy pistons for strength and durability. Piston oil jets spray oil on the bottom side of each piston, lowering temperature and promoting additional longevity. A die-cast structural oil pan is attached to the bottom of the block. It is rigid and controls operation noise better.
The 3.0L Power Stroke has lightweight aluminum cylinder heads with four valves per cylinder, belt driven dual overhead camshaft (DOHC), and hydraulic lifters. The timing belt drives exhaust camshafts only. Each exhaust camshaft is connected with intake camshaft via a low-friction cam-to-cam chain. Quick starting glow plugs help to start the engine in cold condition. Twin cylinder high-pressure fuel pump is located at the rear of the engine. It is driven by a driver side intake camshaft via a cogged belt. High-pressure fuel pump produces 29,000 psi (2000 bar) maximum injection pressure for the common rail direct injection system with piezoelectric fuel injectors. Common rail system provides improved power and fuel efficiency, reduced noise and vibration.
The engine was equipped with new variable geometry turbocharger featuring a ball bearing design and electronically actuated wastegate. Turbocharger sends compressed air to intake manifold through an air-to-air intercooler. To comply with emission requirements there is a sophisticated exhaust aftertreatment system including high pressure cooled exhaust gas recirculation (EGR), diesel particulate filter (DPF), selective catalytic reduction (SCR), and diesel exhaust fluid (DEF). Engine eats ultra-low sulfur diesel (ULSD). As a result, the 3.0L Power Stroke provides a practical and economical balance between performance and fuel economy.
Engine Specs
Manufacturer
Ford Motor Company
Production years
2018-present
Cylinder block material
Compacted graphite iron
Cylinder head material
Aluminum
Fuel system
Common rail direct injection
Bore, mm
84.05 mm (3.31 in)
Stroke, mm
90.0 mm (3.54 in)
Displacement, cc
2,993 cc (182.7 cu in)
Type of internal combustion engine
Four-stroke, turbocharged
Power, hp
250 hp (186 kW)/3,250
Torque, lb ft
440 lb-ft (597 Nm)/1,750
Engine weight
501 lbs (227 kg) - with oil
Engine oil weight
SAE 5W-30 API FA-4
Engine oil capacity, liter
6.2 l (6.5 qt) - with oil filter
Oil change interval, mile
7,500 (12,000 km)/12 months
3.0 Power Stroke Engine Problems and Reliability
Despite the fact that the engine is new for the F-150, it already has its history while was used in other vehicles, back in the past when Ford owned JLR. The 3.0l Power Stroke engine for a reason has new revised crankshaft and bearings. Ford's 3.0L diesel engines had serious problems with bursting crankshafts and quick wear on crankshaft bearings. There are several possible causes - a design mistake, insufficient oil pump performance, improper oil, untimely and incomplete oil change. The reason is most likely a complex of the above factors. Ford has done some work with related components and only time will tell how successful it is.
The 3.0l Power Stroke is not a cheap option. Diesel fuel is more expensive than gasoline; add the cost of DEF fluid and more frequently required oil changes. Even with impressive 30 mpg for the 3.0 Power Stroke F-150, the cost of owning it isn't going to save you much. And the complexity of electronic systems and modern requirements for harmful emissions of diesel engines (mostly DPF and DEF fluid) affects the cost of repairs significantly.