Ford 2.7L EcoBoost Engine Specs, Problems & Reliability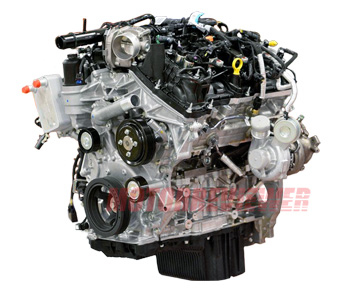 Ford 2.7 EcoBoost Info
The 2.7L EcoBoost is a turbocharged, direct-injection gasoline engine. This 2.7-liter V6 twin-turbo engine is produced in the USA at Ford's Lima plant in Ohio, but it originally was co-developed by German company FEV Engineering (3.5L EcoBoost V6 shares no parts). Like other EcoBoost power units, the 2.7L version is designed to deliver comparable power and torque of large displacement, naturally aspirated V6 and V8 engines only with less fuel consumption and emissions. The 2.7 EcoBoost was firstly introduced in 2015 as a new engine for the Ford F-150. Since then, the engine has gained widespread use among Ford's and Lincoln's cars, such as Ford Edge Sport, Fusion Sport, and Lincoln MKX, Continental. Let's take an in-depth look at the 2.7 EcoBoost engine design, its common problems, reliability, and longevity.
Ford 2.7L EcoBoost Engine Overview
The engine features the two-piece engine block - upper and lower block. The upper block is made of compacted graphite iron (the same material is used in the 3.0l Power Stroke and 6.7L Power Stroke engines). This part is cylinders itself with the fractured main bearing caps and includes crankshaft, pistons, individual piston cooling jets, and offset I-beam connecting rods. The lower block is a die-cast aluminum ladder frame bolted to the iron block and the bearing caps for additional stiffness of the engine. The bottom of the aluminum frame is sealed by a composite oil pan. The engine also got an integrated front cover (IFC). This is quite a complicated part; it includes an integrated water pump, oil passages for an oil cooler, oil filter, cam phasing, and accessory drive components. The IFC also acts as a structural piece.
The 2.7 EcoBoost has aluminum cylinder heads with integrated, water-cooled exhaust manifolds, dual overhead chain-driven camshafts, four valves per cylinder, and roller finger followers. The engine features variable intake and exhaust camshaft timing. A considerable amount of power and torque is achieved with the help of a pair of turbochargers. The intake system also includes an air-to-air intercooler, pipes, and intake manifold made of composite material. The 2.7L incorporates a reverse-flow cooling system, variable-displacement oil pump, and auto stop-start. The direct fuel-injection system provides precise fuel management and eliminates the risk of detonation. This engine has a high compression ratio - 10.3:1.
The Second Generation of the 2.7L EcoBoost Engine
Ford introduced the 2018 model year Ford F-150 with the second-generation 2.7L EcoBoost V6 engine. The upgraded engine got several changes similar to the second-gen 3.5 EcoBoost. Here are the most important changes: the direct injection combined with port injection, a new high-pressure exhaust gas recirculation system (EGR), dual-chain camshaft drive system with new lightweight camshafts, new turbochargers with an electrically actuated wastegate, and an electronically controlled variable-displacement oil pump. Together with other small changes, including those aimed at friction reduction, new 2.7L V6 engines became more efficient and reliable than the previous generation.
Engine Specs
Manufacturer
Lima plant, Ohio, the USA
Production years
2015-present
Cylinder block material
Compacted graphite iron
Cylinder head material
Aluminum
Fuel system
Direct injection - 2015-2017;
Direct injection + port injection since 2018
Bore, mm
83.0 mm (3.27 in)
Stroke, mm
83.0 mm (3.27 in)
Displacement, cc
2,694 cc (164 cu in)
Type of internal combustion engine
Four-stroke, turbocharged
Power, hp
315-335 hp (235-250 kW)/ 5,000-5,750
Torque, lb ft
350-400 lb-ft (475-542 Nm)/ 3,000-3,250
Engine oil weight
SAE 5W-30 full synthetic motor oil
Engine oil capacity, liter
5.7 l (6.0 qt) - with oil filter
Oil change interval, mile
10,000 (15,000 km) / 12 months
Applications
Ford F-150, Ford Bronco, Ford Edge Sport, Ford Edge ST, Ford Fusion Sport, Lincoln MKX, Lincoln Continental, Lincoln Nautilus
Ford 2.7 EcoBoost Engine Problems and Reliability
The 2.7L EcoBoost engine has a short history and no common problems at low mileage. There are few owner reports of blown head gaskets, replacing cylinder heads under warranty, and leaking plastic oil pan. But it can happen with any new engine due to possible parts failure or improper assembly.
It can also be said that the second generation is potentially more balanced and reliable. It has an additional port injection, which is more optimal for turbocharged engines and, most importantly, prevents a carbon buildup on valves and walls of intake ports.
Like most turbocharged engines, the 2.7 EcoBoost needs top quality synthetic oil, and a lack of even basic maintenance will kill it quickly. Also, direct injectors are more directly involved in combustion. In this position, injectors are more likely to get dirty and need to be cleaned or, in the worst case, replaced.
Modifications
325 hp (242 kW) at 5,750 rpm, 375 lb ft (508 Nm) at 3,000 rpm. Application: 2015-2017 Ford F-150.
325 hp (242 kW) at 5,000 rpm, 400 lb ft (542 Nm) at 2,750 rpm - the second gen 2.7L EcoBoost engine for 2018+ Ford F-150s.
335 hp (250 kW) at 5,500 rpm, 380 lb ft (515 Nm) at 3000 rpm. Application: Lincoln MKX, Lincoln Continental.
335 hp (250 kW) at 5,500 rpm, 380 lb ft (515 Nm) at 3,250 rpm. This is a new EcoBoost for the Lincoln Nautilus.
315 hp (235 kW) at 4,750 rpm, 350 lb ft (475 Nm) at 2,750 rpm - Ford Edge Sport engine.
335 hp (250 kW) at 5,000 rpm, 380 lb ft (515 Nm) at 3,000 rpm - Ford Edge ST engine.
325 hp (242 kW) at 5,500 rpm, 380 lb ft (515 Nm) at 3,500 rpm - Ford Fusion Sport engine.