Ford 1.6L EcoBoost GTDI Engine Specs, Problems & Reliability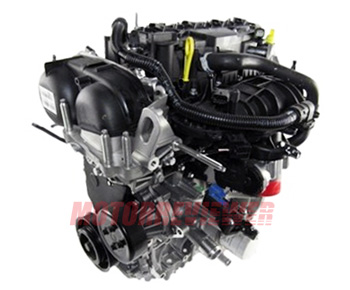 Ford introduced the 1.6L EcoBoost version in 2010 in the Ford Focus and Ford C-Max. Together with 2.0 EcoBoost, it was the first turbocharged engine developed by Ford according to the Downsizing strategy. It is a 1.6-liter inline four-cylinder gasoline turbocharged engine with the direct injection fuel system. The advanced technologies allowed replacing larger engines (2.0L and 1.8L Duratec) with no loss of performance and with lower fuel consumption and emissions.
The engine's cylinder block has an open-deck design and made from high-strength aluminum alloy. The open-deck design helps lower weight and improved cooling balance. The engine block has a very thin cast iron sleeves (liners) cast directly into aluminum cylinder walls. The block was equipped with a cast iron crankshaft with four counterweights and five main bearings, forged connecting rods, aluminum hypereutectic pistons with low-friction resin-coated skirts. Piston pins feature a diamond-like-coating (DLC). The oil pan is also made from aluminum and adds some structural support to the engine block.
The EcoBoost 1.6L has a 16-valve aluminum cylinder head. Between cylinder head and engine block, there is a multi-layer stainless steel (MLS) head gasket. The head is designed as one piece with camshaft casing. It also has 4 valves per cylinder (two intake valves and two exhaust valves) and D-shaped intake ports for efficient airflow from the intake manifold into the cylinders. The valvetrain uses more convenient and simple shimless buckets for valve activations. There are not hydraulic lash adjusting mechanism in the engine. These buckets are available in 36 different thicknesses to set proper lash clearance. Intake valves diameter is 30mm, while the exhaust valves diameter is 25mm. The valve steam for intake and exhaust valves is only 5 mm. EcoBoost engines feature double overhead belt-driven camshafts and variable intake and exhaust valve timing (Ford calls it Twin Independent Variable-Cam Timing or Ti-VCT). One camshaft has an additional cam lobe to drive a high-pressure fuel pump. The fuel pressure is supplied for the high-pressure direct fuel injection with six-hole injectors. Each injector is located in the center of the cylinder, near the spark plug.
The turbocharger is a key component of EcoBoost engines. The 1.6-liter version has a high-response Borg Warner KP39 low-inertia turbocharger attached to a separate cast iron exhaust manifold (a non-turbo-fold turbocharger system). A center section of the turbocharger is water-cooled. The compressed air after an air-to-air intercooler goes into a plastic intake manifold through the 52.0 mm drive-by-wire throttle body controlled by the ECU Bosch MED17. The hot exhaust gases after a turbocharger go into the close-coupled three-way catalytic converter. The 1.6 EcoBoost engine meets the Euro-5 European emission standard.
Since 2014, the manufacturer uses the upgraded version of 1.6 EcoBoost engine with smaller displacement named as the 1.5l I-4 EcoBoost engine.
Engine Specs
Manufacturer
Ford Motor Company;Ford Bridgend Engine Plant in Bridgend, Wales, United Kingdom
Production years
2010-present
Cylinder block material
Aluminum
Cylinder head material
Aluminum
Fuel system
Direct fuel injection
Bore, mm
79.0 mm (3.10 in)
Stroke, mm
81.4 mm (3.20 in)
Displacement, cc
1,596 cc (97.0 cu in)
Type of internal combustion engine
Four-stroke, turbocharged
Power, hp
150-180 hp (110-133 kW)/ 6,000
Torque, lb ft
180 lb-ft (244 Nm)/ 1,600-4,000
Engine weight
251 lbs (114 kg)
Engine oil weight
SAE 5W-20
Engine oil capacity, liter
4.1 l (4.3 US qt)
Oil change interval, mile
9,000 (15,000 km) or 12 month
Applications
Ford C-MAX, Ford Focus, Ford Mondeo, Ford S-Max, Ford Galaxy, Ford Escape, Ford Transit Connect, Ford Fiesta ST, Ford Fusion, Volvo S60, Volvo V60, Volvo V40, Volvo V70, Volvo S80
1.6 EcoBoost Engine Problems and Reliability
The 1.6l engine of the EcoBoost family, essentially, is Ford's first attempt to launch a turbocharged engine into mass production. The engine has many disadvantages in reliability as well as many advantages such as low fuel consumption, high power, etc.
The problem of overheating is the biggest issue that has been already solved on new vehicles. Owners report the engine starts to consume coolant without any found reason. The level of coolant from full to low, which causes coolant warning light, may drop during 1,000-2,000 miles mileage after the coolant was filled up. The 1.6 EcoBoost engine was subject to the huge recall. The campaign touches the EcoBoost engines, cylinder heads of which may crack and warp due to overheating, as a result of that oil may leak. 13 car fires were reported due to oil leakage. There were 29 fires total in the U.S. and Canada reported to Ford. In 2017, Ford recalled over 360,000 vehicles with 1.6 EcoBoost because of a risk of engine fires caused by a "lack of coolant circulation". Just make sure the recall for your vehicle is done (or get it done ASAP).
Like all engines with direct injection, fuel injection nozzles can easily become clogged by poor-quality fuel and soot. The backside of the intake valves is being covered with carbon deposit due to lack of fuel as a cleaner inside the intake ports. The cleaning process is quite expensive.
For the rest, the engine has no more serious problems. The other engine failures are not systematic and mostly depend on operating condition, mileage, and maintenance. The engine life is about 150,000 miles (250,000 km).