Ford 2.3L EcoBoost Engine Specs, Problems & Reliability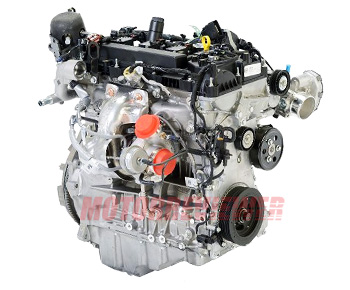 Together with the second-generation 2.0L EcoBoost, in 2015, Ford introduced the 2.3L EcoBoost version - the most powerful four-cylinder engine in the EcoBoost family. The 2.3l I4 turbo engine became available for the 2015 Lincoln MKC crossover at first, and a year later, it was installed in Ford Explorer and the ultimate 350hp Ford Focus RS. But the engine has truly become known under the hood of the Ford Mustang EcoBoost with 310 horsepower and 320 lb-ft (434 Nm) of torque. By the way, the last time Ford used the 4-cyl turbo engine in Mustangs was in the mid-80's Mustang SVO.
Basically, the 2.3 EcoBoost engine is based on the 2.0 EcoBoost Gen 2 engine and can be called a 'stroker'. Also, these engines are built at one plant in Valencia, Spain. However, the 2.3-liter version was heavily fortified to handle the increased power output and provide thousands of reliable miles.
The engine was built around a high-pressure die-cast open deck aluminum cylinder block. While the bore size and deck height same as 2.0L EcoBoost, the 2.3L engine block has enlarged oil and cooling passages and a structural ladder frame (strengthening ribs molded around the cylinders) with integrated main bearing caps. The increased displacement was achieved by applying a new forged 4340 steel crankshaft with 94 mm stroke (2L has 83.1 mm stroke). The engine also uses forged steel connecting rods (they are shorter than 2.0L conrods) and lightweight high-strength pistons with steel piston ring carriers and fully floating pins. The new pistons have a low-friction skirt coating and fewer oil drainage holes for better lubrication and lower friction. The bottom side of cylinders is cooled with oil constantly sprayed by special oil jets inside the engine block. The bottom of the engine includes a chain-driven oil pump, balance shaft, and a die-cast deep-sump aluminum oil pan with a baffling area that helps prevent oil slosh and maintain oil delivery during active driving.
On top of the block, there is an aluminum cylinder head with two chain-driven camshafts (DOHC). Each cylinder has four valves, one GDI fuel injector, and a spark plug. The cylinder head design provides an integrated exhaust manifold with three high-flow ports for a new twin-scroll IWG turbocharger. The exhaust valves became bigger - 30 mm compared to 28mm on the 2.0L. The intake valve diameter is 32.5 mm. The valve seats are made from high-performance materials. The camshafts have a higher lift and longer duration and operate with Ford's Twin independent Variable Cam Timing system (Ti-VCT). The exhaust camshaft drives a high-pressure fuel pump (CDFP - cam-driven fuel pump).
The engine got a revised plastic intake manifold with increased volume and a larger diameter throttle body. A twin-scroll turbocharger delivers an instant boost right when it needs; it provides a flat torque curve that reached much quicker than a traditional turbo. As a result, redesigned intake components gave more power and quicker acceleration response with lower emissions, improved turbine efficiency, and reduced turbo lag.
Engine Specs
Manufacturer
Valencia Engine Plant, Valencia, Spain; Cleveland Engine Plant, Ohio, the USA
Production years
2015-present
Cylinder block material
Aluminum
Cylinder head material
Aluminum
Fuel system
Direct fuel injection
Bore, mm
87.5 mm (3.43 in)
Stroke, mm
94.0 mm (3.70 in)
Displacement, cc
2,264 cc (138.2 cu in)
Type of internal combustion engine
Four-stroke, turbocharged
Power, hp
280-350 hp (209-261 kW)/ 5,500-5,600
Torque, lb ft
305-350 lb-ft (414-475 Nm)/ 2,750-3,200
Engine oil weight
SAE 5W-30
Engine oil capacity, liter
5.4 l (5.7 qt)
Oil change interval, mile
9,000 (15,000 km) or 12 month
Applications
Ford Explorer, Ford Ranger, Ford Mustang EcoBoost, Ford Focus RS, Lincoln MKC, Zenos E10 R, VUHL 05 RR
2.3 EcoBoost Problems and Reliability
The 2.3 EcoBoost is a high-performance turbocharged engine with direct injection. It was built and tuned to meet sports ambitions and needs for a high speed of drivers. As a result, the reliability of many engine components is placed really close to the limits.
The most well-known problem for the 2.3L EcoBoost engine is a failed head gasket. Dozens of Ford Focus RS engines had an issue with a leaking head gasket. The issue initially shows white exhaust smoke and/or coolant consumption. But later, it features misfiring under load and on a cold start, a sweet smell of coolant in the exhaust, engine overheating, loss of cabin heating. The reason was the usage of the wrong head gasket belonged to the Ford Mustang engine. This 2.3l EcoBoost engine has a similar design, but the coolant passages are different, which requires head gaskets unique to each engine. Also worth noting, that Mustang didn't have the problem with coolant leakage through a head gasket.
The power loss of GDI engines. That problem did not pass by the 2.3 EcoBoost engine. The owners may notice a drop in performance and slightly raised fuel consumption. That happens due to a carbon buildup on the backside of the intake valves and on the walls of the intake ports. The soot layer restricts intake airflow and prevents the intake valves from correct closing, which aggravates the situation more. The special carbon cleaning process may be applied to the engine to bring it back to its original specs (it is also recommended in preventive measures).
Modifications
280 hp (209 kW) at 5,600 rpm, 310 lb-ft (420 Nm) at 3,000 rpm. Application: Ford Explorer, Ford Ranger.
285 hp (213 kW) at 5,500 rpm, 305 lb-ft (414 Nm) at 2,750 rpm. The engine is used in the Lincoln MKC.
310 hp (231 kW) at 5,500 rpm, 320-350 lb-ft (434-475 Nm) at 3,000 rpm - Ford Mustang EcoBoost engine. The power output depends on type of fuel.
350 hp (261 kW) at 6,000 rpm, 350 lb-ft (475 Nm) at 3,200 rpm - Ford Focus RS engine specs. This version is also used in the Zenos E10 R.
385 hp (287 kW) at 6,000 rpm, 369 lb-ft (500 Nm) at 3,200 rpm. This is insane version of the 2.3 EcoBoost engine built specially for the track car - the VUHL 05 RR.