Ford 3.7L V6 Duratec/Ti-VCT Engine Specs, Problems & Reliability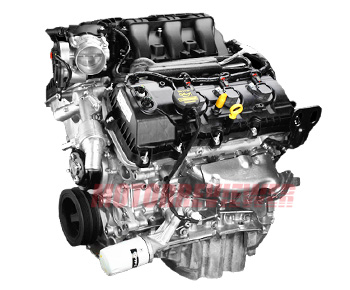 The 3.7-liter version out of Ford's Cyclone V6 engine family appeared in 2007. This engine, known as Ford Duratec 37, also was being produced by Mazda and firstly installed in the 2008 Mazda CX-9 under the name MZI 3.7. Ford Company used this 3.7L V6 engine in a variety of heavy Ford's and Lincoln's vehicle models (SUVs, Pickups and full-size sedans). Among them are the Ford F150, Ford Edge Sport, Lincoln MKS, Lincoln MKT. In 2011, the 3.7 Cyclone V6 became a standard engine in the Ford Mustang replacing the 4.0L Cologne V6.
The 3.7L Duratec has a cast aluminum alloy cylinder block with contemporary architecture. It has a removable rear main seal cover plate and a structural rear sump cast aluminum oil pan. All Cyclone engines have the same 86.6 mm (3.41 in) stroke. The additional displacement comes from an increased bore size by 3.0 mm comparing to the 3.5-liter version. The cylinders feature cast-in liners and are fully floating at the top of the engine block (open-deck type). The engine is equipped with a forged crankshaft made from 4130 alloy steel, 6-bolt billet steel main caps, and cast-in piston oil squirters.
Aluminum alloy cylinder heads have four valves per cylinder and two chain-driven camshafts on top. A primary timing chain drives a water pump and intake camshafts only. The intake camshaft for each cylinder bank provides rotation to the exhaust camshaft via a secondary small single-roller chain. Until 2011, the engine comes with variable cam timing (iVCT) on the intake camshafts. The twin-independent variable cam timing (Ti-VCT) on both intake and exhaust was presented in 2011. The valvetrain uses Ford's Direct Actuating Mechanical Buckets. The lobe contact surface of the bucket is highly polished. The valve sizes are (1.45 inches) intake and (1.22 inches) exhaust. Both valves have 5.5 mm stems. The intake valve lift is 9.8 mm (0.385 inches), the exhaust valve lift is approximately 9.1 mm (0.360 inches). The engine uses Ford's stretchy FEAD (front-end accessory drive), which has no idlers or tensioners to rob power from the engine.
On top of the engine, there is a two-piece intake manifold. The fuel injectors are located in the lower intake piece. Both lower and upper intake manifolds are made from plastic. The exhaust manifolds are cast iron. 3.7 Ti-VCT engines in the Mustang and F-150 have manifolds, carrying the shape of the oval exhaust ports to the collector.
For the F150 and Mustang models, Ford replaced the 3.7 V6 engine by a smaller, less powerful 3.5L Ti-VCT V6 in 2015, but still keeps it on their production line for some vehicles.
Engine Specs
Manufacturer
Ford Motor Company, the USA;Mazda Motor Corporation , Hiroshima, Japan
Production years
2007-present
Cylinder block material
Aluminum
Cylinder head material
Aluminum
Fuel system
Sequential multi-port fuel injection
Bore, mm
95.5 mm (3.76 in)
Stroke, mm
86.6 mm (3.41 in)
Displacement, cc
3,726 cc (227.4 cu in)
Type of internal combustion engine
Four-stroke, naturally aspirated
Power, hp
268-305 hp (200-227 kW)/ 6,250-6,500
Torque, lb ft
260-280 lb-ft (353-380 Nm)/ 4,000-4,250
Engine oil weight
SAE 5W-20
Engine oil capacity, liter
5.7 l (6.0 qt) - with oil filter
Oil change interval, mile
10,000 (15,000 km) / 12 months
Applications
Ford F-150, Ford Mustang, Ford Edge Sport, Ford Transit, Mazda CX-9, Mazda 6, Lincoln MKS, Lincoln MKT, Lincoln MKZ, Lincoln MKX, Lincoln Continental, Radical RXC V6, Ginetta G60
Ford 3.7 V6 Duratec/Ti-VCT Engine Problems and Reliability
In general, 3.7-liter Cyclone engines have proven to be very reliable. With proper and timely maintenance, the life expectancy is well over 200,000 miles (300,000 km). But the Cyclone family has a few problems and design flaws, which can significantly shorten the life span of these engines. One of them is cam torque actuated phasers failure - pretty common for the Ti-VCT engines.
But the most dangerous component inside Ford 3.7 Duratec/Ti-VCT and Mazda MZI 3.7 is a chain-driven water pump, hiding behind an engine front cover, which able to destroy them in a few minutes. In previous versions of the Duratec V6, a water pump was located at the rear of the engine and was driven by the pulley on the intake camshaft via a belt, what seems more complicated and expensive to produce. And, in 2006, the pump was relocated under a front-end engine cover.
In the latest Duratec version, the chain-driven pump at the front also performs the function of an intermediate timing chain sprocket, which turns the vector of applying force by 120 degrees. Water pump bearings failure causes the movement of the timing center, which leads to unpredictable serious damages inside valvetrain and cylinders. Besides that, the coolant leakage that's supposed to weep out the front of the timing cover through a special passage ends up in the engine oil and forms a milky oil-in-coolant emulsion inside the engine. With this "milk oil", the engine suffers from incredible wear and corrosion of all internal components.
2011+ Cyclone V6 engines (3.7 V6 Ti-VCT as well) are less prone to water pump issues due to a revised design of the timing chain and sprockets.
Modifications
The British manufacturer Radical Sportscars equips their Radical RXC V6 models (track-only race cars and street-legal road cars) with Ford's 3.7L V6s. This engine produces 350 hp (261 kW) at 6,250 rpm and 320 lb-ft (434 Nm) of torque at 4,250 rpm. Another British company, the Ginetta Cars, used a 3.7 Ti-VCT engine for the 2012-2015 Ginetta G60. This engine delivered 310 hp (231 kW) at 6,250 rpm and 288 lb-ft (390 Nm) of torque at 4,500 rpm.