Mercedes M271 Engine 1.8L Specs, Problems & Reliability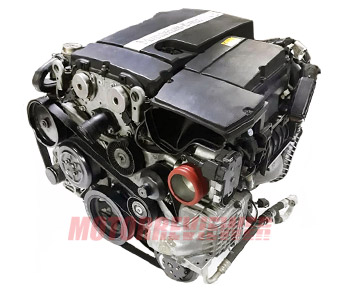 The M271 is a series of the inline four-cylinder engines that appeared in 2002. The new generation engine has an utterly new cylinder block, made of aluminum alloy with cast iron sleeves. There is a balancing mechanism inside the cylinder block. The M271 has an aluminum cylinder head, double overhead camshafts, four valves per cylinder and hydraulic lifters. The engine has variable valve timing system on both intake and exhaust camshafts.
The M271 1.8L engine has two types of cylinder heads for KE and DE versions (indirect injection and direct injection fuel system). Also, KE and DE pistons are different. The diameter of the intake valve is 30.5 mm, exhaust - 27 mm. Connecting rods were taken from the M111 EVO engine. The M271 engine has a timing chain and a small supercharger Eaton M65 (Kompressor).
In 2009, the M271 series was upgraded, and the main feature of these engines became the turbocharger IHI Al 0065/0066 instead of a previously used supercharger. Also, the engine control system was changed to Siemens SIM4 LDE.
The broad power range of the M271 1.8-liter engine allowed to replace the previous M111 engine series. The M271 family also has a 1.6-liter version. The next four-cylinder family, the M274/M270, appeared in 2011 and replaced the M271 from the production after a short time.
Engine Specs
Manufacturer
Stuttgart-Untertürkheim Plant
Production years
2002-present day
Cylinder block material
Aluminum
Cylinder head material
Aluminum
Fuel system
Fuel injection
Type of internal combustion engine
Four-stroke, turbocharged and supercharged versions
Compression Ratio
9.5-10.5
Power, hp
122-192/5200-5800
Torque, lb ft
140-192/1500-3500
Engine oil weight
0W-30, 0W-40, 5W-30, 5W-40
Engine oil capacity, liter
5.5
Oil change interval, mile
6,000
Applications
C 180 Kompressor W203, C 180 Kompressor W204, C 200 Kompressor W203, C 200 Kompressor W204, C 230 Kompressor W203, C 250 W204, CLK 200 Kompressor C209, E 200 Kompressor W211, E 200 W212, E 250 W212, E 200 Coupe C207, E 250 Coupe C207, SLK 200 Kompressor R171, SLK 200 R172, SLK 250 R172, Sprinter W906, CLC 180 Kompressor CL203, CLC 200 Kompressor CL203
M271 KE/DE 18 1.8l Engine Problems and Reliability
1. Power loss. That is one of the most common problems with the M271, which caused by soot on valve stems. 2. Engine noise during fired-up. The engine had an unreliable single-stand timing chain and stretched chain produces a lot of noise.
Modifications
M271.820 (2009 - present day) - EVO modification. Compression ratio is 9.3, power - 184 hp, torque - 199 lb-ft. This motor was designed for Mercedes-Benz C 200 BlueEFFICIENCY W204, SLK 200 BlueEFFICIENCY R172, E 200 BlueEFFICIENCY W212, E 200 Coupe BlueEFFICIENCY C207.
M271.860 (2009 - present day) - another EVO modification with 202 hp and 228 lb-ft of torque. This motor is for Mercedes-Benz C 250 BlueEFFICIENCY W204, SLK 250 BlueEFFICIENCY R172, E 250 BlueEFFICIENCY W212, E 250 Coupe BlueEFFICIENCY C207.