Mercedes M278 4.6L Engine Specs, Problems & Reliability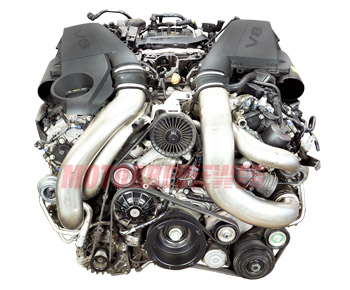 The Mercedes-Benz M278 is a 4.6-liter V8 direct-injected bi-turbo engine introduced in 2010. This member of the new engine family, which also includes the M276 V6, replaced the previous M273 V8 engines under a hood of the popular E-Class, S-Class, and GL-Class models.
The M278 is based on a 4.7-liter version of the M273. Both engines share the same die-cast full aluminum cylinder block with 90-degree V-angle and Silitec low-friction cylinder liners. Bore size, stroke, and bore pitch are identical. The M278 has new pistons with increased by 2 mm compression height. The connecting rods in opposite are 2 mm shorter in order to preserve a compression ratio of 10.5:1. At the bottom, there is a two-piece die-cast aluminum oil pan. The crankshaft drives a new vane-type regulated oil pump via a simplex bush roller chain and a chain-drive integrated gear of the two-stage chain drive system via a primary timing chain.
Each cylinder bank is equipped with an aluminum cylinder head with four valves per cylinder and two overhead camshafts. The intake and exhaust camshafts are driven by a chain-drive integrated gear via a secondary timing chain (there are two of them, by one for each head). Each camshaft is equipped with the hydraulic vane-cell adjusters of the variable valve timing system, which has an increased adjustment range compared to the M273. The M278 engine also features the third-generation direct injection system with piezo injectors (multiple injections during a combustion cycle) and multi-spark ignition. The high-pressure pump is located at the rear end on the right intake camshaft and drives by 4 additional cams. The pressure supplied to the rails lies between 120 and 200 Bar.
Like the predecessor, the M278 4.6L V8 is a turbocharged engine. Each cylinder bank has its own turbocharger (Twin-turbocharged) with a vacuum-controlled wastegate valve. These small Honeywell turbochargers produce up to 0.9 bar (13 psi) boost pressure. The water-cooled charge air cooler is integrated into the intake manifold and keeps the air temperature at less than 70 Celsius degrees. Engine systems are controlled by the MED17.7 engine control unite (ECU).
Mercedes replaces the outgoing M278 V8 engine range with the latest 4.0-liter M176 engine series introduced in 2015.
Engine Specs
Production years
2010-present
Cylinder block material
Aluminum
Cylinder head material
Aluminum
Fuel system
Direct Injection
Bore, mm
92.9 mm (3.66 in)
Stroke, mm
86 mm (3.39 in)
Displacement, cc
4,663 cc (284.6 cu in)
Type of internal combustion engine
Four-stroke, turbocharged
Power, hp
367-435 hp (270-320 kW)/5,250
Torque, lb ft
406-516 lb-ft (550-700 Nm)/1,600-3,500
Firing order
1-5-4-2-6-3-7-8
Engine oil weight
MB 229.5/229.51, SAE 0W-40
Engine oil capacity, liter
8.5l (9.0 qt)
Oil change interval, mile
9,000 (15,000 km) / 12 months
Applications
Mercedes-Benz S-Class (S500/S550), Mercedes-Benz CL-Class (CL500/CL550), Mercedes-Benz S-Class Coupe/Cabriolet (S500/S550), Mercedes-Benz CLS-Class (CLS500/CLS550), Mercedes-Benz SL-Class (SL500/SL550), Mercedes-Benz E-Class (E500/E550), Mercedes-Benz M-Class/GLE-Class (ML500/GLE500/ML550), Mercedes-Benz GL-Class (GL450), Mercedes-Benz GLS-Class
Mercedes M278 Engine Problems and Reliability
Early build M278 V8s had some problems with the timing chain tensioners causing a rattle on start up. The engine has a pretty complicated timing chain drive arrangement. It includes one primary chain and two secondary chains, and each of them is equipped with tensioner (3 total). If not pay attention to knocks/noise for a long time, this may lead to the replacement of the entire chain drive system together with cam adjusters. There were some reports of engine oil starvation due to the failure of the oil pump drive gear (oil pump is driven via a chain).
Also, there were some problems with premature valve guide wear, but later engines don't have that issue. The Silitec coating showed themselves as bad cylinder surface material for operation under high temperatures and detonation. Later, the manufacturer switched on NanoSlide coating which is more scratch resistance.