Mercedes M102 2.5-16 Cosworth Engine Specs, Problems & Reliability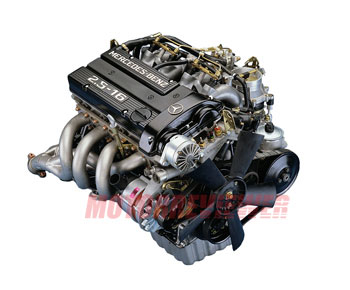 The 2.5-liter 16-valve engine appeared in 1988. It replaced the smaller M102 2.3-16v engine, which was the M102 2.3-liter engine mainly with the 16-valve cylinder head. Cosworth designed the 2.5-16v.
The engine has the aluminum cylinder head with four valves per cylinder, developed and produced by Cosworth, two overhead camshafts. The 2.5-liter engine got double-row timing chain to fix snapping problem of a single-row chain.
The 2.5-16 Evolution I came out in 1989. This version had the same displacement, but the shorter stroke and the bigger bore size. That allowed a higher rev limit and moved more power to high rpm. The Evolution 2 was shown in 1990. It has the same bore and stroke, but higher compression ratio and rev limit.
Engine Specs
Manufacturer
Stuttgart-Bad Cannstatt Plant
Production years
1988-1993
Cylinder block material
Cast Iron
Cylinder head material
Aluminum
Fuel system
Fuel Injection Bosch K-jetronic
Bore, mm
95.5 97.3 - EVO I and EVO II
Stroke, mm
87.2 82.8 - EVO I and EVO II
Displacement, cc
2498 2463 - EVO I and EVO II
Type of internal combustion engine
Four-stroke, naturally aspirated
Compression Ratio
9.7 (10.5 for EVO II)
Power, hp
204/6750 (194 with Catalyst) 204/6750-7250 (194 with Catalyst) - EVO I 235/7200-7700 - EVO II
Torque, lb ft
177/5000 (173 with Catalyst) 177/5000 (173 with Catalyst) - EVO I; 180/5000 - EVO II
Engine oil weight
0W-30, 0W-40, 5W-30, 5W-40, 5W-50, 10W-40, 10W-50
Engine oil capacity, liter
6.5
Oil change interval, mile
6,000
Applications
Mercedes-Benz 190E 2.5-16
M102 2.5-16V Engine Problems and Reliability
It should be noted that this engine is a high-performance engine and most parts operate on their limit.
Modifications
M102.990 (1988 -1993) - 190E 2.5-16.
M102.991 (1989 -1989) - 190 E 2.5-16 Evolution.
M102.990 (1990 -1990) - 190 E 2.5-16 Evolution II.