Mercedes M276 3.0/3.5L Engine Specs, Problems & Reliability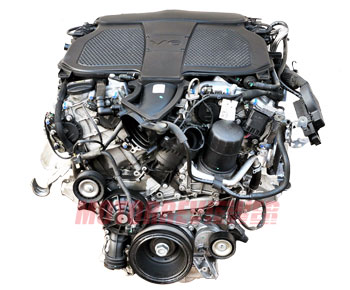 The Mercedes-Benz M276 is a series of 3.0-liter and 3.5-liter gasoline V6 engines with direct fuel injection system. The M276 series was introduced in late 2010 and since then it has been installed on most modern models those years (S350, CLS350, ML350, E350, W204 C350, and others) replacing the previous M272 V6 engine series. Most engines in the new series are turbocharged and only 3.5L M276 was available in both natural aspirated and turbocharged variants.
The M276 series began in 2010 from a naturally aspirated 3.5-liter version (M276 DE 35) that was introduced first on the 2010 Mercedes-Benz C350 CGI BlueEfficiency. The M276 3.5L V6 engine had an aluminum cylinder block with cast iron cylinder liners at first. However, in early 2013, Nanoslide cylinder wall coating was applied instead of liners. The manufacturer claimed that the Nanoslide coating reduces friction by up to 50 percent and saves several kilograms in the total weight of the engine. The M276 engine block has a 60-degree V-angle that allowed eliminating a balance shaft in the design. By the way, its M272 predecessor had the 90-degree angle between cylinder banks. Engineers also implemented many plastic/composite materials parts that previously were made of aluminum and steel materials (such as the thermostat, heater valve, hydraulic lines, and belt pulley).
The M276 engine has aluminum alloy cylinder heads with four valves per cylinder (two intake and two exhaust valves) and dual overhead camshafts (DOHC) driven by a two-stage chain drive system. There are three gear chains, each of which is equipped with hydraulic tensioner. Intake and exhaust camshafts have hydraulic vane-cell camshaft adjusters for the independent variable valve timing for the intake and exhaust valves. Valves are actuated by low-friction roller cam followers. The engine also includes a third-generation direct injection system with piezo-electrically controlled injectors. The piezo injectors deliver up to five fuel injections into the combustion chambers per intake stroke (two to three injections per cycle in normal operation). The low-pressure pump (4.5 to 6.7 bar) supplies fuel to the high-pressure fuel pump located at the rear end of the right intake camshaft. Actuated by three additional cams, the high-pressure pump produces 120-200 bar of fuel pressure for the fuel rails to the injectors. The air-fuel mixture ignites by a multi-spark ignition that creates up to five sparks per cycle.
Naturally aspirated 3.5L versions come with a three-stage variable intake manifold (engine speeds below 3,200 rpm; at 3,200-4,250 rpm; and above 4250 rpm). The M276 engine also features a vane-type, demand-controlled oil pump, an optimized water pump, and a variable alternator.
The 3.0-liter version was released in 2013. The M276 DE 30 LA engine uses the same architecture of the 3.5L V6, but with a reduced bore and stroke at 88 mm x 82.1 mm (3.46 in x 3.23 in). Also, this DELA30 engine was turbocharged with twin IHI turbochargers. Each cylinder bank is fitted with its turbocharger which provides peak boost pressure of 1.8 bar (26.1 psi). For 2015-2016, Mercedes offered a higher output version - DE30LA AMG. The compression ratio was lowered to 10.5:1 and turbochargers were tuned on higher boost. This engine delivered 362 hp and 384 lb-ft of torque.
In 2014, Mercedes introduced a biturbo version of the NA 3.5L M276 V6 - the M276 DELA35 or DE35LA engine. This new engine became the successor for the DE30LA. Like the 3.0-liter twin-turbo M276 engine, the DE 35 LA engine also features a 10.7:1 compression ratio, direct injection, and twin IHI turbochargers. Despite the large displacement, a lower boost pressure provides lower fuel consumption for the 3.5L engine compared to its 3.0L predecessor.
Engine Specs
Production years
2010-present
Cylinder block material
Aluminum
Cylinder head material
Aluminum
Fuel system
Direct Injection
Bore, mm
88.0 mm (3.46 in) - 3.0L
92.9 mm (3.66 in) – 3.5L
Stroke, mm
82.1 mm (3.23 in) - 3.0L
86.0 mm (3.39 in) – 3.5L
Displacement, cc
2,996 cc (182.8 cu in)
3,498 cc (213.4 cu in)
Type of internal combustion engine
Four-stroke, naturally aspirated/turbocharged
Compression Ratio
10.7:1 - M276 DE35LA and M276 DE30LA
12.0:1 - M276 DE 35 red.
12.2:1 - M276 DE 35
Power, hp
272-367 hp (200-270 kW)/5,000-6,000 - M276 3.0 version
252-333 hp (185-245 kW)/6,000-6,500 - M276 3.5 version
Torque, lb ft
295-384 lb-ft (400-520 Nm)/1,300-4,000 - M276 3.0 version 251-354 lb-ft (340-480 Nm)/1,200-5,200 - M276 3.5 version
Engine oil weight
MB 229.5/229.51, SAE 0W-30, 0W-40, 5W-30, 5W-40
Engine oil capacity, liter
6.5 l (6.9 qt)
Oil change interval, mile
9,000 (15,000 km) / 12 months
Applications
CLS 300, CLS 350, CLS 400, ML 350, ML 400, GL 400, C 350, C 400, C 450 AMG, E 300, E350, E 400, S 350, S 500 PLUG-IN HYBRID, SL 400, R 400, GLE 400 Coupe, GLE 450 AMG (Coupe), S 400 4MATIC Coupe, ML 300 4MATIC, GLK 350, SLK 350.
Mercedes M276 Engine Problems and Reliability
The M276 V6s are good, reliable engines with not so many issues. The most problematic place is a two-stage chain drive system of the engine. This system had some issues with insufficient oil supplied for the chains, which causes them to wear quickly. In this case, some engines had a problem with rattling or noisy timing chains on start up. Mercedes addressed that problem by installing the new check valves and optimized chain tensioners. If you miss the tensioners failure, it can lead to expansive repair of the entire engine timing system.
Remember that direct injection nozzles are sensitive to fuel quality. Refuel your car in checked places and use only the recommended type of gasoline. Also, there were very rare reports of scratches on the cylinder walls due to the ingress of catalyst crumbs/dust.
The approximate lifespan for the turbocharged 3.0-liter and 3.5-liter versions is 160,000-180,000 miles (250,000-290,000 km). Naturally aspirated versions usually reach 200k miles mark. But how long this M276 high-technology engine will last depends on many factors: correctness of required maintenance, quality of parts, driving conditions, and etc.
Modifications
M276 DE 30 AL - 333 hp (245 kW) at 5,250-6,000 rpm, 354 lb-ft (480 Nm) at 1,600-4,000 rpm. Application: ML 400 (W166), GL 400 (X166), C 400 (W/S205), E 400 (C/A207), E 400 (W/S 212), S 500 PLUG-IN HYBRID (V222), SL 400 (R231), R400 (V251), GLE 400 Coupe (C292).
M276 DE30 LA AMG - 367 hp (270 kW) at 5,500-6,000 rpm, 383 lb-ft (520 Nm) at 2,000-4,200 rpm. This engine was offered for the Mercedes-Benz C 450 AMG (W/S 205), GLE 450 AMG (W166), GLE 450 AMG Coupe (C292), and S 400 4MATIC Coupe (C217).
M276 DE 35 red. - 252 hp (185 kW) at 6,500 rpm, 251 lb-ft (340 Nm) at 3,500-4,500 rpm. This is a NA 3.5L engine, detuned version. It was used by ML 300 (W166), A207/C207 E 300, W212 E 300, and C218 C300, CLS 300.
M276 DE 35 - 306 hp (225 kW) at 6,500 rpm, 273 lb-ft (370 Nm) at 3,500-5,250 rpm. This version is the most widespread naturally aspirated 3.5L V6, also known by BlueEfficiency badge. Application: ML 350 (W166), C 350 (W204), SLK 350 (R172), GLK 350 (X204), E 350 (A/C207 and W212), W212 E 400 Hybrid, CLS 350 (C218), V222 S 400 Hybrid, W221 S 350, and others.
M276 DE 35 LA - 333 hp (245 kW) at 5,250-6,000 rpm, 354 lb-ft (480 Nm) at 1,200-4,000 rpm. This is a 3.5L twin-turbo V6 engine for the E 400 (C/A 207, W212) and CLS 400 (C218).