Mercedes M274/M270 1.6/2.0L Engine Specs, Problems & Reliability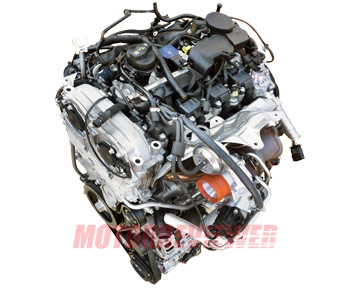 The Mercedes-Benz M274/270 is a series of 1.6 and 2.0-liter four-cylinder gasoline engines for front- and rear-wheel drive vehicles. The production of these engines began in 2011 at the Mercedes-Benz plant in Stuttgart Unterturkheim and later at MDC Power GmbH in Kolleda. The M274 and M270 engines replaced the outgoing M266 and M271 EVO engine families. While the M270 version (M270.910 and M270.920) is used for front-wheel drive vehicles in the transverse engine layout (A-Class, B-Class, CLA-Class, GLA-Class, GLC-Class, and others), the M274 (M274.910 and M274.920) refers to the longitudinally-mounted installation in rear-wheel drive vehicles such as C-Class and E-Class.
The M274/M270 has a diecast aluminum cylinder block (crankcase) with open deck design. The cylinder liners are made of cast iron. The cylinder bore size of 83 mm (3.27 in) was unified for both 1.6-liter and 2.0-liter variants. But the difference of 18.3 mm (0.72 in) in stroke sizes gives a 0.4L gain in the total displacement. The M274/M270 uses a hollow-cast crankshaft with four counterweights to reduce its weight. The 2.0L version is equipped with a compact Lanchester module, which reduces engine NVH levels by inducing second-order inertial forces. This module is screwed onto the crankshaft bearing block from below. At the bottom, there is a diecast aluminum oil pan, which gives an additional rigidity. An oil pump seats inside the oil pan. The M274/M270 uses a regulated oil pump driven by the crankshaft via a toothed chain. The oil pressure is controlled by the ME-SFI (ME) control unite.
On top of the engine block, there is a 16-valve cylinder head made of high-strength aluminum alloy. The intake and exhaust valves are actuated by two individual, overhead mounted camshafts. Camshafts are chain driven by a toothed timing chain. The intake and exhaust camshafts have solenoids of the camshaft adjustment system providing variable valve timing. Some engines include the Camtronic mechanism on the intake side. This technology enables a switchover from a standard cam for the upper load range to a small cam in the partial load range. The intake valve diameter is 31.5 mm; the exhaust valve diameter is 25.0 mm. the valve stem diameter is 6.0 mm.
The M274 and M270 engines feature direct fuel injection. The high-pressure fuel pump is located on the top of the cylinder head and driven by the intake camshaft. It produces up to 200 bar of fuel pressure for the fuel rail. The direct injection uses modern high-pressure piezo injectors, providing up to five fuel injections into the combustion chamber during a cycle. Direct injectors are centrally located, while the spark plugs were moved to the exhaust side and placed between exhaust valves.
In order to improve efficiency and increase engine power and torque, the M274/M270 was equipped with a single-stage turbocharger (IHI AL0071 and IHI AL0070 - for 1.6L and 2.0L). The exhaust manifold and turbocharged form one module (they are welded together). The boost pressure is electronically controlled (the max boost is 1.1 bar). The intake system also includes an air-to-air type intercooler, which cools hot compressed air. The M274/M270 engine also has an electronically controlled thermostat, shut-off mechanism for the coolant pump, single- and multi-spark ignition modes, alternator management system, Bosch MED 17.7.2 engine control unit, and three-way catalytic converter. The engine series is compliant with the EU 6, EU 6d-TEMP emissions standard.
From 2017, Mercedes replaces the M274/M270 engines by the newest 1.5-liter and 2.0-liter successors - the M260/M264 engines.
Engine Specs
Production years
2011-present
Cylinder block material
Aluminum
Cylinder head material
Aluminum
Fuel system
Direct Injection
Bore, mm
83.0 mm (3.27 in)
Stroke, mm
73.7 mm (2.90 in) - 1.6L
92.0 mm (3.62 in) - 2.0L
Displacement, cc
1,595 cc (97.3 cu in)
1,991 cc (121.5 cu in)
Type of internal combustion engine
Four-stroke, turbocharged
Compression Ratio
10.3:1 - 1.6L9.8:1 - 2.0L
Power, hp
101-154 hp (75-115 kW)/4,500-5,300 - M270 DE16 LA, M274 DE16 LA154-241 hp (115-180 kW)/5,000-5,500 - M270 DE20 LA, M274 DE20 LA
Torque, lb ft
133-184 lb-ft (180-250 Nm)/1,200-4,000 - M270 DE16 LA, M274 DE16 LA199-273 lb-ft (270-370 Nm)/1,200-4,000 - M270 DE20 LA, M274 DE20 LA
Engine oil weight
MB 229.5, SAE 0W-40
Engine oil capacity, liter
5.8l (6.1 qt) - 1.6L engine6.5-7.0l (6.8-7.4 qt) - 2.0L engine
Oil change interval, mile
9,000 (15,000 km) / 12 months
Applications
A-Class 160/180/200/220/250, B-Class 160/180/200/220/250, CLA 180/200/250, CLA250 Sport, GLA 180/200/250, GLC 250/300/350e, C-Class 160/180/200/250/300e, E-Class 180/200/250/300/350e, GLK 200/250, SLK 200/300, Infiniti QX30, Q50/Nissan Skyline, Q60, Q70
Mercedes M274/M270 Engine Problems and Reliability
The M274/M270 engine family has several weak components here and there. The first one is the camshaft actuators (solenoids). Usually, after 60-70k miles, these engines start producing some kind of noise while they cold. This is a sign of wear inside camshaft adjusters. In 2014, engines got modified actuators (part no. A2700501147) that hold a little bit longer.
The second problem refers to the rapid wear of the timing chain. Its lifespan is approximately 80k miles (plus or minus 20k). The next problem with which you may encounter on the exact the same mileage is turbocharger failure. The problem with the turbocharger is not very common, but it still has a place to be.
How reliable the M274/M270 will be over time depends on many factors. As usual, Mercedes things need care and proper maintenance, probably more often than the manufacturer requires on a schedule.
Modifications
M270 DE16 LA R (red.) This engine exists in two power output versions. Power unit for the Mercedes W176 A160 and W246 B160 produces 101 hp (75 kW) at 4,500-6,000 rpm and 133 lb-ft (180 Nm) of torque at 1,200-3,500 rpm. The second version has following specs and application: 121 hp (90 kW) at 5,000 rpm and 148 lb-ft (200 Nm) at 1,250-4,000 rpm, Mercedes W246 B180, W176 A180, C117 CLA180, and X156 GLA180.
M270 DE16 LA - 154 hp (115 kW) at 5,000 rpm, 184 lb-ft (250 Nm) at 1,250-4,000 rpm. Apllication: Mercedes-Benz W246 B200, W176 A200, C117 CLA200, and X156 GLA200.
M270 DE20 LA - 154-215 hp (115-160 kW) at 5,000-5,500 rpm, 199-258 lb-ft (270-350 Nm) at 1,250-4,000 rpm. This engine is used in the Mercedes-Benz W246 B200 Natural Gas Drive, W176 A220 4MATIC, W246 B220 4MATIC, C117 CLA 250/ Sport, X156 GLA 250, W176 A250/ Sport, and W246 B250.
M274 DE16 LA - 127/154 hp (95/115 kW) at 5,000-5,300 rpm, 155/184 lb-ft (210/250 Nm) at 1,200-4,000 rpm. While 95kW engine is offered for the Mercedes W205 C160, the more powerful 115 kW variant was used for the W204 C180 and W212 E180.
M274 DE20 LA - a 2.0-liter engine with 115 kW, 135 kW, 155 kW, and 180 kW power ranges. 115 kW version: 154 hp (115 kW) at 5,000 rpm, 199 lb-ft (270 Nm) at 1,200-4,000 rpm - used in the W212 E200 Natural Gas Drive model. 135 kW version: 181 hp (135 kW) at 5,500 rpm, 221 lb-ft (300 Nm) at 1,200-4,000 rpm - Mercedes W212 E200, X204 GLK200, W205 C200, R172 SLK200, and W213 E200. 155 kW version: 208 hp (155 kW) at 5,500 rpm, 258 lb-ft (350 Nm) at 1,200-4,000 rpm. Engine application: Mercedes W212 E250, X204 GLK250, W205 C250, W205 C350e, W213 E250, W213 E350e, X253 GLC350e, Infinity V37 Q50/Nissan Skyline, Infinity CV37 Q60 and Y51 Q70. 180 kW version: 241 hp (180 kW) at 5,500 rpm, 273 lb-ft (370 Nm) at 1,300-4,000 rpm. The most powerful engine in the M274 series was available for the next vehicle models: W205 C300, W213 E300, X253 GLC300, R172 SLK300, and X253 GLC300 / GLC300 4 Matic.