Mercedes OM642 3.0 CDI Engine Specs, Problems & Reliability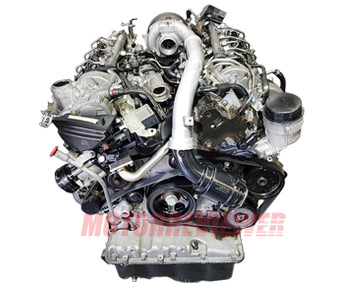 The Mercedes-Benz OM642 is a 3.0-liter turbocharged V6 diesel engine that became available in 2005. The OM642 V6 CDI/BlueTEC engine replaced the previous five- and six-cylinder OM647 and OM648 inline engines. This MB 3.0L diesel unit was offered as an engine option for many cars and vans produced by Mercedes-Benz as well as under the Dodge, Jeep, Chrysler, and Freightliner brand. The OM642 was produced in DE30LA, DE30LA red, and LSDE30LA versions.
The new V6 CDI has an aluminum cylinder block with a 72-degree V angle which equipped with cast-in grey iron cylinder liners. In 2014, the cylinder liners were replaced by the Mercedes-Benz's "Nanoslide" cylinder wall coating. Engine's aluminum crankcase weights only 41 kg. The OM642 has a forged steel crankshaft which rotates in four bearings, forged steel lightweight connecting rods, and aluminum pistons with recesses in the piston crowns for the optimal combustion process. The crankpins are offset by 48 degrees. The engine also has a balancing shaft which counter-rotates at the same speed as the crankshaft. On top of each cylinder bank, there is an aluminum cylinder head with four valves per cylinder (24 valves total) and intake and exhaust overhead camshafts (DOHC). Valves are actuated by camshafts via roller-type cam followers with hydraulic valve clearance compensation. The camshafts are chain-driven. The engine uses a double-bush (duplex) timing chain. This chain also drives the balancer shaft and the high-pressure fuel pump. Head covers are aluminum as well.
The OM642 3.0L engine has the third generation of the common-rail direct injection system. It features piezo-ceramics injectors instead of the previously used injectors with solenoid valves. Injector nozzles have eight holes (previous engines had seven). The new piezo-injectors allow making up to 5 fuel injections per cycle. The high-pressure pump provides a maximum injection pressure of 1,600 bar (23,000 psi). This diesel engine is turbocharged by a Variable Nozzle Turbine turbocharger (VNT or VGT - a variable geometry turbocharger) - Garrett GT2056VK. VNT turbocharger is electronically controlled by ECU (Bosch EDC17) and able to vary the angle of its turbine blades to suit the operating status and loads providing the optimal boost pressure. The intake system is equipped with a downstream intercooler which reduces intake temperature by up to 95 degrees Celsius.
To meet more and more strict emission regulations, there are two oxidizing catalytic converters cleaning the exhaust gases of the new Mercedes 3.0L V6 diesel engine. In addition, the engine has a cooled exhaust gas recirculation system (EGR/AGR) and uses a diesel particulate filter (DPF) to lower exhaust emissions even further. Some latest vehicles may have BlueTec AdBlue urea injection for NOx reduction.
In 2017, the manufacturer released its newest diesel engine - the Mercedes-Benz OM656. This inline six-cylinder engine will replace the OM642 V6 in the near future.
Engine Specs
Production years
2005-present
Cylinder block material
Aluminum
Cylinder head material
Aluminum
Fuel system
Common rail direct injection
Bore, mm
83.0 mm (3.27 in)
Stroke, mm
92.0 mm (3.62 in)
Displacement, cc
2,987 cc (182.3 cu in)
Type of internal combustion engine
Four-stroke, turbocharged
Power, hp
188-261 hp (140-195 kW)/3,600-4,000
Torque, lb ft
325-457 lb-ft (440-620 Nm)/1,600-2,400
Engine weight
208 kg (459 lbs)
Engine oil weight
MB 229.51 or MB 228.31 - OM642 engines with DPF;MB 229.52 - BlueTec engines
Engine oil capacity, liter
8.5l (9.0 qt)
Oil change interval, mile
9,000 (15,000 km) / 12 months
Applications
Mercedes-Benz C320/C350 CDI, Mercedes-Benz E280/E320/E350(212.024) CDI/Bluetec, Mercedes-Benz CLK320 CDI, Mercedes-Benz G350 CDI/Bluetec, Mercedes-Benz GLK 350 CDI, Mercedes-Benz R320/350 CDI/Bluetec (251.122, 125), Mercedes-Benz ML320/350 CDI/Bluetec (164.122, 125, 024), Mercedes-Benz GL320/350 CDI/Bluetec (164.822, 825, 824), Mercedes-Benz GLC 350 d, Mercedes-Benz S320/350 CDI/Bluetec (221.183), Mercedes-Benz CLS320/350 CDI/Bluetec (219.322; 218.326, 926, 394, 994, 323, 923, 393, 993), Mercedes-Benz Vito Van 120 cdi and Vito 204 Sports, Mercedes-Benz GLC 350, Chrysler 300C, Jeep Grand Cherokee WK/WH, Jeep Commander XK/XH, Dodge Sprinter, Mercedes-Benz Sprinter
Mercedes OM642 Engine Problems and Reliability
In general, the OM642 engine has proven to be quite reliable. But near a mileage of 100-150k miles, auxiliary engine systems start to fail.
The first thing that starts to fail on this engine is the crankcase ventilation system. Driving mostly in the city and low-quality fuel contribute to the formation of a large amount of deposits inside the intake system. The crankcase ventilation system vents to the intake of the turbocharger. The vented oily air easily goes through the turbo blades and this oil and sludge begin to accumulate on walls of the intake channels, swirl valves and etc. Mercedes-Benz has stated that this engine feature is "normal". Therefore, for vehicles equipped with an OM642 3.0L diesel engines, it will be helpful to clean an air intake manifold, intake pipes, and crankcase ventilation pipes every 60-80k miles. Otherwise, the swirl valves may be stuck and an overloading electric drive motor will blow a fuse that controls other sensors. If it will happen, the vehicle enters the "limp home" mode and limits engine speed to 3,000 rpm due to disabling of the important engine systems.
The next problem applies to engines manufactured before 2010. The pre-2010 OM642 engines often had oil leaks from the oil cooler. This issue happened due to heat-related seal degradation. In 2010, the manufacturer replaced the previous orange seals with more durable Viton seals. New seals have a purple color.
Injector copper seals are known to fail, causing a buildup of heavy carbon deposits around the injector. The car begins to smoke and lose power. As a result, it all ends with the failure of the fuel injectors (known as "Black Death"). Some people advise using the Honda Accord 2.2 Diesel injector seals in applications for Mercedes CDI diesels instead of specified MB sealing washers. Another reason for the black smoke from the exhaust pipe sometimes related to a malfunction in the glow plug controller.
The manufacturer also replaced the TWC temperature sensor (part no. A005 153 40 28) with a new sensor that specified part no. is A007 153 74 28. The previous sensor was susceptible to rapid failure (diagnostic code is P2031).