Chrysler 2.4L Tigershark MultiAir Engine Specs, Problems & Reliability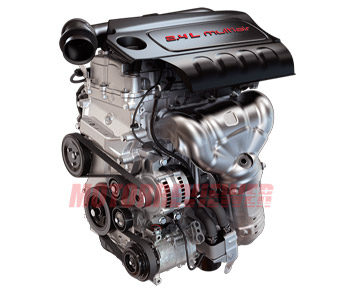 2.4L Tigershark (ED6) Info
The 2.4L Tigershark (Jeep ED6) is a 2.4-liter inline four-cylinder NA gasoline engine debuted in the 2013 Dodge Dart. The Tigershark/MultiAir II engine series was developed by Chrysler and Fiat engineers in a partnership. Although the new family is based on the previous "World Gas Engine", the new 2.4-liter version has almost 90% new or redeveloped components, improving the fuel economy and performance. The new engine became available for Jeep Cherokee, Renegade, Compass, Ram ProMaster City, and also is used in Fiat models such as Fiat 500X and Fiat Toro. Let's take an in-depth look at the 2.4 Tigershark (ED6) engine design, its common problems, and longevity.
2.4 Tigershark ED6 /MultiAir Overview
The 2.4 Tigershark has a high-pressure, die-cast aluminum cylinder block with dry, cast-iron liners. A lightweight aluminum ladder frame is installed between the engine block and the sandwich-type steel oil pan for added rigidity. Engineers added rotating balance shafts into the bottom of the 2.4L block to offset vibration. The engine's bottom rotating components consist of a forged steel crankshaft, powder-forged steel connecting rods, and lightweight aluminum pistons with polymer-coated piston skirts. Piston pins are full floating with hard carbon (diamond-like) coatings. This engine is equipped with oil squirters that spray oil on the bottom of the pistons for reducing temperature.
On top of the block, there is an aluminum 16-valve cylinder head with a single, chain-driven camshaft and the electro-hydraulic MultiAir II system developed by Fiat. The MultiAir is variable valve timing and lift technology controlled by electro-hydraulic valve actuators. The 2.4 Tigershark is equipped with a MultiAir II system that commands both the opening and the closing point for the intake valve event. The exhaust valves are actuated by the camshaft through polished shimless mechanical buckets. On the intake side, there is an intake cam lobe for each cylinder. Those lobes push on roller-finger followers. Each finger follower actuates a piston that has a lash adjuster and a hydraulic brake. This piston pushes oil through a solenoid into the valve assembly. When the solenoid is open, the valve disconnects from the cam and shuts under pressure applied by the valve spring. When the solenoid is closed, valves follow a cam profile as in a traditional engine. This is how the MultiAir system controls valve timing and valve lift. Thanks to the MultiAir system, the 2.4 Tigershark is well optimized for both fuel economy and performance. The cylinder head is covered by an aluminum headcover.
The engine uses a traditional multiport fuel injection system and coil-on-plug ignition with dual precious-metal spark plugs. The intake manifold is made of plastic, and it's covered by an acoustic cover to reduce noise. The Tigershark is equipped with a two-stage oil-pressure relief system, which maintains an optimal oil pressure and reduces engine-oil pumping loads.
Engine Specs
Manufacturer
Chrysler Plant in Dundee, Saltillo (Mexico); Trenton, Michigan (USA)
Production years
2012-present
Cylinder block material
Aluminum
Cylinder head material
Aluminum
Fuel system
Multi-point fuel injection
Bore, mm
88.0 mm (3.46 in)
Stroke, mm
97.0 mm (3.82 in)
Displacement, cc
2,360 cc (144 cu in)
Type of internal combustion engine
Four-stroke, naturally aspirated
Power, hp
178-184 hp (133-137 kW)/6,250-6,400
Torque, lb ft
171-179 ft-lb (232-243 Nm)/3,800-4,800
Engine oil weight
SAE 0W-20
Engine oil capacity, liter
5.2 l (5.5 qt) with oil filter
Oil change interval, mile
10,000 (15,000 km) / 12 months
Applications
Chrysler 200, Dodge Dart, Jeep Cherokee, Jeep Renegade, Jeep Compass, Ram ProMaster City, Fiat 500X, Fiat Toro
2.4L Tigershark MultiAir (ED6) Problems and Reliability
High Oil Consumption
As was mention above, the MultiAir system operates using engine oil. In this case, oil viscosity/quality and condition are front-page aspects for the 2.4 Tigershark reliability. So far, the main problem for this engine is, yes, oil consumption. More pronounced oil consumption happens with short runs, but it is not always the primary factor. This 2.4L engine has some issues with piston rings that allegedly don't work correctly with the cylinders. By the way, FCA dealerships tell this explanation to their customers about what is related to oil consumption problems.
MultiAir System Flaw
One more weak point is the MultiAir system. Dirty oil can plug its oil channels and solenoids, and this system will fail. Repairing the MultiAir system is quite costly due to the complex design with many small parts and the lengthy disassembly/assembly process.
Doodge/Jeep 2.4L Tigershark Reliability Summary
Otherwise, the engine does not raise questions. Perhaps it is a bit noisy, but of course, it does not affect the durability or longevity. Keep an eye on oil level, change it even more frequently than the manual says, and the 2.4-liter Tigershark will serve 150-200k miles.