Chrysler 3.6L V6 Pentastar Engine Review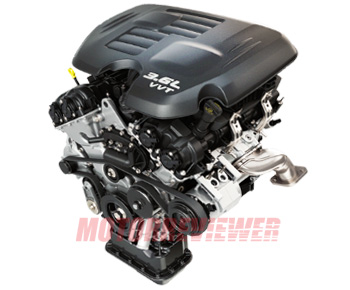 The 3.6L V6 Pentastar is a 3.6-liter six-cylinder gasoline engine introduced first at the New York Auto Show in 2009 for the 2011 model-year Chrysler, Dodge and Jeep vehicles. This new V6 is one of the most technologically advanced engines to date, created by Chrysler. The V6 is used in popular cars around the world such as the Dodge Challenger, Jeep Cherokee, Jeep Wrangler, and in the Ram 1500 truck. The 3.6L Pentastar V6 for three years in a row was among the top ten engines in the US market.
The new 3.6 V6 engine is 38% more powerful, consumes 11% less fuel, and 42 lbs (19 kg) lighter than its 3.5-liter predecessor. It is also smaller in size: 94 mm shorter than the 3.7 and 34 mm shorter than the 3.5 V6. The engine has a high-pressure die-cast aluminum cylinder block with 60-degree V angle between cylinder banks. It is an open-deck design, which saves material, lighter and cheaper to produce, and has cast iron cylinder liners for increasing longevity. The engine block is equipped with three piston oil cooler jets. Each oil jet cools two pistons, prevent detonations, and controls heat. There are forged steel connecting rods, the nodular iron crankshaft, and cast aluminum pistons with low-friction rings and reduced skirt area for less weight and friction as well. The engine uses a chain-driven, vane-type variable displacement oil pump. Engineers removed all brackets for the engine accessories. The alternator, air conditioner compressor, and belt tensioner are bolted to the engine block. They are driven by a serpentine belt as well. This arrangement has significantly reduced the level of vibration and noise.
The 3.6L Pentastar has sand-cast aluminum cylinder heads made of T7 heat-treated aluminum. Cylinder head feature 4-valve per cylinder and dual overhead camshafts with roller finger followers with hydraulic lifters. The intake and exhaust camshafts are chain-driven (there is a separate timing chain for each head). Timing chains are a "silent chain link" design. All four camshafts come with torque-actuated phasers. The intake valve is a single-piece design, made of forged heat resistant (martensitic) steel; intake valve diameter is 39 mm. The exhaust valves are two-piece designs, with a forged austenitic head welded to a martensitic stem; the exhaust valve diameter is 30 mm. Cylinder heads feature high-flow intake and exhaust ports, and an integrated exhaust manifold. On top of the engine, there is a lightweight composite intake manifold fitted with a 74 mm throttle body and an electronically controlled multi-point port fuel injection system.
90% of maximum torque is achieved in the range of 1800-6350 rpm. Thus, the engine can provide excellent driving dynamics without requiring high-octane (premium gasoline). While engines are sufficient simple in maintenance and not demanding on fuel quality, they feature great fuel efficiency, low emissions, and smooth operation. Pentastar V6 engines are very popular both in the United States and beyond. They meet Federal Tier 2 BIN 5 emission requirements, Ultra-low Emissions Vehicle II standards, and Euro6 standards. It is also designed to meet future strict standards including LEV III and PZEV California standards.
In 2016, FCA released upgraded Pentastar engine family and a new version of the 3.6L V6 for the Jeep Grand Cherokee and Dodge Durango. The revised engine now has a two-stage variable valve lift (VVL). The VVL system provides low and high valve lifts. Low-lift settings at low speeds save fuel (up to 2.7% increase over the previous version), while high valve lift turns on when power is needed. Unfortunately, the manufacturer was forced to install a cooled exhaust gas recirculation (EGR) system. The modified engine also features a new plastic intake manifold with longer runners increased torque, high-tumble intake ports inside cylinder heads, new valve springs, and low-tension piston rings. The fuel system received new eight-hole injectors. And the good news is, the engine has kept a port fuel injection. The variable valve timing (VVT) system was recalibrated. The compression ratio was increased from 10.2:1 to 11.3:1. These improvements help to produce more power and torque together with better fuel efficiency, as well as reduce emissions.
In recent years, the Pentastar V6 engine successfully competes with the more technologically advanced 2.0L turbo four - 2.0-liter Turbo Hurricane.
Engine Specs
Manufacturer
FCA US LLC - Mack Avenue Engine Complex, Trenton Engine Plant and Saltillo South Engine Plant
Production years
2010-present
Cylinder block material
Aluminum
Cylinder head material
Aluminum
Fuel system
Port multi-point fuel injection
Bore, mm
83.0 mm (3.27 in)
Stroke, mm
96.0 mm (3.78 in)
Displacement, cc
3,604 cc (219.9 cu in)
Type of internal combustion engine
Four-stroke, naturally aspirated
Compression Ratio
10.2:1;
11.3:1 - 2016+ the Gen2/revised Pentastar
Power, hp
283-305 hp (211-224 kW)/6,350-6,600
Torque, lb ft
251-269 ft-lb (340-365 Nm)/4,175-4,800
Engine oil weight
SAE 5W-20, 5W-30
Engine oil capacity, liter
5.7 l (6.0 qt)
Oil change interval, mile
9,000 (15,000 km) / 12 months
Applications
Jeep Grand Cherokee, Jeep Wrangler, Ram 1500, Ram ProMaster, Ram Cargo Van, Dodge Challenger, Dodge Charger, Dodge Durango, Dodge Avenger, Dodge Grand Caravan, Dodge Journey, Chrysler 300, Chrysler 200, Chrysler Town & Country, Chrysler Pacifica, Fiat Freemont, Lancia Thema, Lancia Voyager
3.6 V6 Pentastar Engine Problems and Reliability
The left side cylinder head problem had been found in about 0.5% percent of 2011-13 vehicles with 3.6-liter V-6 Pentastar engines. Engines with cylinder head failure can be easily recognized by a ticking sound from the left side. Sometimes of them had other symptoms, including a check engine light illuminated. The failure was caused by excessive wear. In August 2012, Chrysler made the design upgrade and the problem is rarely reported now. All vehicles with 2011-13 model year 3.6L Pentastar engines have extended engine warranty on the left side cylinder head to 10 years or 150,000 miles.
Some owners complain of problems with clogged up radiators and frequent replacement of water pumps, thermostats, and oil pumps. The problem may lie in the production and preparation of an individual engine before assembly. The heads are sand-cast and undergo serious inspections for cleanliness before reaching assembly plants. But any residual sand that remains from the casting process inside the engine can also circulate through the vehicle's cooling systems, causing clogs in radiator and oil cooling system.
In general, the engine has been around for a long time and used in a lot of vehicles, so it has been well tested. Despite that they had some issues early on, the 3.6L V6 Pentastar is a great engine, one of the most reliable engines available on the market right now.
Chrysler Engines
Engine Makes