Chrysler 4.7L V8 PowerTech Specs, Problems & Reliability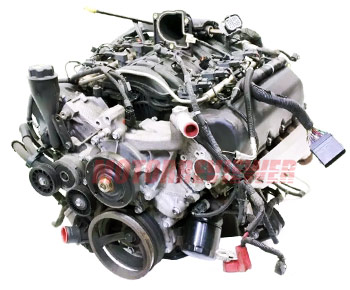 4.7 V8 PowerTech Info
The Chrysler 4.7L V8 PowerTech is an eight-cylinder gasoline engine that firstly appeared in the 1999 Jeep Grand Cherokee and then (in 2000-2002) in Dodge vehicles (Ram, Dakota, Durango). The 4.7L V8 was the first of the PowerTech family and was developed as a replacement for the 4.0L inline-six engine designed by AMC and 316 V8s of Chrysler's LA family. For some period, the new 4.7-liter V8 in Dodge models was being named as a 4.7L Magnum engine, although it has nothing to do with the previous 5.2L Magnum. In 2002, the PowerTech family replenished with a 3.7-liter V6 version, which had a very similar design with the V8 version.
Jeep/Dodge 4.7 V8 PowerTech Overview
The 4.7L PowerTech has a cast-iron cylinder block with a 4.09 inch (104 mm) bore spacing, a 9.09 inch (231 mm) deck height, and a 90-degree angle between cylinder banks which is optimal for using one crankpin journal for a pair of connecting rods. The engine block was designed from scratch and all dimensions are new. The debuted engine was fitted with a nodular cast-iron crankshaft, which is attached to the block by using a single bedplate instead of five individual main-bearing caps. The bedplate made of compacted graphite iron adds rigidity to the block and reduces noise and vibration. This engine has powder-forged metal, fracture-split connecting rods (the length is 6.12 inches/155.5 mm) and cast aluminum pistons with moly coated skirts. From underneath, the crankcase is sealed by a stamped steel oil pan. While the 3.7L V6 has a balancing shaft, the 4.7L engine doesn't need it.
The engine is equipped with cast aluminum alloy cylinder heads. Between each head and engine block, there is a three-layer laminated stainless steel gasket. Head bolts are 11 mm. Each cylinder head has only two valves per cylinder and one top-mounted, chain-driven hollow camshaft (SOHC design). Intake and exhaust valves are pushed apart, and rocker arms are turned by 180 degrees relative to each other. This configuration allowed to make the shape of the combustion chamber and the arrangement of spark plugs more efficient (almost hemispherical chambers). The diameter of intake valves 1.89 inches (48 mm) and the exhaust valves are 1.46 inches (37 mm). The valvetrain is equipped with hydraulic lash adjusters. Camshaft specifications: the valve lift is 0.443 inches on the intake and 0.429 inches on the exhaust, the duration is 244 degrees intake and 254 degrees on the exhaust. On top of each cylinder head, there is a cast magnesium valve cover.
The engine has an electronic fuel injection system (sequential multi-port injection). The fuel injectors are mounted to the intake port in the head. The new tuned-length runner intake manifold is made of polymer material. The engine speed is controlled by an electronic throttle body (fly-by-wire). The diameter of the throttle valve is 2.56 inches (65 mm). The 4.7 V8 engine also features a modern coil-on-plug ignition system and a hybrid cooling fan system (in-line electric and engine-driven fans).
In 2002, Chrysler introduced a "High-Output" version of the 4.7L PowerTech engine as an option for the Jeep Grand Cherokee Limited and standard for the Overland models. The 4.7L V8 HO features a 9.7:1 compression ratio, high-compression domed pistons, two knock sensors, new camshafts, and tuned intake. This engine has an additional 30 horsepower and 35 lb-ft of torque over a basic engine. In 2005+ Jeep Grand Cherokee, the 4.7L H.O. version was replaced by a 5.7L V8 Hemi, but for some models, it was being offered until 2008. In 2005, the base version also got two knock sensors and other minor changes.
2008+ Model Year
In 2008, the 4.7L PowerTech has undergone significant changes. From the 2008 model year, the 4.7L V8 PowerTech engine has new cylinder heads with two spark plugs per cylinder (by the way, these two spark plugs are not identical). The bottom received new lightweight pistons and forged steel (36MnVS4 material) connecting rods. The compression ratio was increased from 9.0:1 to 9.8:1. Ports in the heads were reworked and now have a better flow. The valvetrain was equipped with a redesigned valve lash adjuster system. The revised 4.7L engine also features a more aggressive camshaft profile, an improved intake manifold with shorter runners, and a 2.91 inches (74 mm) throttle body.
The longest time of using the PowerTech V8 4.7L engine was on the Dodge Ram 1500 - until the 2013 model year. Chrysler replaced this 4.7-liter V8 power unit by a more technical innovative 3.6 V6 Pentastar and modern Hemi V8 engines.
Engine Specs
Manufacturer
Chrysler, Mack Avenue engine plant, Detroit, Michigan
Production years
1999-2013
Cylinder block material
Cast iron
Cylinder head material
Aluminum
Fuel system
Sequential multi-port fuel injection
Bore, mm
93.0 mm (3.66 in)
Stroke, mm
86.5 mm (3.40 in)
Displacement, cc
4,698 cc (286.7 cu in)
Type of internal combustion engine
Four-stroke, naturally aspirated
Compression Ratio
9.0:1;
9.7:1 - High-Output version;
9.8:1 - 2008+
Power, hp
235-310 hp (175-231 kW)/4,600-5,650
Torque, lb ft
295-334 ft-lb (400-453 Nm)/3,600-4,000
Firing order
1-8-4-3-6-5-7-2
Engine oil weight
SAE 5W-30 (SAE 5W-20 from 2008)
Engine oil capacity, liter
5.7 l (6.0 qt) - with oil filter
Oil change interval, mile
6,000 (10,000 km)/6 months
Applications
Jeep Grand Cherokee, Jeep Commander, Dodge Ram 1500, Dodge Dakota, Dodge Durango, Chrysler Aspen, Mitsubishi Raider
4.7 V8 PowerTech Engine Problems and Reliability
The engine received mixed reviews from the owners. Modern technology fans focus on that the new engine turned out to be too conservative, even the move of camshafts to the heads did not give significant advantages. On the other hand, the previous Magnum V8 was well known as a simple but reliable, bulletproof engine. And for those who are interested in high performance, modern HEMI V8s became a more relevant choice.
But in fact, the 4.7L V8 PowerTech is a pretty good engine with a durable design. It has a strong cast-iron block and bedplate, a minimum number of electronic systems to fail, and reliable timing chains. Only at the beginning, 4.7L PowerTech had some problems with failed hydraulic lash adjusters that could lead to rocker arms kick out of their working positions.
Dodge/Jeep 4.7 V8 PowerTech Reliability Summary
This engine may easily last up to 200,000 miles (300,000 km) with only routine maintenance. But keep in mind, the PowerTech engine family does not tolerate poor maintenance. The engine requires the use of thin oils and a short time between oil changes; otherwise, the engine begins to become very dirty from the inside, which leads to more serious problems.