Chrysler 2.0L Turbo GME Hurricane Engine Specs, Problems & Reliability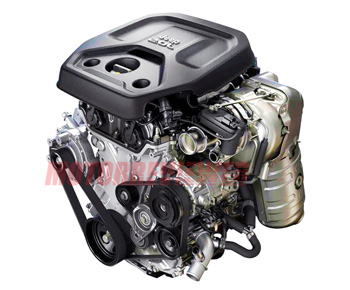 Jeep 2.0 Turbo engine Info
The 2.0L GME T4 Hurricane turbo engine is a 2.0-liter inline four-cylinder turbocharged gasoline engine with direct fuel injection. This engine is part of the Global Medium Engine (GME) architecture family created by the powertrain division of the Fiat Chrysler Automobiles (short for FCA) group. The American version, made by the FCA US division, was introduced first in the 2018 Jeep Wrangler and a year later became available for the Jeep Cherokee.
FCA 2.0l Turbo Engine Overview
This new engine has a low-pressure, sand-cast aluminum cylinder block with cast-iron liners. The engine block is an open deck design and different from European engines with a closed deck used in Alfa Romeo's vehicles. The 2.0L GME engine has a lightweight crankshaft that seats with an offset from cylinder bores. The crankshaft offset reduces cylinder wall side loading since the connecting rod is more vertical during the power stroke. The engine block is also equipped with a low-friction roller bearing balance shaft and a variable displacement two-stage oil pump. Two-stage oil pump provides high-pressure mode only under high-load engine operation and low-pressure oil during typical driving conditions. It also sents oil for the piston cooling jets (piston oil squirters), fitted with each cylinder bore to control piston temperatures and reduce spark knock. Pistons are cast aluminum with four valve pockets and plasma-coated piston rings.
On top of the block, there is a cast aluminum alloy cylinder head. The 2.0 Hurricane head features four valves per cylinder, sodium-filled exhaust valves, a central injector, MultiAir valvetrain with dual overhead camshafts (DOHC), high tumble intake ports, and a water-cooled, integrated exhaust manifold. The intake and exhaust camshafts are driven by a low-friction timing chain (an inverted tooth chain) and equipped with dual Variable Valve Timing (VVT) system. The engine uses hollow shafts with polished cam journals to reduce weight (3.5 lbs less) and improve durability.
The 2.0L GME T4 engine uses a direct injection system. The high-pressure fuel pump produces up to 2,900-psi for the high-pressure common-rail injection system. This system injects fuel via multi-hole fuel nozzles inside the cylinders, providing better fuel atomization and allowing for more precise fuel delivery than port injection. The next feature improving both performance and efficiency is a turbocharged intake. There is a twin-scroll, low-inertia turbocharger with an electronically actuated wastegate. It is attached to the cylinder head as the exhaust manifold is integrated into it. The integrated and water-cooled exhaust manifold reduces exhaust temperatures increasing turbocharger longevity, and accelerates engine warming up. The intake has a built-in water/air charge intake air cooler. The intake air cooler, throttle body, and turbocharger use a separate cooling circuit. The cooling system also features a variable flow water pump and an electric auxiliary water pump. The exhaust gas recirculation (EGR) system is water-cooled as well.
2.0L GME turbo fours in some applications use a belt-starter-generator (BSG) to help the engine at lower revs. This eTorque system also provides better auto stop/start performance and improves low-end throttle response before the turbo spools up. The engine complies with all modern emission standards thanks to the GPEC4 engine-management system with a close-coupled catalyst, wide range O2 sensor, and C-EGR system. Due to the combination of high compression ratio (10:1) and turbocharging, the turbo hurricane requires minimum unleaded regular, 87 octane (R + M)/2; 91 octane or higher recommended for optimum fuel economy and performance. The 2.0 turbo Hurricane is a good alternative to the Chrysler 2.4-liter engine and 3.6L Pentastar V6.
Engine Specs
Manufacturer
FCA US LLC, Trenton South Engine Plant, Trenton, Michigan
Production years
2016-present
Cylinder block material
Aluminum
Cylinder head material
Aluminum
Fuel system
Direct injection
Bore, mm
84.0 mm (3.31 in)
Stroke, mm
90.0 mm (3.54 in)
Displacement, cc
1,995 cc (121.7 cu in)
Type of internal combustion engine
Four-stroke, turbocharged
Power, hp
270 hp (201 kW)/5,250
Torque, lb ft
295 lb-ft (400 Nm)/3,000
Engine oil weight
SAE 5W-30
Engine oil capacity, liter
4.7 l (5.0 qt)
Oil change interval, mile
9,000 (15,000 km) / 12 months
Applications
Jeep Wrangler (JL), Jeep Cherokee (KL), Jeep Grand Commander
Jeep 2.0 GME T4 Turbo Engine Problems and Reliability
Now, when the engine has some production and sale history, we can look at its long term reliability. Is the Jeep 2.0 Turbo a good, reliable engine? It looks like this turbo four doesn't have any significant design flaws that hurt its reliability score. Of course, it is not perfect, like nothing in the real world. Below are the most common FCA/Jeep 2.0 Turbo engine problems and issues.
Most Common 2.0 Hurricane Problems
Here is the list of the most common 2.0 GME T4 Turbo engine problems known to date:
Poor build quality at the start
Turbo lag issue and towing capacity drawback
High maintenance cost
In the past, some owners have reported that they experienced the engine light coming on after a few hundred/thousand miles on a new car. And the reasons for this were very diverse. It could be a faulty sensor, loose hoses or connectors. All this points to poor assembly at the factory and subsequent quality control. This can be explained by the fact that the engine was new, it is complex, and consists of many parts. It just takes time to test and resolve upcoming issues.
Turbo lag is the next thing to live with if you have a 2.0L Turbo engine under the hood of your Jeep. The lack of responsiveness occurs when you're driving in high gear. Some drivers found this very annoying. To get rid of Jeep 2.0 turbo lag, you can install an aftermarket throttle booster, which increases throttle response.
Here is one more thing about this engine - towing things is not what it is meant for. Towing capability of around 2500 pounds max is not great. Simply because it has less torque and horsepower compared to other n/a V6 and V8 engine options.
FCA/Jeep 2.0 Turbo Reliability Summary
The longevity pledge for the 2.0 GME Hurricane engines, no matter how hackneyed it sounded, is frequent oil changes and premium gas only. With proper maintenance, this 2.0L Turbo-four engine capable to last up to 150k miles without major problems.