Chrysler 5.7L 345 HEMI Engine Specs, Problems & Reliability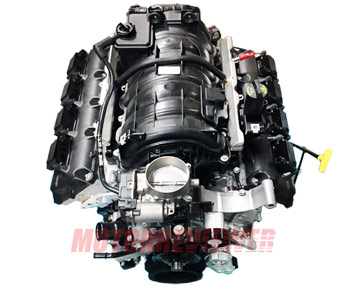 5.7 HEMI Info
In 2003, Chrysler introduced the third generation Hemi engine family. The first released engine was a 345 cu in / 5.7-liter V8 gasoline Hemi for the 2003 model year Dodge Ram pickup trucks. The 5.7L Hemi (code name is Eagle) replaced the 5.9-liter V8 LA/Magnum engine. In the next couple of years, this 345 Hemi engine became available in numerous models produced by Chrysler: Dodge Durango, Chrysler 300C, Dodge Magnum R/T, Jeep Grand Cherokee, Dodge Charger, and others. Let's take an in-depth look at the 5.7 Hemi engine design, its common problems, reliability, and longevity.
Chrysler 5.7L 345 HEMI Overview
The 5.7L power unit was a completely new engine designed from scratch. Like the 4.7L PowerTech V8, the 345 Hemi engine has a cast-iron cylinder block with a deep-skirt design and a 90-degree angle between cylinder banks. The crankshaft made of cast nodular iron is supported by four bolts per main bearing. It uses powdered metal connecting forged rods and lightweight aluminum, skirt-coated pistons. Up through 2008, pistons had wider rings - 1.50/1.50/3.0 mm rings. After the revision in 2009, pistons were equipped with narrow piston rings - 1.20/1.20/2.0 mm ring pack. The chain-driven camshaft is located between cylinder banks. The timing chain is relatively long, as the camshaft is intentionally raised to reduce the length of the pushers (lighter parts mean less inertia).
The 5.7 Hemi engine has aluminum cross-flow cylinder heads with two valves and two spark plugs per cylinder. The HEMI-shaped chambers now have a flatter design with squish shelves on both sides, increasing efficiency and reducing emissions. The camshaft actuates intake and exhaust valves by pushrods via rocker arms. The engine is also equipped with beehive valve springs and roller-style hydraulic lifters. The 5.7 Hemi has been designed with a cylinder deactivation system called MDS (Multi-Displacement System) to reduce fuel consumption and emissions. This system turns off the fuel in four cylinders (two in each bank) and keeps intake and exhaust valves closed by controlling the flow of oil through the lifters of corresponding valves. The diameter of intake valves is 2.00 inches (50.8 mm), of exhaust valves - 1.55 inches (39.4 mm). The intake manifold is made of plastic. There is also an electronic throttle body (drive-by-wire).
2009+ 5.7 Eagle Version
In 2009, Chrysler released the revised 5.7L Hemi (5.7 Eagle). Significant changes have been made to improve the efficiency and stability of this big engine. The biggest thing was the implementation of the variable valve timing (VVT), which required three additional oil passages and an extended front cam bearing in the block. The redesigned engine block comes with a new, very durable crankshaft, which, by the way, is still made of cast iron (a 53021300BB casting). There is dual-mass crankshaft damper, reinforced connecting rods, and new pistons for the narrower ring pack. Starting from 2009, some models feature an electronically controlled, variable length of the intake runner (the active intake).
Cylinder heads have undergone significant changes. The new, larger, and almost square intake ports flow 14% more air than previous rectangular ones. The D-shaped exhaust ports have a raised roof. The intake valves are 2 mm larger. While the original heads have round 85cc chambers with squish shelves, the new ones have 65cc oval chambers. The compression ratio was increased to 10.5:1.
After the 4.7-liter V8 PowerTech was discontinued in 2013, the 5.7L Hemi motor became the base V8 engine option.
Engine Specs
Manufacturer
Chrysler, Saltillo Engine plant in Ramos Arizpe, Mexico
Production years
2003-present
Cylinder block material
Cast iron
Cylinder head material
Aluminum
Fuel system
Sequential multi-port fuel injection
Bore, mm
99.49 mm (3.92 in)
Stroke, mm
90.88 mm (3.58 in)
Displacement, cc
5,654 cc (345 cu in)
Type of internal combustion engine
Four-stroke, naturally aspirated
Compression Ratio
9.6:1;
10.5:1 - 2009+ model years
Power, hp
340-395 hp (254-295 kW)/5,000-5,600
Torque, lb ft
375-410 ft-lb (508-556 Nm)/3,950-4,400
Engine weight
560 lbs (254 kg)
Firing order
1-8-4-3-6-5-7-2
Engine oil weight
SAE 5W-20
Engine oil capacity, liter
6.7 l (7.0 qt) with oil filter
Oil change interval, mile
6,000 (10,000 km)/6 months
Applications
Ram 1500/2500/3500, Dodge Durango, Chrysler 300 300C, Dodge Magnum (R/T), Dodge Charger (R/T), Jeep Grand Cherokee, Jeep Commander, Chrysler Aspen, Dodge Challenger
Chrysler 5.7L Hemi Problems and Reliability
Let's talk about how good the Chrysler 5.7 Hemi engine is. In general, the third-generation Hemi V8s don't have any significant design flaws, and the 5.7 Hemi is a good, reliable, and solid engine. If not, Chrysler wouldn't have used it on some of their flagship cars and trucks for nearly 20 years. But in the real world, nothing is perfect, and there is no ideal engine that doesn't break. Below are the most common 5.7 Hemi problems and issues.
3 Most Common 5.7 HEMI Problems
Here are the list of most common problems for Chrysler/Dodge 5.7 engine:
Ticking sound
Short spark plugs longevity
Frequently broken exhaust manifold bolts
The Tick Problem
There was one well-known problem with the dropping/cracking of valve springs in early Hemi engines. In 2007, Chrysler solved this problem by installing updated springs. As for today, some owners are faced with a strange ticking sound in the modern 5.7L Hemi engine coming from the valvetrain. This "the tick" is common for 2009+ Hemi V8s with the MDS system. However, the silent ticking is normal and acceptable and does not affect anything. If the sound becomes more and more distinct and acquires metallic notes, it's time to start worrying. This may indicate faulty lifters and seized lifter rollers. In addition to ticking, this issue may be accompanied by a misfire and check engine light. If left this alone for too long, you will definitely end with a destroyed camshaft and a lot of metal shavings in the oil.
It is also worth noting the high sensitivity of the cylinder deactivation system (MDS) to oil conditions. To avoid problems, it is necessary to strictly follow the oil change schedule and use only the recommended oil.
5.7 HEMI Misfires/Spark Plugs Longevity
OEM spark plugs don't last that long. They should be changed every 30,000 to 40,000 miles on Chrysler's 5.7 Hemi. And it can be a nightmare dealing with an ignition-related misfire, as the Hemi V8s have two spark plugs per cylinder. Plus, it will double the maintenance work, and a pack of 16 modern spark plugs isn't cheap.
Not Strong Enough Exhaust Manifold Bolts
The most common problem on the 5.7L HEMI is broken exhaust manifold bolts. Some owners report having faced this issue multiple times. Typically, the rear passenger manifold bolt is the first to break. Some speculate the reason for this may be that this part of the engine is the hottest. The exhaust manifold warps/twists and brakes bolts.
Chrysler 5.7L 345 HEMI Reliability Summary
So still, is the 5.7 Hemi engine reliable? It's not the best, but miles ahead of the worst engines. Problems will occur at some point in the engine life, especially if it is a high mileage one (150-200k). Overall, the 5.7L Hemi is a good pushrod, durable, and fun to drive engine. A well-maintained 5.7 Hemi engine can last up to 250,000-300,000 miles. Unfortunately, some people may experience significant problems with even well-maintained HEMI engines.