Honda 1.8L R18A/R18Z Engine Specs, Problems & Reliability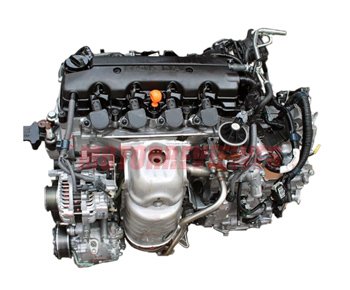 The R18A is a member of the Honda R-series. It came to replace the D17 of the previous D engine family. This new 1.8-liter four-cylinder gasoline engine was launched with the 8G Civic in 2006.
The engine has an aluminum high-rigidity cylinder block with new lower block construction. Inside the engine block, there are forged high-strength cracked connecting rods, a new high-rigidity precision-balanced crankshaft, low-friction pistons with molybdenum disulfide applied in a polka-dot pattern, and piston cooling jets that cool the pistons with oil. The engine is equipped with a narrow and silent timing chain. The D-series had a timing belt instead of a chain. On top of the 1.8L R18, there is a 16-valve SOHC aluminum cylinder head. The new head features four valves per cylinder (two intake and two exhaust valves), aluminum rocker arms, one chain-driven camshaft, and Honda's i-VTEC system. Honda i-VTEC is intelligent variable valve timing and electronic lift control system that is engaged at 3,500 rpm. The main purpose of that system is to provide high fuel efficiency together with max performance. The R18 doesn't have hydraulic tappets (checking and adjusting valve clearance is needed every 25,000 miles or 40,000 km). The valve clearance for intake valves is 0.18-0.22 mm, for exhaust - 0.23-0.27 mm. The intake valve diameter is 32 mm, the exhaust - 26 mm. The valve stem diameter is 5.5 mm.
The intake system includes a variable-length intake manifold made from plastic and electronically controlled throttle body - Honda's DBW (Drive By Wire) system. The exhaust employs a 2-bed (2-stage) catalytic converter positioned immediately after the exhaust manifold. Thanks to these improvements, the R18 engine is rated at California Air Resources Board (CARB) ULEV-2 (Ultra Low Emissions Vehicle). The i-VTEC system allows it to operate as a 2.0-liter engine when required, and at the same time, also provides the fuel economy of a 1.5-liter engine.
In 2012, the R18A was replaced by a modified version - the R18Z. It features an increased compression ratio of 10.6:1, i-VTEC system, which could disable four intake valves at low rpm, and new settings for the variable intake manifold. The R18 also formed the basis of the 2.0L R20A engine.
Engine Specs
Manufacturer
Honda Motor Company
Production years
2006-present day
Cylinder block material
Aluminum
Cylinder head material
Aluminum
Fuel system
Multi-port fuel injection
Bore, mm
81.0 mm (3.19 in)
Stroke, mm
87.3 mm (3.44 in)
Displacement, cc
1,799 cc (109.8 cu in)
Type of internal combustion engine
Four-stroke, naturally aspirated
Compression Ratio
10.5:1 - R18A
10.6:1 - R18Z
Power, hp
140-141 hp (103-104kW) / 6,300-6,500
Torque, lb ft
128 lb-ft (174 Nm) / 4,300
Engine weight
223 lbs (101 kg)
Engine oil weight
0W-20, 5W-20, 0W-30, 5W-30
Engine oil capacity, liter
3.7 l (4.0 qt)
Oil change interval, mile
6,000 (10,000 km) or 12 month
Applications
Honda Civic, Honda City, Honda Stream, Honda FR-V, Honda HR-V, Honda Jade
R18A, R18Z Engine Problems and Reliability
1. Knocking sound. Usually, the Evap canister purge valve produces that sound. This is normal for the R18. Maybe also it's time to adjust the valve clearances.
2. The tensioner pulley of an accessory drive belt can produce some noise. Its lifespan is rarely more than 60,000 miles (100,000 km).
3. Vibrations. If your engine is cold, some vibrations are ok. But if that continues all the time, check the left engine mount.
Using the recommended engine oil is crucial. That will keep the i-VTEC system in good condition for a long time. The longevity of R18 is about 180,000 miles (300,000 km).
Modifications
R18A1 - 141 hp (104 kW) at 6,300 rpm, 128 lb-ft (174 Nm) at 4,300 rpm. Application: Honda Civic, Honda FR-V, Honda City, and Honda Stream.
R18A2 - 140 hp (103 kW) at 6,300 rpm, 128 lb-ft (174 Nm) at 4,300 rpm. This engine was used in the European Honda Civic.
R18Z1 - 141 hp (104 kW) at 6,500 rpm, 128 lb-ft (174 Nm) at 4,300 rpm. The engine has a 10.6:1 compression ratio. You can find this engine in the ninth generation Honda Civic.
R18Z4. The engine has the same level of performance and compression ratio of 10.6:1. It was used in the 9th Honda Civic available on the European market.
R18Z6 - R18Z1 adaptation for the Honda Jade model.
R18Z9 - the same R18Z1 engine for Honda HR-V.