Honda 2.0L R20A/R20Z Engine Specs, Problems & Reliability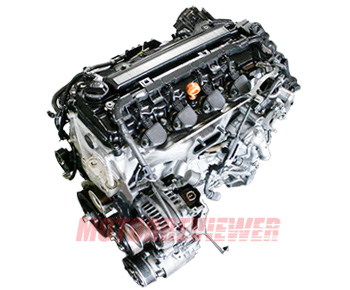 In 2007, Honda launched the 3rd gen Honda CR-V together with an R20A under the hood. Based on the Honda R-series i-VTEC SOHC engine, a new 2.0-liter four-cylinder gasoline power unit replaced the previous CR-V offering the K20A.
The R20A is a stroked version of the 1.8L R18A, and in terms of construction, both engines are basically similar. The 2.0L R20 has an aluminum open-deck cylinder block. Unlike the R18, the R20 engine block has a balancer shaft and additional casting for it. Inside the engine, there is a new crankshaft and shortened connecting rods (152.63 mm) due to the longer stroke (96.9 mm). Pistons are the same as the R18 has. Engines share the same aluminum 16-valve SOHC cylinder head with the i-VTEC system. The size of valves and ports was increased. The intake valve diameter is 33 mm, exhaust - to 26 mm. The diameter of the valve stem is 5.5 mm. Valves are actuated by one chain-driven camshaft via aluminum roller rocker arms. There are no hydraulic tappets in the R20 valve train.
The R20A features a variable intake manifold with 3 stages for achieving an overall better midrange torque/power delivery than the K20A. The Drive-By-Wire throttle body works together with Honda's i-VTEC system, offering excellent fuel economy during light throttle cruising conditions and optimized smooth torque curve in the crucial areas of the mid-range rpm band.
Engine Specs
Manufacturer
Honda Motor Company
Production years
2007-present
Cylinder block material
Aluminum
Cylinder head material
Aluminum
Fuel system
Multi-point fuel injection
Bore, mm
81.0 mm (3.19 in)
Stroke, mm
96.9 mm (3.81 in)
Displacement, cc
1,997 cc (121.9 cu in)
Type of internal combustion engine
Four-stroke, naturally aspirated
Compression Ratio
10.5:1;
10.6:1
Power, hp
150-155 hp (110-114 kW) / 6,200-6,500
Torque, lb ft
139-140 lb-ft (190-188 Nm) / 4,200-4,300
Engine oil weight
SAE 0W-20, 5W-20
Engine oil capacity, liter
3.7 l (4.0 qt)
Oil change interval, mile
9,000 (15,000 km) / 12 months
Applications
Honda CR-V, Honda Accord, Honda Civic, Honda Stream, Acura ILX, Proton Perdana
Honda 2.0 R20A Engine Problems and Reliability
This Honda's 2.0L R20A is very reliable, durable engine with only a few shortcomings. All small problems with different noises and sounds are common for R-series. You can read about them on the R18 review page. The R20 engine lifespan is more than 180,000 miles (300,000 km).
Modifications
R20A1 - 150 hp (110 kW) at 6,200 rpm, 140 lb-ft (190 Nm) at 4,200 rpm. Application: Honda CR-V, Honda Stream, Acura ILX.
R20A2 - 150 hp (110 kW) at 6,200 rpm, 140 lb-ft (190 Nm) at 4,200 rpm. This engine was used only in the Honda CR-V.
R20A3 - 150 hp (110 kW) at 6,300 rpm, 139 lb-ft (188 Nm) at 4,300 rpm. Application: Honda Accord and Proton Perdana.
R20Z1 - 155 hp (114 kW) at 6,500 rpm, 140 lb-ft (190 Nm) at 4,300 rpm. This engine has a compression ratio of 10.6:1. Application: Honda Civic, Honda Accord.