Honda 2.0L K20A/K20C/K20Z Engine Specs, Problems & Reliability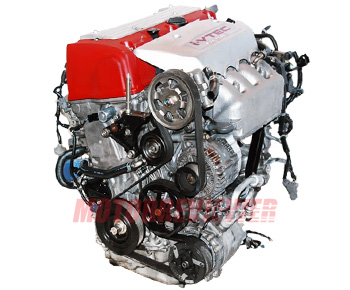 The K20 is a 2.0-liter inline four-cylinder gasoline engine firstly introduced in 2001 with a target to replace similar versions of the B- and F-series engines, such as the B20B(Z) and the F20B(A). Honda K-series also includes the 2.3L K23 and the 2.4L K24 engines. Like most of Honda's engine series, the K20 was produced in a wide range of modifications and each of them has its own application and unique features. Let's walk through this variety of K20 engines and highlight major differences.
The K20A series
The K20 series debuted in the JDM Honda Stream with the K20A1 at the end of 2000. The engine had an aluminum cylinder block with cast iron sleeves similar to the B- and F-series engines. This short block has a deck height of 212 mm. The K20 is a square engine, which means it has an equal bore and stroke dimensions (almost 86 mm). On top, there is a lightweight 16-valve aluminum cylinder head with chain-driven double overhead camshafts (DOHC) and i-VTEC system. The intake valve's diameter is 35 mm, the exhaust valves - 30 mm. The valve stem diameter is just 5.5 mm. The engine has a reliable timing chain. Valves are actuated by roller rocker arms. The valvetrain doesn't have an automatic hydraulic valve clearance control system. In this case, the valve clearances should be adjusted manually after every 24,000 miles. All K20s use a coil-on-plug, distributorless, electronically controlled ignition system and modern electronic port fuel injection system. The compression ratio of the K20A1 is 9.7:1 (9.8:1 is only for AWD applications).
The K20A3 is similar to the K20A1. This version can be found in the 2002-2006 Acura RSX and 2002-2005 Honda Civic Si. It has VTEC on the intake side and no VTEC mechanism on the exhaust cam. The purpose of that system is to reduce emissions and improve fuel efficiency. VTEC is activated at 2,200 rpm. The engine was equipped with 270 cc fuel injectors and a dual runner intake manifold. The compression ratio is 9.8:1. The K20A4 is the same K20A3 but tuned for USDM 2003-2007 Honda Accord and 2002-2006 Honda CR-V. The K20A6 is another version of the K20A3 that was produced for the European and Australian 2003-2006 Honda Accord.
The K20A is a high-performance JDM engine, which was in production from 2001 to 2011. It has balancing shafts, high compression pistons (11.5:1), reinforced connecting rods, a lightened flywheel, dual valve springs in the valvetrain, 310 cc fuel injectors, a 4-2-1 exhaust manifold (header), and a PRC intake manifold (or RBC for Euro R). The cylinder head features head porting made from the factory. The K20A uses the following camshafts: intake/exhaust duration and valve lift - 244/240 deg and 8.84/8.59 mm; 280/278 deg and 12.65/12.14 mm; 245/244 deg and 9.68/8.74 mm. The intake was equipped with the 62 mm throttle valve. The i-VTEC engagement starts at 6,000 rpm.
In 2007, the K20A engine was revised and upgraded. The bottom received new reinforced connecting rods, the compression ratio rose to 11.7:1. It got a new exhaust manifold, a short RRC intake manifold, and a 64 mm throttle body. The cylinder head intake and exhaust ports were reshaped and optimized. On that engine, the i-VTEC kicks at 5,800 rpm.
The K20A2 is a non-JDM analog to K20A. It was equipped with a PRB intake manifold and different camshafts. Camshaft specifications for the K20A2: intake/exhaust duration and valve lift - 238/240 deg and 7.36/7.14 mm; 278/280 deg and 12.42/11.12 mm; 240/242 deg and 7.82/7.72 mm. The CR is 11:1. The i-VTEC system is triggered at 5,800 rpm, like on late JDM engines.
The K20Z series
The K20Z1 is a high-rev version of the K20A2 engine. It was produced in 2005 and 2006 years. Here you can find the same PRB intake manifold, but a new exhaust manifold, high-performance camshafts, and increased up to 11.0:1 compression ratio. The i-VTEC system is engaged at 5,800 rpm. That performance line is continued by the K20Z3 engine from 2007 to almost 2015. This engine is slightly modified K20Z1 with different camshafts and an RBC intake manifold. It also has traditional performance VTEC cams on the intake and exhaust cams. Variable valve timing technology is applied to the intake side only. At that moment, Honda's engineers decided what it's not enough and made the K20Z4 for the European market, which is an analog to K20Z3. The only difference is that it has the RSP intake manifold and i-VTEC engagement at 5,400 rpm.
In 2006, Honda introduced a replacement for the mass-produced K20A1 engine. It was the K20Z2 modification. This new 2.0-liter engine received modified camshafts and electronic throttle body (Drive by wire technology).
The K20C series
The K20C family consists of series of 2.0L turbocharged engines (K20C1, K20C3, and K20C4) and one 2.0L naturally aspirated modification (K20C2). The detailed information about the latest Honda's 2.0T K20C engines you can find on this page.
The K20C2 version is a 2.0-liter naturally aspirated and direct-injected gasoline engine. The start of production began in 2016 (when the K20Z2 was discontinued), and it's still a relatively new power unit on the market. The engine was designed with Honda's Earth Dreams Technology, which employs direct-injection technology and the Atkinson cycle using the DOHC, VTC, and VTEC technologies as the base. There are a lightweight crankshaft and pistons, a 10.8:1 compression ratio, and a new cylinder head with optimized combustion chambers and i-VTEC.
Engine Specs
Manufacturer
Honda Motor Company
Production years
2001-present
Cylinder block material
Aluminum
Cylinder head material
Aluminum
Fuel system
Multi-point fuel injection;
Direct injection
Bore, mm
86.0 mm (3.39 in)
Stroke, mm
85.9 mm (3.38 in)
Displacement, cc
1,996 cc (121.8 cu in)
Type of internal combustion engine
Four-stroke, naturally aspirated/turbocharged
Compression Ratio
9.7:1;
9.8:1;
10.8:1;
11.0:1;
11.5:1;
11.7:1
Power, hp
156-306 hp (116-228 kW)/ 6,500-8,000
Torque, lb ft
139-295 lb-ft (188-400 Nm)/ 1,500-6,000
Engine oil weight
SAE 5W-30, 5W-40 (K20A);
SAE 0W-20 (K20C and K20Z)
Engine oil capacity, liter
4.2 l (4.4 qt) - K20A, K20Z, K20C2;
5.4 l (5.7 qt) - K20C turbo.
Oil change interval, mile
9,000 (15,000 km) / 12 months
Applications
Honda Civic Si / SiR / Type S /Type R / LX, Honda Integra Type R / Type S, Honda Accord /Euro R, Honda Stream, Honda CR-V, Acura RSX Type S, Acura CSX /Type-S, United States Formula 4 Championship
Honda 2.0 K20 Engine Problems and Reliability
Honda's K20 engine series is very durable. A simple K20A with regular maintenance and good quality oil/spare parts can reach 200k mileage without any problems. Keep in mind, high-performance versions were usually beaten, modified, and raced through their life. In this case, most of them are not in good shape at all our days. The most well-known problem of these engines is the rapid wear of the exhaust camshaft lobes. The front crankshaft seal also often leaks and engine mounts do not last long. It is better to stay away from early engines (2001-2003 model years); they had a common problem with overheating in the fourth cylinder.
Modifications
K20A - 212-221 hp (158-165 kW) at 8,000 rpm, 149-159 lb-ft (202-215 Nm) at 6,100-7,000 rpm. Application: JDM Honda Civic Type R, Honda Integra Type R, and Honda Accord Euro R.
K20A1 - 156 hp (116 kW) at 6,500 rpm, 139 lb-ft (188 Nm) at 4,000 rpm. Application: Honda Stream.
K20A2 - 197-200 hp (147-149 kW) at 7,400 rpm, 139-142 lb-ft (188-193 Nm) at 5,900-6,000 rpm. Application: EDM Honda Civic Type R, Acura RSX Type S, and AUDM Honda Integra Type R.
K20A3 - 160 hp (119 kW) at 6,500 rpm, 132 lb-ft (179 Nm) at 4,000 rpm. Application: Acura RSX, Honda Civic Si/SiR/Type S.
K20A4 - 158 hp (118 kW) at 6,500 rpm, 140 lb-ft (190 Nm) at 4,000 rpm. This engine was offered for the Honda Accord.
K20A6 - 155 hp (116 kW) at 6,500 rpm, 140 lb-ft (190 Nm) at 4,000 rpm. This is EDM Honda Accord engine version.
K20Z1 - 210 hp (160 kW) at 7,800 rpm, 143 lb-ft (194 Nm) at 6,200 rpm. You can find this engine in the Acura RSX Type-S or AUDM Honda Integra Type S.
K20Z2 - 153 hp (114 kW) at 6,000 rpm, 139 lb-ft (188 Nm) at 4,500 rpm. Application: Acura CSX, JDM Honda Civic, EDM Honda Accord.
K20Z3 - 197 hp (147 kW) at 7,800 rpm, 139 lb-ft (188 Nm) at 6,200 rpm. Application: Honda Civic Si and Acura CSX Type-S.
K20Z4 - 201 hp (150 kW) at 7,800 rpm, 142 lb-ft (193 Nm) at 6,800 rpm. This is a Honda Civic Type R engine for the European market.
K20C2 - 158 hp (118 kW) at 6,500 rpm, 138 lb-ft (187 Nm) at 4,200 rpm. This is a Honda Civic LX engine.