Honda 2.4L K24A/K24Z/K24W Engine Specs, Problems & Reliability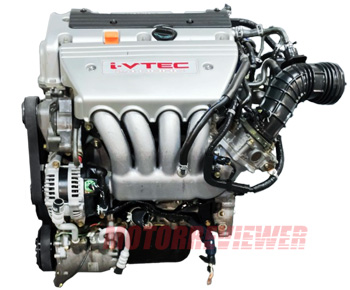 The K24 is another member of the Honda K engines family. This 2.4-liter four-cylinder gasoline engine debuted in the 2001 Honda CRV and it was the K24A1 version. K24 engine design is similar to the 2.0-liter K20 unit has but with enlarged bores size and stroke, and some changes needed due to increased displacement. Honda used the K24 as a fresh alternative for the old F23A engine.
The K24A series
Like the K20, the K24A has an aluminum cylinder block with cast iron. The engine got the new crankshaft with an increased stroke by 13 mm, and cylinders were bored out by 1 mm. That gave a 200cc gain in displacement. K24A block has a deck height of 231.5 mm. Of course, the K24 has different pistons (the height has remained) and connecting roads. The cylinder head design stayed untouched: it's made from aluminum, 16 valves (four valves per cylinder), dual overhead camshaft, central-located spark plugs with individual coils (coil-on-plugs), and i-VTEC system. The chain-driven intake and exhaust camshafts open and close valves via roller rocker arms without hydraulic tappets. The periodic valve clearance adjustment is needed.
The base K24A1 version was produced from 2001 to 2006. It was a start line for the all K24 engine series. This power unite had the i-VTEC on the intake camshaft only. The intake valve diameter is 35 mm, exhaust valve - 30 mm; valve stem diameter is 5.5 mm. It was equipped with a variable geometry intake manifold (Honda's 2-stage PPA intake manifold made from aluminum and composite material) and a 60 mm throttle body. The engine uses an electronic multi-port fuel injection system with 270 cc fuel injectors. The K24A1 had the lowest compression ratio between others in the series - 9.6:1.
There was one more mass-market modification in the engine range - the K24A4. This engine has its own pistons and increased compression ratio up to 9.7:1, modified intake and exhaust ports inside the cylinder head, an aluminum 1-stage RAA intake manifold, and other i-VTEC settings over the K24A1 had. The K24A4 was slightly upgraded in 2006 and got a new index - K24A8. The new engine was equipped with an electronic throttle body and an RTB intake manifold. With the following changes, the engine was able to fit in the more stringent environmental standard.
Besides those regular engines, the K24A series also includes the true Honda's performance unit for their sporty models. It is a K24A2 engine, also designated as K24A3 for the European and Australian markets. First of all, the K24A2 has a deeply revised bottom end. The engine block came with dual balance shafts, a forged crankshaft, reinforced connecting rods, and lightweight pistons. The compression ratio rose to 10.5. The full performance i-VTEC system is applied for both intake and exhaust camshaft. Cam specs by themselves are more aggressive. The engine breathes a lot better thanks to a high-flow exhaust header and a 1-stage RBB intake manifold with the enlarged throttle valve (60 mm). It also uses a drive-by-wire throttle and has EGR castings on the manifold. With VTEC kicking after 6,000 rpm, the engine produces 197 hp and 171 lb-ft (232 Nm) of torque.
2006+ K24A2 engines came with a fully upgraded intake system. It has an 80 mm air intake duct, new intake camshaft specifications, 36 mm intake valves, and 64 mm throttle body. The 2.25" exhaust was added as well. Those engines produced 205 hp and 164 lb-ft (222 Nm) of torque.
The K24Z series
The K24Z1 replaced the K24A1 in the 2007 Honda CRV. The new 2.4-liter engine uses a two-piece, die-cast aluminum engine block with cast-in iron cylinder liners. The oil filter has been relocated to the lower center portion of the block. Inside, there are a forged steel crankshaft and an internal balancer unit. The compression ratio is 9.7:1. The engine also has a 16-valve DOHC i-VTEC head. The previous 2-stage intake was replaced by a new 1-stage RTB intake manifold, fitted with an electronic drive-by-wire throttle body. The exhaust system has a high-density catalytic converter that helps the engine meet emission standards. In 2008, Honda's engineers had to optimize the K24Z1 to keep it in compliance with higher environmental standards. As a result, the less powerful K24Z4 version became an answer for that.
The K24Z3 debuted in the 2008 Acura TSX. This engine was fitted with chain-driven dual balance shafts, proper i-VTEC system on intake and exhaust camshafts (engagement at 5,100 rpm), high-strength connecting rods, lightweight alloy pistons, and Computer-controlled Programmed Fuel Injection (PGM-FI). The cylinder head is equipped with 31 mm exhaust valves. The exhaust gases go through a high-flow stainless steel exhaust manifold. The CR is 11.0. This description and specs are correct for the K24Z7 as well. The only difference is an application (The K24Z7 was used in Honda Civic Si and Acura ILX).
The K24Z3 for the US Honda Accord had a 10.7:1 compression ratio, produced less power and torque; it was just a K24Z2 engine but with a high flow exhaust system. The true K24Z2 features a 10.5:1 compression ratio, R40 intake manifold, and an integrated exhaust manifold. This engine replaced the K24A8 on production and meets the highest emission standards. The K24Z5 and K24Z6 are the same K24Z2 with minor differences. The first one is available only in China, the second was offered for the Honda CR-V (USDM).
Honda's Earth Dreams K24W
In 2013, Honda began production of freshly designed K24W. It was an entirely new 2.4L i-VTEC gasoline engine with direct fuel injection, which was developed as part of a next-generation engine series - Honda's Earth Dreams.
The K24W shares with previous K24 engines only the bore and stroke sizes. The overall design is completely different. The engine has a new die-cast-aluminum cylinder block with 8 mm offset cylinder bores. Inside the engine block, there are a new forged steel crankshaft and lightweight pistons with dishes in crowns. On top, the 2.4L Earth Dreams engine has a new lightweight pressure-cast aluminum cylinder head with four valves per cylinder, a high-pressure multi-hole injector between the intake valves, DOHC, i-VTEC system, and an integrated exhaust manifold. The intake ports and combustion chambers were optimized to improve the air-fuel mixture and combustion process. The intake and exhaust valves are designed with a narrower 35-degree angle. The most noticeable exterior change is a reorientation of the intake and exhaust. Now the intake faces back while the exhaust is faced forward.
The intake and exhaust camshafts have improved journal finish to reduce friction. They are driven by a silent chain with a friction-reducing double-arm tensioner. At the end of the exhaust camshaft, there is a high-pressure fuel pump for direct injection. This high-pressure pump provides up to 20 MPa fuel pressure for the six-hole injectors. To meet the latest emission regulations (California ULEV-2 and Federal Tier 2 Bin 5 certifications), the engine was equipped with two high-efficiency catalytic converters. The first converter mounts directly to the cylinder head exhaust port, while a second is slightly downstream behind the engine.
Engine Specs
Manufacturer
Honda Motor Company
Production years
2001-present
Cylinder block material
Aluminum
Cylinder head material
Aluminum
Fuel system
Multi-point fuel injection;
Direct injection
Bore, mm
87.0 mm (3.43 in)
Stroke, mm
99.0 mm (3.89 in) - K24A(Z);
99.1 mm (3.90 in) - K24W
Displacement, cc
2,354 cc (143.6 cu in) - K24A(Z);
2,356 cc (143.8 cu in) - K24W
Type of internal combustion engine
Four-stroke, naturally aspirated
Compression Ratio
9.6:1;
9.7:1;
10.1:1;
10.5:1;
10.7:1;
11.0:1;
11.1:1;
11.6:1
Power, hp
160-206 hp (119-154 kW)/ 5,500-7,000
Torque, lb ft
160-182 lb-ft (217-247 Nm)/ 3,600-4,500
Engine weight
412 lbs (187 kg)
Engine oil weight
SAE 5W-30, 5W-40 (K24A);
SAE 0W-20 (K24W and K24Z)
Engine oil capacity, liter
4.2 l (4.4 qt)
Oil change interval, mile
9,000 (15,000 km) / 12 months
Applications
Honda Accord, Honda Civic Si, Honda CR-V, Honda Odyssey, Honda Crosstour, Honda Element, Honda Spirior, Honda Stepwgn, Proton Perdana, Acura ILX, Acura TSX, Acura TLX
Honda 2.4 K24 Engine Problems and Reliability
The K24 engine and its smaller version K20 have common problems with oil seals leakages and rapid wear on the exhaust camshaft. The detail information you can find on this page. The K24W Earth Dreams series doesn't have a port injection in combination with direct injection. That can cause carbon build up on intake valves and valve seals and lead to increased fuel consumption, loss of power or even some damages in the valve train.
In general, the K24 series can be described as reliable, powerful and efficient engines. An average lifespan is about 200,000 miles (300,000 km).
Modifications
K24A1 - 160 hp (119 kW) at 6,000 rpm, 162 lb-ft (220 Nm) at 3,600 rpm. This engine was offered for Honda CR-V.
K24A2 - 197/205 hp (147/153 kW) at 6,800/7,000 rpm, 164-171 lb-ft (222-232Nm) at 4,500 rpm. Application: Honda Odyssey Absolute, Honda Accord Type-S (JDM), Acura TSX, Acura TSX.
K24A3 - 197 hp (147 kW) at 6,800 rpm, 164 lb-ft (222 Nm) at 4,500 rpm. This engine is a Honda Accord engine.
K24A4 - 160 hp (119 kW) at 5,500 rpm, 161 lb-ft (218 Nm) at 4,500 rpm. Application: Honda Element, Honda Accord, Honda Odyssey.
K24A8 - 166 hp (124 kW) at 5,800 rpm, 160 lb-ft (217 Nm) at 4,000 rpm. Application: Honda Element, Honda Accord.
K24Z1 - 166 hp (124 kW) at 5,800 rpm, 161 lb-ft (218 Nm) at 4,200 rpm. Application: Honda CR-V.
K24Z2 - 177 hp (132 kW) at 6,500 rpm, 161 lb-ft (218 Nm) at 4,300 rpm. Application: Honda Accord LX/LX-P, Proton Perdana.
K24Z3 - 190-201 hp (142-150 kW) at 7,000 rpm, 162-172 lb-ft (220-233 Nm) at 4,300 rpm. Application: Honda Accord and Acura TSX.
K24Z4 - 161 hp (120 kW) at 5,800 rpm, 161 lb-ft (218 Nm) at 4,200 rpm. Application: Honda CR-V.
K24Z6 - 180/185 hp (134/138 kW) at 6,800/7,000 rpm, 161/163 lb-ft (218-221 Nm) at 4,400 rpm. Application: Honda CR-V.
K24Z7 - 201-205 hp (150-153 kW) at 7,000 rpm, 170-174 lb-ft (230-236 Nm) at 4,400 rpm. Application: Honda Civic Si and Acura ILX.
K24W - 185 hp (138 kW) at 6,400 rpm, 181 lb-ft (245 Nm) at 3,900 rpm. Application: Honda CR-V, Honda Accord.
K24W7 - 206 hp (138 kW) at 6,800 rpm, 182 lb-ft (247 Nm) at 3,900 rpm - Acura TLX engine.