Honda 2.0T K20C1/K20C4 Turbo Engine Specs, Problems & Reliability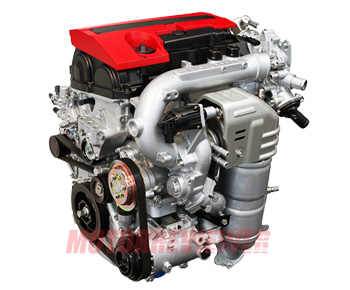 The K20C turbo or 2.0 VTEC Turbo is a 2.0-liter inline four-cylinder gasoline turbocharged engine with direct fuel injection belonged to Honda's K-series engine family. The K20C1 engine became available for Honda Civic Type R in 2015. In 2017, the less exotic car - the Honda Accord - also received a 2.0L turbo engine in less powerful modification - the K20C4. The 2.0L VTEC Turbo engine is inherited the basic design of the 1.5L version (the L15B7 engine) with additional features focused on high performance and power.
The engine has a lightweight die-cast aluminum open-deck cylinder block with cast iron cylinder sleeves and reinforced main bearing caps. The cylinder walls have plateau honing. Inside the engine block, there is a lightweight forged steel crankshaft with micro-polished journals for friction reduction, the heat-forged high-strength steel connecting rods, and lightweight pistons with cavity-shaped crowns and a low-friction molybdenum coating applied in a dot pattern. Pistons have cooling oil channels (internal "cooling gallery") to reduce the temperature in the piston ring area. They are also sprayed with oil at the underside by oil jets located inside the cylinder block.
Honda 2.0L turbocharged engine has a lightweight aluminum cylinder head with exhaust manifold cast as one unit. The cylinder head has a two-piece water jacket. The exhaust ports are water-cooled, helping reduce the temperature of the exhaust gases and reach working temperatures quicker. Like the 1.5-liter turbo engine, the 2.0L turbo engine has 16 valves (4 valves per cylinder) and dual overhead camshafts. It used thin-wall hollow camshafts driven by the low-friction timing chain. The engine is equipped with Honda's VTC (Variable Valve Timing Control) for intake and exhaust. In addition to this, engineers installed the Variable Valve Timing and Lift Electronic Control (i-VTEC) which changes valve lift, timing, and duration of the exhaust valves to reduce turbo lag through increased exhaust pressure at lower rpm. The cylinder head also features sodium-filled exhaust valves and small M12 spark plugs.
The K20C engines are produced only with direct injection that helps to provide high fuel efficiency and low emissions. The 2.0L turbo engine has high-pressure (20MPa) multi-hole fuel direct injectors with a small-diameter bore delivering fuel directly into each cylinder. The shapes of the intake ports and piston crowns were optimized to generate a strong tumble flow and promote fuel mixture consistency within the cylinder.
The K20C1 engine for Civic Type-R has low inertia mono (single) scroll MHI TD04 turbocharger with an electric wastegate. It produces 22.8 PSI (1.57 bar) of boost pressure. The K20C4 and K20C3 (Chinese market only) were equipped with a smaller MHI TD03 turbocharger, which delivers 20.8 PSI (1.43 bar) of boost. Each vehicle with Honda's 2.0L turbo engine comes with a high-capacity air-to-air intercooler to cool charged air after the turbocharger. There is also a drive-by-wire throttle that replaces the mechanical connection between the acceleration pedal and the throttle valve.
Engine Specs
Manufacturer
Honda Motor Company
Production years
2015-present
Cylinder block material
Aluminum
Cylinder head material
Aluminum
Fuel system
Direct fuel injection
Bore, mm
86.0 mm (3.39 in)
Stroke, mm
85.9 mm (3.38 in)
Displacement, cc
1,996 cc (121.8 cu in)
Type of internal combustion engine
Four-stroke, turbocharged
Power, hp
252-306 hp (188-228 kW)/ 6,500
Torque, lb ft
273-295 lb-ft (370-400 Nm)/ 1,500-4,000
Engine oil weight
SAE 0W-20
Engine oil capacity, liter
5.4 l (5.7 qt)
0.4 l (0.4 qt) - oil filter
Oil change interval, mile
6,000 (10,000 km)/12 months
Applications
Honda Civic Type R, Honda Accord, Honda Avancier
Modifications
K20C1 - 306 hp (228 kW) at 6,500 rpm, 295 lb-ft (400 Nm) at 2,500 rpm. This is a MK4 and MK5 Civic Type-R 2.0-liter turbocharged engine.
K20C4 - 252 hp (188 kW) at 6,500 rpm, 273 lb-ft (370 Nm) at 1,500-4,000 rpm. Application: 2018+ Honda Accord.
K20C3 - 272 hp (203 kW) at 6,500 rpm, 273 lb-ft (370 Nm) at 4,200 rpm. Compression ratio is 10.8:1. The engine is for the Honda Avancier - a SUV available on Chinese market.