GM 5.3L EcoTec3 L83 Engine Specs, Problems & Reliability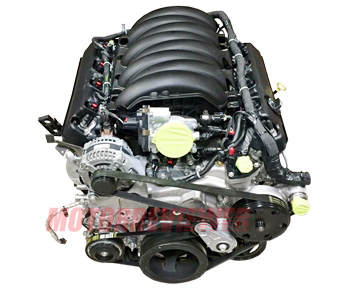 The GM 5.3L EcoTec3 is a 5.3-liter V8 naturally-aspirated engine with a direct fuel injection system. The debuted in 2014, the EcoTec3 5.3 V8 is the fifth generation of small block V8 truck engines, which replaced the previous Gen4 predecessor - Vortec 5300. The new GM 5.3 V8 has several versions: most common L83 engine, eAssist mild-hybrid L8B version, L82 engine with Active Fuel Management, and L84 engine with Dynamic Fuel Management. All these engines you can find in 4-Gen Chevrolet Silverado and GMC Sierra. The L83 motor is also available for the 2014+ Chevrolet Tahoe/GMC Yukon and Chevrolet Suburban/GMC Yukon XL. Let's dive into the design of the 5.3 EcoTec3 engine, the most common problems, and reliability.
First of all, the 5th Gen small-block V8 is an all-aluminum engine. It's built around a lightweight aluminum cylinder block with a 90-degree angle between cylinder banks. The block features cast-in iron cylinder liners. The distance between bore centers is 4.40-inch (111.8 mm). The rotating assembly includes a durable forged-steel crankshaft, 6.098-inch-long powder-metal connecting rods, and lightweight aluminum pistons with piston heads optimized for direct injection. The engine block also is equipped with piston oil jets/squirters, which provide extra cooling and friction reduction, extending long-term engine durability. The crankshaft is held by nodular main bearing caps, which better absorb vibrations than conventional grey iron main caps. The crank drives a variable-displacement oil pump. The oiling system is definitely something new for a truck motor. The new vane-type oil pump provides oil flow based on the engine's operating conditions. In addition to that, the oiling system incorporates dual-pressure control, which enables very efficient operation at lower rpm and delivers high oil pressure at higher engine speeds.
The 5.3L EcoTec3 has aluminum cylinder heads with two valves per cylinder, 59cc combustion chambers, and straight and rectangular intake ports with a slight twist. Like the 5.3 Vortec, the new V8 uses a pushrod valvetrain and a single camshaft located in the engine block. The outside diameter of steel pushrods is 8.7 mm (0.342 in), which is bigger than 7.9-mm pushrods in Vortec V8s. Pushrods actuate intake and exhaust valves via low-friction roller-pivot rocker arms. Valves are larger as well. The intake valve diameter is 1.928 in (49 mm); the exhaust valve diameter - 1.556 in (39.5 mm). By the way, no valve clearance adjustment is required, because the engine comes with hydraulic roller-lifters already. It also comes with variable valve timing (VVT). The engine uses a dual-equal camshaft phasing system that adjusts timing at the same rate for both intake and exhaust valves.
The EcoTec3 family features high-pressure direct fuel injection. The direct injection system includes a high-pressure pump, stainless steel lines, fuel rails, and direct injectors. The high-pressure fuel pump is driven by the camshaft, which has an additional cam with three lobes (calling "trilobe"). The HP pump seats in the valley between cylinder heads hiding underneath a composite intake manifold. Direct injectors precisely shoot fuel directly into the combustion chambers at very high pressure, up to 15Mpa (150 bar). Besides a high-pressure pump, the engine also has a conventional tank-located low-pressure fuel pump.
To further enhance combustion, the spark plug electrode has been placed closer to the center of the combustion chamber to provide optimal uniform combustion. The engine is equipped with a full-electronic Quick Sync 58X ignition system, coils near plugs, platinum-tipped spark plugs, and low-resistance spark plug wires. The 5.3 EcoTec3 operates under the control of an all-new E92 engine controller. It also controls GM's Active Fuel Management (AFM) technology, which comes on the L82 engines. AFM is a cylinder deactivation feature that switches off four cylinders under light loads for fuel economy. It should also be noted that 5.3L EcoTec3 V8 truck engines are E85 flex-fuel-capable.
The new 5.3l Chevy/GMC truck engine offers not only a great combination of both performance and fuel efficiency. Emissions are also reduced. Hydrocarbon emissions are cut by an impressive 25 percent during cold starts. These results were achieved through a combination of precise direct fuel injection and Quick Sync 58X ignition with a fast-response O2 sensor and close-coupled catalytic converters.
Engine Specs
Manufacturer
GM Tonawanda plant (Tonawanda Engine Plant) in New York, USA
GM Ramos plant in Ramos Arizpe, Mexico
Production years
2014-present
Cylinder block material
Aluminum
Cylinder head material
Aluminum
Fuel system
Direct Injection
Bore, mm
99.6 mm (3.92 in)
Stroke, mm
92.0 mm (3.62 in)
Displacement, cc
5,328 cc (325 cu in)
Type of internal combustion engine
Four-stroke, naturally aspirated
Power, hp
355 hp (265 kW)/ 5,600 (gasoline)376 hp (280 kW)/ 5,600 (E85)
Torque, lb ft
383 lb-ft (519 Nm)/ 4,100(gasoline)416 lb-ft (564 Nm)/ 4,000 (E85)
Firing order
1-8-7-2-6-5-4-3
Engine oil weight
SAE 0W-20
Engine oil capacity, liter
8.0 l (8.45 qt) - with oil filter
Oil change interval, mile
7,500 (12,000 km)/12 months
Applications
Chevrolet Silverado, Chevrolet Tahoe, Chevrolet Suburban, GMC Sierra, GMC Yukon/Yukon XL
Chevy/GMC 5.3L L83 V8 EcoTec3 Engine Problems and Reliability
First of all, we believe that the 5.3L EcoTec3 is a good reliable engine with an excellent combination of performance and fuel efficiency. Despite the wide use of aluminum, it is still an American pushrod V8 OHV motor. It has the torque, power, and smoothness as it should be. Unfortunately, no engine is perfect, and this GM 5.3 small block V8 also has some issues.
A few of the most common problems on the Chevy/GMC 5.3L V8 EcoTec3 engine include:
Carbon build-up
Direct injection system failure
Active Fuel Management issue
Direct-injected engines are prone to carbon build-up on the intake valves and ports. This is because gasoline is injected directly into the combustion chambers, bypassing the intake ports. On the opposite, with port injection, the nozzles shoot fuel in ports before valves, and it acts as a cleaner and washes out gunk and oil from all surfaces. With direct injection, over time, blow-by products of oil and burned fuel sticks and hardens inside ports, forming carbon build-up. This may restrict intake airflow and cause noticeable engine performance implications and some drivability issues. You will probably start to notice the first symptoms around the 100,000-mile range. They include decreased power, shaky acceleration, and rough idling. The only way to bring the engine back to a stock condition is to clean the intake ports by removing the manifold and walnut blasting the valves and everything around them.
The high-pressure fuel pump and fuel injectors are on the list of direct injection components that usually wear out and fail over time. The direct injection system operates at extremely high pressures (nearly 1,500+ psi). High-pressure fuel pumps are heavily stressed due to the pressures at which they operate. This is why HP pump failures are common on almost all direct injection engines. Moreover, direct injectors are more active in the combustion process and are exposed to very high temperatures. In addition, direct injectors are more active in the combustion process and are exposed to very high temperatures, which means they are subject to a lot of stress. Direct injectors commonly fail closed. In this case, the most common symptom of a faulty injector is similar to a faulty spark plug - a misfire in the cylinder. But if you remove the spark plug, it must be dry, which means that there is no fuel in this cylinder.
The 5.3L EcoTec3 comes with a cylinder deactivation system known as Active Fuel Management. The AFM system shut off half of the cylinders, making this motor a V4. On the 5.3-liter Vortec predecessor, the AFM system was known to cause excessive oil consumption problems. It also had a negative effect on the reliability of the lifters. Unfortunately, it looks like the AFM issues persist with the Gen 5 engine as well. In addition to mechanical failures in the future caused by the AFM system, some people complain about annoying droning sounds of V4 engine mode while driving on a highway, especially with an aftermarket exhaust system.
So, is the GM 5.3 V8 EcoTec3 a reliable engine? Although the problems above are specified as common, it does not mean that they happen on every 5.3 EcoTec3 motor. Keep in mind, not every engine is built the same. To summarize, the 5.3-liter EcoTec3 V8 is a robust and reliable engine. Keep it well maintained, use premium fuel to extend the life of the direct injectors, pour only the recommended oil. All this is a guarantee that the 5.3 EcoTec3 engine will last over 250,000 miles.
Modifications
The L8B engine. This version of the L83 can be found in Chevrolet Silverado and GMC Sierra full-size pickups with eAssist mild-hybrid system. The eAssist system pairs a compact 0.45-KWH lithium-ion battery pack with the 5.3-liter EcoTech3 V8 and eight-speed automatic transmission. The hybrid features an additional 13 hp (10 kW) and 44 lb-ft (60 Nm). It also improves fuel economy by 2 mpg across the board.
L82 and L84 variations. The L82 and L84 are two versions of the 5.3 EcoTec3 available only in the 4th generation 2019 or newer Chevrolet Silverado and GMC Sierra trucks. The deference between them is what the L82 uses Active Fuel Management (AFM) instead of the L84's Dynamic Fuel Management (DFM) system. While the 5.3L L82 engine is only available on lower-trim trucks, the 5.3 L84 comes as standard on mid- to high-level trims.