GM 2.0L Ecotec LTG Engine Specs, Problems & Reliability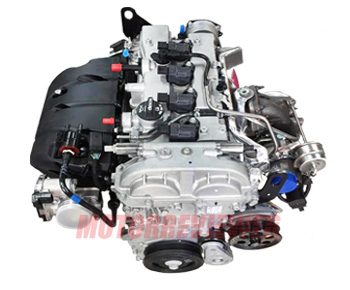 GM/Chevy 2.0 Ecotec Info
The 2.0 Ecotec LTG is a 2.0-liter inline four-cylinder turbocharged engine with direct fuel injection. It is a part of the Gen3 Ecotec engine family produced by General Motors. This widely used 2.0L Chevy/Cadillac motor made its debut in 2013, replacing the previous 2.0L Turbo version out of the Gen2 Ecotec family, known by its LNF, LDK, and LHU production codes. At first, the new engine became available for the 2013 model year Cadillac ATS and Chevrolet Malibu. Today, GM uses it in a broad range of vehicles, including the 2.0L Turbo Chevrolet Camaro. The 2.0T LTG is also available on the Chinese market. Let's take an in-depth look at the 2.0T Ecotec LTG engine design, its common problems, and its reliability.
Chevy/GM 2.0L Ecotec Overview
The 2.0 Ecotec LTG is a completely new engine, with nothing related to the outgoing 2.0T LHU Ecotec. While blocks are dimensionally similar, the LTG engine uses a new open-deck-style, sand-cast aluminum cylinder block with cast-in-place iron liners and improved structural support. It has strengthened main bearing bulkheads and cylinder bore walls to withstand increased engine loads. The rotating assembly includes a forged-steel crankshaft, forged powdered metal connecting rods, and lightweight cast aluminum pistons with a dish-shaped piston crown. The engine block is equipped with piston oil jets (by one per piston). Oil jets spray oil toward piston skirts and continuously lubricate and cool the pistons to reduce friction and noise. The oiling system is operated by a two-stage, variable-displacement oil pump. The variable-flow oiling system maximizes fuel efficiency by preventing using energy to pump oil that is not required. Engine oil is cooled by a heat exchanger connected with the engine's coolant circuit. Smooth engine operation is ensured by a modular balance shaft system installed in the oil pan.
The LTG 2.0T engine has an A356T6 aluminum 16-valve cylinder head designed for direct fuel injection and high boost pressure. The cylinder head is equipped with stainless steel intake valves and sodium-filled exhaust valves. The engine also features a DOHC design with Continuously Variable Valve Timing (CVVT). The intake and exhaust camshafts are driven by a timing chain. Both cams have vane-type phasers controlled by an engine control module (ECM). Valves are actuated via low-friction hydraulic roller-finger followers. LTG heads use extended-life spark plugs, which last up to 100,000 miles (160,000 km). The fuel system includes two fuel pumps. The first one is a conventional electrically operated fuel pump in the fuel tank. It sends fuel to the second pump - an engine-mounted, high-pressure fuel pump driven by an intake camshaft. The HP pump provides fuel pressure from about 750 psi to 2,250 psi. Fuel is supplied to the injectors via a high-pressure stainless steel feed line and a pressure-regulated fuel rail.
The 2.0L LTG Ecotec uses a BorgWarner twin-scroll turbocharger with an electronically controlled wastegate. The turbo puts out around 20 psi of maximum boost. The engine is equipped with a cast stainless steel 4 in 2exhaust manifold (1-4 and 2-3). So, each scroll on the turbine is fed by a separate exhaust passage. For reducing the temperature of compressed air, the LTG engine uses an air-to-air intercooler. It is capable of cooling the intake air by 212 degrees Fahrenheit (100 degrees Celsius). The intake manifold is made of plastic. Because the intake system is pressurized, there is no source of vacuum for the brake booster. In this case, the engine has a cam-driven vacuum pump mounted at the rear of the cylinder head. It is driven by the exhaust camshaft.
LTG Overall Performance
Compared to the LHU engine, the 2.0T LTG Ecotec reduces overall engine friction by 16%. Thanks to direct injection, cold-start emissions also dropped by about 25%. The twin-scroll turbo provides a broad and robust torque curve, giving a great feeling of power on demand.
Engine Specs
Manufacturer
Spring Hill Manufacturing plant, Spring Hill, Tennessee, the USATonawanda, NY, the USA
Production years
2013-present
Cylinder block material
Aluminum
Cylinder head material
Aluminum
Fuel system
Direct Injection
Bore, mm
86.0 mm (3.39 in)
Stroke, mm
86.0 mm (3.39 in)
Displacement, cc
1,998 cc (150 cu in)
Type of internal combustion engine
Four-stroke, turbocharged
Power, hp
230-279 hp (172-208 kW)/ 5,500
Torque, lb ft
285-295 lb ft (350-400 Nm)/ 2,000-5,500
Engine oil weight
SAE 0W-30, 5W-30
Engine oil capacity, liter
4.7 l (5.0 qt) – RWD/FWD vehicles;5.7 l (6.0 qt) – AWD vehicles
Oil change interval, mile
10,000 (15,000 km) / 12 months
Applications
Chevrolet Camaro, Chevrolet Malibu, Chevrolet Equinox, Chevrolet Traverse, Cadillac ATS, Cadillac CT6, Cadillac CTS, Cadillac ATS 25T (China), Cadillac ATS 28T (China), Opel Insignia, Buick Regal, Buick Envision, Buick GL8, GMC Terrain, Holden Commodore
Chevy/GM 2.0L Ecotec LTG Problems and Reliability
First of all, the GM 2.0 Ecotec is a good engine. It has a performance of NA 3.0/4.0-liter V6s and V8s with a great fuel efficiency of a small four-cylinder engine. By the way, it is the first I-4 motor in a Camaro since the gen3 model. Camaro 2.0T LTG engine is rated at 275 hp (205 kW) at 5,600 rpm and 295 lb-ft (400 Nm) of torque at 3,000 rpm. But being the most power-dense automotive engine in the industry, is the 2.0 LTG Ecotec reliable? Surprising, but this turbo-four offers a good balance of performance and reliability. Of course, it is not perfect, like everything else in the world.
3 Most Common 2.0 Ecotec LTG Problems
Here are a few of the most common 2.0 Ecotec LTG engine problems:
Carbon build-up
Piston failures
Timing cover oil leaks
Carbon Build-up
To one level or another, every engine with direct injection has the issue with carbon build-up on intake valves. And this well-known downside of direct injection is not something unique to the 2.0 LTG Ecotec. All engines may blow some oil into the intake. For those with conventional port injection, it is not a problem because fuel washes out everything back to combustion chambers. But with direct injection, when gasoline shoots directly into the combustion chamber, bypassing intake valves and ports, blow-by oil forms deposits on the intake valves and everything around. This dirty black build-up can restrict airflow to a level where performance and reliability can be affected. Usually, this happens after/every 80,000-100,000 miles. Walnut blasting is a good way to bring some dead horses back to life.
2.0L Ecotec Piston Failures
In the early years of sales, piston failures were being found on some 2.0T Ecotec's within the first few thousand miles. GM was able to solve quickly these early flaws with the motor, and later models, seems to be, don't run into these issues anymore. However, pistons on 2.0 LTG are not the strongest part of the engine. They are cast aluminum, not forged, and don't have a large margin of safety. On a stock engine, they work fine. But if you will try to squeeze more power by boosting it, it is better to upgrade 2.0T Ecotec with aftermarket forged aluminum pistons.
Timing Cover Oil Leak
One more common problem found on LTG engines is oil leakages around the timing cover. Usually, it is slow seeping oil leaks that burn off on the engine block, producing little smoke and some burning oil smells. If you notice any of these symptoms, check the cylinder block around the timing cover for black spots. You may have an oil leak from the timing cover.
Chevy/GM 2.0L Ecotec LTG Reliability Summary
Keep in mind, the 2.0-liter Ecotec LTG is a high-performance turbo engine. It definitely is more demanding on maintenance. The engine requires high quality, synthetic oils, premium gas, and expensive spark plugs. Besides that, its complex design also places a lot of room for unexpected issues with electronics, turbo, and emissions equipment. Well, the properly maintained 2.0 Ecotec LTG engine itself should last well over 200k.