GM 4.3L V6 EcoTec3 LV3 Engine Specs, Problems & Reliability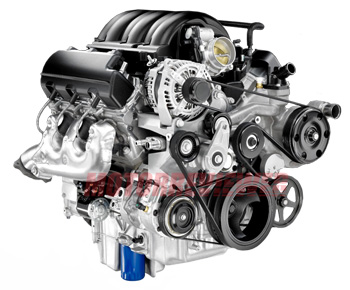 GM LV3 Engine Info
The 4.3 EcoTec3 is a 4.3-liter V-6 gasoline naturally-aspirated and direct-injected engine debuted in the 2014 model year Chevrolet Silverado and GMC Sierra as the new base engine option. The LV3 4.3L V6 motor was designed for primary use in pickup trucks and commercial vans. It's based on GM's 5th-generation small block 5.3 V8, replacing the 4.3 Vortec V6 out of the gen-4 small block V8 engine family. Like its predecessor, the LV3 V6 was built around the V8's small block, with a pair of cylinders removed. But it also includes such modern features as cylinder deactivation, direct fuel injection, and continuously variable valve timing technologies. Let's take a closer look at the GM 4.3 EcoTec3 engine design, its common problems, reliability, and longevity.
4.3L V6 LV3 Engine Overview
The LV3 engine block is aluminum. Like the original V8 cylinder block, it has a 90-degree cylinder angle and 4.40-inch (111.8 mm) bore centers. Compared to the gen4 block, the EcoTec3 block casting is all-new with some changes in the design, including new engine mount attachments, improved sealing, new knock sensor locations, and more. Like all Gen 5 engines, the new 4.3 V6 also features oil-spray piston cooling. It has six piston oil jets/squirters, which spray additional oil underside of each piston, providing extra cooling and friction-reducing. The oil-spray squirters play an important role in long-term engine durability as well as noise reduction coming from the engine. The engine rotating assembly includes a durable forged-steel crankshaft, 6.125-inch-long powder-metal connecting rods with a new profile, enhancing strength, and lightweight pistons with piston head design optimized for direct fuel injection. The crankshaft is secured by new nodular main bearing caps, which can better absorb vibrations than conventional gray iron main caps. A few notes about the oil system, which also is revised. The 4.3 EcoTec3 oiling system features a new, dual-pressure-control and variable-displacement vane pump with increased flow capacity. As previously, the oil pump is driven by the crankshaft. But with variable displacement, the new pump effectively delivers the optimum oil flow and lubrication level according to engine loads and speeds.
The 4.3 EcoTec3 engine uses aluminum cylinder heads with two valves per cylinder. Like the predecessor, the 4.3 LV3 features a pushrod valvetrain. The single camshaft seats inside the engine block. While spinning, it pushes steel pushrods, which activate intake and exhaust valves via roller-pivot rocker arms. The outside diameter of pushrods is 8.7 mm (Vortec use smaller, 7.9-mm diameter pushrods). The valvetrain also includes hydraulic roller-lifters. Thus, no valve clearance adjustment is required. The camshaft specifications are the following: 12.7/12.5 mm (0.500/0.492-inch) intake/exhaust lift, 193/199-crank angle degrees intake/exhaust duration. The camshaft also has an additional cam with three lobes (calling "trilobe") to drive the high-pressure fuel pump for the direct fuel injection system. The 4.3 engine comes with variable valve timing. Being an OHV engine with a single camshaft, it uses a dual-equal camshaft phasing system that adjusts timing at the same rate for both intake and exhaust valves.
Compared to the 4.3 Vortec head design, new cylinder heads on EcoTec3 engines feature smaller, 59cc combustion chambers, straight and rectangular intake ports with a slight twist, and exhaust ports with optimized shapes for the new exhaust valve locations. Heads are also equipped with larger valves: 1.93-inch (49 mm) intake valves and 1.56-inch (39.5 mm) exhaust valves. And finally, there are mounting places for direct fuel injectors, which shoot fuel directly into the combustion chamber. Speaking of the direct injection system, it operates at very high fuel pressure, up to 15Mpa (150 bar). This is why there are a conventional tank-located pump and an additional engine-driven high-pressure fuel pump placed in the valley between cylinder heads. Direct injection stainless steel lines, injectors, and high-pressure pump are hiding underneath a composite intake manifold. For noise reduction, coming from the engine and fuel pump, engineers laid acoustic foam on top of the intake manifold and covered all that with an additional acoustic shell.
The engine also features an electronically controlled throttle body with a single 72-mm diameter throttle valve. The ignition system is also full-electronic - Quick Sync 58X ignition. It features iridium-tip spark plugs and compact individual coils for each spark plug (coil-near-plug design). Much attention has been paid to the engine exhaust. The cast iron exhaust manifolds were chosen for their durability, noise reduction, and heat-management properties. All 4.3 EcoTec3 systems and operations are controlled by E92 Engine Controller. It is also responsible for GM's Active Fuel Management (AFM) technology. AFM is a cylinder deactivation feature that switches off two cylinders under light loads for fuel economy. It should also be noted that 4.3L EcoTec3 V6 truck engines are E85 flex-fuel-capable. Like on trucks with fifth-gen 5.3L V8s, you can run on either gasoline or E85 ethanol or any combination of two fuels.
Engine Specs
Manufacturer
GM Tonawanda plant (Tonawanda Engine Plant) in New York, USA
GM Ramos plant in Ramos Arizpe, Mexico
Production years
2014-present
Cylinder block material
Aluminum
Cylinder head material
Aluminum
Fuel system
Direct Injection
Bore, mm
99.6 mm (3.92 in)
Stroke, mm
92.0 mm (3.62 in)
Displacement, cc
4,301 cc (262cu in)
Type of internal combustion engine
Four-stroke, naturally aspirated
Power, hp
285hp (213 kW)/ 5,300 (gasoline)297hp (221 kW)/ 5,300 (E85)
Torque, lb ft
305 lb-ft (413 Nm)/ 3,900(gasoline)330 lb-ft (447 Nm)/ 3,900(E85)
Engine oil weight
SAE 5W-30 semi-synthetic motor oil
Engine oil capacity, liter
5.7l (6.0 qt) with oil filter
Oil change interval, mile
7,500 (12,000 km)/12 months
Applications
Chevrolet Silverado 1500, GMC Sierra 1500, Chevrolet Express, GMC Savanna
GM 4.3L LV3 V6 EcoTec3 Engine Problems and Reliability
Before starting, let's note that the following problems, although they are specified as common, it does not mean that they happen on every 4.3 EcoTec3 motor. Most Chevy/GMC trucks with 4.3L V6 EcoTec3 engines run more than 150-200k miles without any small engine issue. It's a good, reliable engine with an excellent combination of performance and fuel efficiency. But no engine is perfect, and the 4.3 LV3 V6 motor also has its own problems, which, by the way, are common to the entire EcoTec3 engine family, including the 5.3-liter and 6.2-liter V8s.
Chevy 4.3L EcoTec3 Common Problems
A few of the most common problems on the GMC/Chevrolet 4.3L LV3 V6 EcoTec3 engine include:
Active Fuel Management problems
Carbon build-up
AFM Issue
Active Fuel Management technology has not proven itself from the best side, even on the previous 4.3L Vortec engine. The biggest problem was high oil consumption. In addition to this, AFM lifters have a history of failing. Despite all theories and researches, GM has never been able to identify what really causes the issue. Nevertheless, the cylinder deactivation system was implemented on the new 4.3 EcoTec3 V6 because it's good for gas mileage (10-15% less fuel consumption on a highway). Although the motor is new, it looks like there are still problems with the AFM, albeit less common. One more thing: many people find the V4 sound annoying after swapping out the stock exhaust for a louder aftermarket exhaust.
Carbon Build-up Problem
Carbon build-up is the next potential problem. Yes, all direct-injected engines have more or less carbon build-up in the intake ports and on the intake valves. With port fuel injection, gasoline cleans inside all surfaces from some blow-by motor oil and exhaust gases. If we removed the gasoline cleaning effect, over time, by-products of oil and burned fuel sticks and hardens, forming carbon build-up. Big chunks of gunk/sludge restrict airflow and cause noticeable engine performance implications and some drivability issues. This is exactly what happens with direct-injected engines, in which gasoline is injected directly into the combustion chambers, bypassing the intake ports.
The 4.3L V6 EcoTec3 engine may start showing first symptoms of carbon build-up problem around the 80,000-100,000 miles range. These symptoms include rough idling, sputtering at idle, unsteady acceleration, and decreased power. The only way to fix the issue is walnut blasting. It is the most effective method of cleaning the intake valves and ports.
GM 4.3 V6 EcoTec3 Reliability Summary
So, is the GM 4.3 V6 EcoTec3 a reliable engine? The short answer is yes. Some minor issues may happen with long-term ownership, especially as cars age and mileage builds up. But let's be honest, this can be said about any engine. Correct maintenance is the key to long-term engine reliability. With good care, the 4.3 EcoTec3 engines last up to more than 250,000 miles.
Modifications
4.3L EcoTec3 LV1 engine. The LV1 is a 4.3-liter V6 engine produced by General Motors for use in vans. The main difference between the 4.3L LV3 V6 is that it doesn't have Active Fuel Management technology (cylinder deactivation). This version was launched on the 2018 Chevrolet Express and 2018 GMC Savana. The engine produces 285 hp at 5,300 rpm and 305 lb-ft of torque at 3,990 rpm.