GM 2.4L Ecotec Engine Specs, Problems & Reliability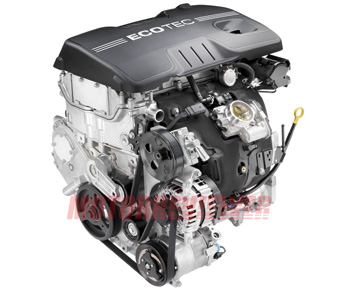 GM 2.4 Ecotec Overview
The 2.4 Ecotec is a 2.4-liter four-cylinder gasoline naturally aspirated engine debuted in 2006. General Motors produced this 2.4 inline-four for a wide variety of compact and midsize vehicles such as Chevrolet Malibu, Equinox, HHR, Saturn Ion, Aura, Vue, Pontiac G5, G6, Buick Regal, and more. The 2.4 Ecotec remained on the market through 2019. For almost 13 years of production, the engine went through some updates marked with a unique engine code - LE5, LE9, LAF, LEA, LAT, and LUK. Let's take an in-depth look at the GM/Chevy 2.4L Ecotec engine design, its common problems, reliability, and longevity.
2.4 LE5/LE9 Ecotec Engine
At the basis of the 2.4 LE5 is the 2.2L Ecotec, which has proven itself to be an excellent engine and was one of GM's highest volume engines at that time. The 2.4l Ecotec LE5 features not only increased displacement, but also some new technologies that make it much better in terms of power and efficiency. Like the original 2.2L I-4, the 2.4 Ecotec is an all-aluminum engine. It has a cast aluminum cylinder block with a highly rigid lower crankcase (a reinforced "Gen II" block). The engine block also features direct-mounted accessories. Early engines were equipped with GKN forged connecting rods. In July 2007, GM switched to C70 forged connecting rods. Engineers introduced into the block design piston-cooling oil jets. Oil jets or oil spray squirters continuously spray the underside of each piston, increasing longevity by reducing engine operating temperatures. The new engine got twin counter-rotating balance shafts. They spin at twice the speed of the engine crankshaft to cancel the second-order vibrations.
On top, there is a cast aluminum cylinder head with four valves per cylinder. The engine features a chain-driven dual overhead camshaft design. Unlike the original 2.2 Ecotec, the 2.4l LE5 version has variable valve technology. Electronically controlled variable valve timing is applied for both intake and exhaust camshafts. The valvetrain is fitted with hydraulic roller finger followers. The ignition system features central-located spark plugs and a coil-on-plug design. The 2.4 Ecotec uses a conventional sequential port fuel injection controlled by ECM (an all-new Engine Control Module). The throttle body is also electronically controlled (ETC - Electronic Throttle Control), where is no physical connection between the accelerator pedal and the engine throttle. While the cylinder head cover is still made of aluminum, the intake manifold is made of plastic, saving weight and cost.
The LE9 2.4L engine appeared in 2009. This version is basically the same as LE5 Ecotec. The main difference is the LE9 is an E85 flexible-fuel compatible engine. E85 is a clean-burning alternative fuel made from corn and other crops, composed of 85% ethanol alcohol and 15% gasoline. Because of the corrosive effects of ethanol, the 2.4L LE9 engine has special valves and valve seats able to withstand the wear. Also, this engine is equipped with unique stainless injectors with a higher maximum fuel flow rate.
LEA and LAF Engines
The 2.4L LAF and LEA versions utilize a direct fuel injection technology. The 2.4 LEA is also FlexFuel-capable. These engines retain the original architecture of LE5/LE9 2.4 inline fours. They have the same bore and stroke sizes, cast-iron crankshaft, and forged steel connecting rods. The direct-injected engines are equipped with slightly dished pistons, which increase combustion efficiency. The compression ratio is also higher - 11.2:1 instead of 10.4:1.
Of course, these engines use new cylinder heads specifically designed for direct fuel injection into each combustion chamber. Cylinder heads use premium valve seats, valve guides, and valve materials developed to withstand the greater heat and pressure inside the combustion chamber. There is also a cam-driven high-pressure fuel pump, which provides the fuel pressure required of the direct injection system. The direct injection system combined with the variable valve timing system allows the 2.4l Ecotec engine to deliver a good torque even at low rpm, make more power with less fuel, and produce lower emissions.
2.4L LAT/LUK Engines
The LAT and LUK are 2.4 I-4 direct-injected Ecotec engines adopted to use GM's Belt-Alternator Starter (BAS) mild-hybrid drivetrain (eAssist System). A traditional alternator is replaced by a liquid-cooled 15kW Motor Generator (MGU), which comes with additional air-cooled power electronics and a 115V lithium-ion battery pack. The eAssist System works as an electrical boost, improving fuel economy by an estimated 25%. Like the LEA, the LAT version is FlexFuel-capable.
Engine Specs
Manufacturer
Spring Hill Manufacturing plant, Spring Hill, Tennessee, the USA
Production years
2006-2019
Cylinder block material
Aluminum
Cylinder head material
Aluminum
Fuel system
Sequential port fuel injection;
Direct fuel injection
Bore, mm
88.0 mm (3.5 in)
Stroke, mm
98.0 mm (3.9 in)
Displacement, cc
2,384 cc (145 cu in)
Type of internal combustion engine
Four-stroke, naturally aspirated
Compression Ratio
10.4:1
11.2:1
Power, hp
164-182 hp (122-136 kW)/ 6,200-6,700
Torque, lb ft
159-172 lb ft (216-233 Nm)/ 4,800-5,000
Engine oil weight
SAE 5W-30
Engine oil capacity, liter
4.7 l (5.0 qt) – with oil filter
Oil change interval, mile
10,000 (15,000 km) / 12 months
Applications
Chevrolet Cobalt SS, Chevrolet Cobalt Sport, Chevrolet HHR, Chevrolet Malibu /Hybrid /ECO, Chevrolet Impala, Chevrolet Equinox, Chevrolet Captiva, Chevrolet Orlando, GMC Terrain, Pontiac G5/Pursuit, Pontiac G6, Pontiac Solstice, Saturn Sky, Saturn Ion, Saturn Aura /Green Line Hybrid, Saturn Vue /Green Line Hybrid, Buick LaCrosse, Buick GL8, Polaris Slingshot, Buick Regal, Buick Verano
GM/Chevy 2.4L Ecotec Problems and Reliability
So, the 2.4 Ecotec is a good engine? Now, when we have learned all the differences between the 2.4 Ecotec versions, let's discuss a few of the most common problems that affect them more than others. Quick note - that doesn't mean those common failures necessarily impact every 2.4 Ecotec engine that came out of the assembling line. In addition, most 2.4L engines currently are in 10-15 years old high-mileage cars, so they are prone to failure due to wear and tear, no matter how good new they were.
2.4 Ecotec Common Problems
The most common GM 2.4L Ecotec engine problems include:
Timing chain failure
High oil consumption
Carbon build-ups
Timing Chain Problem
Timing chain-related failures are one of the most reported and discussed problems with the 2.4 Ecotec inline-four. The timing chain can jump a few teeth due to failed tensioners and upper bolt. Since the 2.4 Ecotec is an interference engine, the valves contact the pistons and destroy each other if the timing is wrong. The result is bent or broken valves, damaged pistons, and costly repairs. Always a good idea to keep an eye on the timing chain and check for any scuffing/marks or slack, especially above the 100,000-mile mark. When the chain starts to develop slack, rattling sounds at idle become one of the first symptoms. If the timing chain jumps a little, you may notice a misfire, poor operation, and power losses with engine fault codes.
Oil consumption
GM 2.4L Ecotec engines are prone to high oil consumption, often due to piston oil rings wear. Because of additional piston cooling with oil sprayed by oil squirters/jets, some amount of oil can make its way past the bad rings into the combustion chamber, where it burns off. Fortunately, this problem is well known by the manufacturer. General Motors offered extended warranties, and you may be able to work with them to have the issue resolved.
Carbon Build-up Issue
Carbon build-up is a unique problem to 2.4 Ecotec with a direct fuel injection system (LEA, LAF, LAT, and LUK engines). Carbon build-up on intake valves and ports is a result of some oil blow-by through the intake tract. The conventional port injection system sprays fuel before the intake valves and helps wash any oil and carbon deposits. But those listed direct-injected engines don't have any presence of gasoline inside intake ports. Usually, this issue does not affect anything. And actually, as the manufacturer claimed, most 2.4 Ecotec engines will last their entire life without any need for intake valve cleaning. However, in some worst cases, the carbon build-up can cause power loss, rough idle, stuttering, and even misfires. The big chunks of deposit restrict airflow into the engine, reducing its performance and fuel efficiency. They also can fall into the cylinders and cause increased wear.
GM 2.4 Ecotec Reliability Summary
Summing up, we can say that the 2.4L Ecotec is a reliable and durable engine. Though earlier models had some design flaws, later GM/Chevy 2.4L engines offer a pretty good balance of longevity, performance, and efficiency. Sure enough, 2.4 Ecotec engines are not the greatest, but with proper maintenance, they last up to 200,000 miles.