Renault K4M 1.6L Engine Specs, Problems & Reliability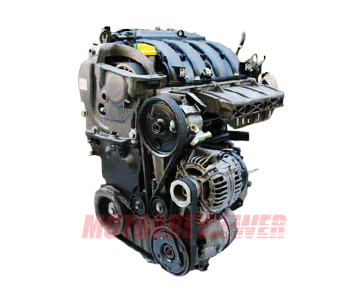 The Renault K4M engine is not new. Renault uses it for install into their models since 1999 (Renault Megane, Renault Clio II, Renault Laguna and others). The engine itself is further development of the K7M engine.
The K4M got new 16-valve cylinder head, two light camshafts, other pistons and hydraulic tappets. Some versions are equipped with the VVT (Variable Valve Timing) system. The maximum power and compression ratio are varied for some models. The K4M has a timing belt. The replacement of rollers and belt is required every 40,000 miles. Compared to the K7M engine, the K4M operates quieter, smoother, with fewer vibrations, consumes less fuel and more powerful.
Renault also produced sports version - the K4M RS. It has performance cylinder head and camshafts. Engine power is 136hp.
Engine Specs
Manufacturer
Renault Espana
Production years
1999-present day
Cylinder block material
Cast Iron
Cylinder head material
Aluminum
Fuel system
Fuel injection
Type of internal combustion engine
Four-stroke, naturally aspirated
Torque, lb ft
106-108/3750
Engine oil weight
5W-30, 5W-40
Engine oil capacity, liter
4.8
Oil change interval, mile
10,000
Applications
Dacia Logan, Dacia Sandero, Renault Kangoo, Dacia Duster, Renault Megane, Nissan Almera G11, Renault Clio, Renault Laguna, Renault Scenic, Renault Fluence
Renault K4M 1.6l Engine Problems and Reliability
This engine was designed for a small budget car and had to be cheap and reliable. But the K4M has more expensive parts and components compared to the K7M. It should be noted that K4M engines are sensitive to fuel quality (unstable work).