Renault 1.3 TCe H5Ht Engine Specs, Problems & Reliability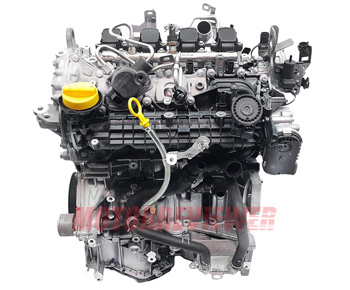 1.3 TCe H5Ht Engine Info
The 1.3 TCe H5Ht is a 1.3-liter four-cylinder turbocharged and direct-injected engine co-developed by Renault-Nissan-Mitsubishi Alliance and their partner Mercedes-Benz (Daimler). The H5Ht engine debuted in 2017. Renault offers four variants with different levels of performance, which are branded as TCe115, TCe140, TCe150, and TCe160. Mercedes-Benz also produces and sells this 1.3L turbo-four motor under the M282 codename. Nissan's name for these engines is HR13DDT. While the Alliance uses their own industrial facilities (Valladolid in Spain, Sunderland in the United Kingdom, and the Nissan Motor United Kingdom factory (NMUK)), the Mercedes-Benz M282 engine is manufactured in Germany at Daimler's factory in Kolleda. Let's take an in-depth look at the 1.3 TCe H5Ht engine design, its common problems, reliability, and longevity.
Renault 1.3 TCe Engine Overview
The 1.3L TCe is an all-aluminum engine. It has an aluminum open-deck engine block with plasma-coated cylinder walls. Bore Spray Coating is very hard steel sprayed on the surface of the walls using a plasma torch. This technique enhances heat conductivity, decreases uncontrolled detonations, and gives significant savings in weight. The engine is equipped with a forged crankshaft and lightweight aluminum pistons with a special graphite coating on skirts for optimized friction and wear resistance. By the way, pistons are additionally cooled with oil by oil jets. To further improve engine efficiency, the H5Ht was equipped with a variable displacement oil pump.
While the cylinder block, crankshaft, and engine accessories were developed by Renault, the cylinder head design is the result of Mercedes's cooperation. The German engineers ended up with a very unusual triangular "Delta" cylinder head with four valves per cylinder and centrally located direct injectors. The delta shape makes it slightly higher, but much narrower and lighter than the conventional rectangle design. The cylinder head comes with two chain-driven camshafts (intake and exhaust). The 1.3 TCe features twin independent variable camshaft timing for intake and exhaust. The engine uses a single row timing chain, which has an engine's lifetime warranty. The intake and exhaust valves are actuated by cams via finger follower-type rocker arms. The valvetrain includes hydraulic guidance supports for rocker arms to ensure constant valve clearance. Water-cooled exhaust ports inside the cylinder head form part of the exhaust manifold. In this case, the exhaust manifold is partially integrated into the design. Such a technical trick provides more efficient combustion, keeping the engine temperature in optimal range by cooling exhaust gases, particularly at low engine speeds and/or in cold weather.
The key features responsible for the great efficiency and performance of the 1.3L TCe engine are direct fuel injection and turbocharger. The direct fuel injection system is fed by a high-pressure injection pump with a maximum output of 250 bar. A high-pressure pump delivers fuel through a common rail to 6-hole injectors that spray directly into the combustion chambers. Compressed intake air is supplied by a fixed geometry turbocharger with a fully electronically controlled, motor-driven wastegate (e-wastegate). After turbocharger, exhaust gases go through a catalytic converter as standard and particulate filter on engines with WLTP proof (Euro 6c).
Engine Specs
Manufacturer
Valladolid, SpainSunderland, United Kingdom Nissan Motor United Kingdom factory (NMUK)
Production years
2017-present
Cylinder block material
Aluminum
Cylinder head material
Aluminum
Fuel system
Direct Injection
Bore, mm
72.2 mm (2.84 in)
Stroke, mm
81.3 mm (3.20 in)
Displacement, cc
1,332 cc (81.3 cu in)
Type of internal combustion engine
Four-stroke, turbocharged
Power, hp
115-160 hp (85-117 kW)/ 4,500-5,500
Torque, lb ft
162-199 lb ft (220-270 Nm)/ 1,500-3,500
Engine oil weight
SAE 0W-40, 5W-40
Engine oil capacity, liter
5.5 l (5.8 us qt) - with oil filter
Oil change interval, mile
18,000 (30,000 km)/24 months - EU9,000 (15,000 km)/12 months
Applications
Renault Megane, Renault Scenic / Grand Scenic, Renault Captur, Renault Clio, Renault Kadjar, Renault Talisman, Renault Samsung XM3/Renault Arkana, Renault Koleos
1.3 TCe H5Ht Engine Problems and Reliability
Well, is the Renault 1.3 TCe a good and reliable engine? The manufacturer claims that this new 1.3-liter turbo engine, after more than 40,000 hours of tests and simulations, meets all the quality standards of the Renault-Nissan-Mitsubishi Alliance and Daimler. And it looks like the engineers at Mercedes and Renault managed to create a truly reliable small turbo engine. No serious design flaws are found on the 1.3 TCe motor. Of course, you can find topics about some problems that pop up on the Internet, but, in fact, the prevalence of such problems is exaggerated. Let's highlight some of the most reported issues and troubles, even if it's not fair to call them common problems that affect a ton of engines.
Renault 1.3 TCe Common Problems
There are a few of the most common Renault 1.3 TCe engine problems:
Carbon build-up
Excessive oil consumption
All engines with direct fuel injection more or less suffer from carbon build-up on the intake valves and ports. With a port injection, gasoline is injected into the intake ports and cleans a byproduct of oil and fuel burn. Direct-injected engines do not have this side effect of the presence of air and fuel mixture inside intake ports because they spray fuel directly into combustion. Over time, a build-up of gunk or sludge forms on the intake valves and walls inside intake ports. In some rare cases, the carbon build-up can have noticeable performance implications because it restricts the airflow so that the engine does not receive enough oxygen to burn fuel efficiently. But don't worry too much, most of the engines will likely live their whole lives with excess carbon deposits.
Compared to its predecessor, the 1.2 TCe, the new 1.3-liter engine does not have such an obvious excessive oil consumption problem. However, some owners reported on the Internet about progressive oil consumption starting already from the first thousand miles. Most likely, the cause of such cases is assembly of engine blocks with cylinder walls, pistons, or oil rings that do not meet specs. Some engines also experience high oil consumption as they age. But always keep in mind, this type of small-displacement turbo engines are prone to consume oil under heavy loads more than most of the naturally aspirated engines with a comparable level of performance. This is why 1.3L TCe requires top-quality synthetic motor oil that can withstand higher temperatures and pressure.
Renault 1.3 TCe Reliability Summary
That said, the Renault 1.3 TCe is a pretty reliable engine. There are already plenty of examples of the 1.3TCe H5Ht engine holding up to 100,000+ miles (150,000+ km) with no major issues. Nonetheless, maintain your engine well and, we believe this awesome engine will last more than 160,000 miles (250,000 km).