Hyundai KIA 3.8L Engine (Lambda RS/MPI/GDI) Specs, Problems & Reliability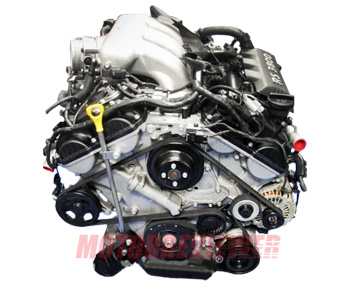 Hyundai's 3.8L V6 engine (G6DA, G6DJ, and G6DK) is the biggest Lambda family engine, firstly introduced in 2005. This power unit is installed in Hyundai and KIA large sedans, full-size minivans, and heavy SUVs. The Lambda RS version is offered for sporty models such as Hyundai Genesis Coupe, and luxury cars - Hyundai Genesis, Kia Quoris, and Genesis G80.
Like the 3.3L MPI, the 3.8L version has an aluminum open-deck type cylinder block and aluminum alloy cylinder heads. There are four valves for each cylinder: two intake and two exhaust valves. The engine is DOHC type. Camshafts are chain-driven (engine has two timing chains). The valvetrain doesn't have hydraulic tappets. Solid buckets are used instead, which require valve clearance adjustment using shims every 60,000 miles (100,000 km). The early 3.8 Lambda MPI engines had variable valve timing on the intake side only - CVVT. In 2009, the manufacturer introduced the second generation of the Lambda engine series - Lambda II. The 3.8 Lambda II MPI features a CVVT on the exhaust side as well - Dual CVVT. Lambda II MPI engines also produce slightly more power and torque. MPI refers to a multipoint fuel injection system where fuel is injected into the intake ports through the fuel injectors in front of the intake valves. The intake manifold is aluminum. The throttle body is electronically controlled.
The 3.8-liter Lambda RS (Rear-drive Sport) engine is a longitudinal version. This engine is based on second-generation Lambda with Dual CVVT. In 2012, Hyundai started production of the Lambda RS GDI, which uses a direct fuel injection system instead of a conventional MPI. GDI engines have new cylinder heads, increased compression ratio (11.5:1), and Dual CVVT system. The Lambda II RS GDI is considered the company's most powerful natural aspirated V6 engine with direct fuel injection.
In 2019, the Korean manufacturer introduced their latest 3.8 V6 Lambda GDI with Atkinson cycle. It has a compression ratio of 13.0:1 and the newest high-pressure direct-injection system. This big and powerful engine is supposed to be installed in mid-size SUVs such as the Hyundai Palisade or Kia Telluride. The engine produces 291 hp (217 kW) at 6,000 rpm and 262 lb-ft (355 Nm) of torque at 5,200 rpm.
Engine Specs
Manufacturer
Hyundai Motor Co.
Production years
2005-present
Cylinder block material
Aluminum
Cylinder head material
Aluminum
Fuel system
Multi-point fuel injection;
Direct injection
Bore, mm
96.0 mm (3.78 in)
Stroke, mm
87.0 mm (3.43 in)
Displacement, cc
3,778 cc (230.5 cu in)
Type of internal combustion engine
Four-stroke, naturally aspirated
Compression Ratio
10.4:1 - MPI;
11.5:1 - GDI;
13.0:1 - GDI and Atkinson cycle
Power, hp
263-348 hp (196-260 kW)/6,000-6,400
Torque, lb ft
257-295 lb-ft (348-400 Nm)/ 4,500-5,300
Engine oil weight
5W-30 - MPI engines;
5W-20 - GDI and RS engines.
Engine oil capacity, liter
5.2 (5.4 qt) - MPI version;
6.5 (7.2 qt) - RS MPI/GDI version.
Oil change interval, mile
9,000 (15,000)/12months - MPI; 7,500 (12,000)/12months - GDI and RS;
Applications
Hyundai Genesis, Hyundai Genesis Coupe, Hyundai Azera, Hyundai Palisade, Hyundai Entourage, Hyundai Centennial/Equus, Hyundai Veracruz, Kia Quoris, Kia Telluride, Kia Amanti/Opirus, Kia Carnival/Sedona, Kia Sorento, Kia Borrego/Mohave, Genesis G80
Hyundai Kia 3.8 V6 Engine Problems and Reliability
Hyundai 3.8L engine has common problems with the 3.3l V6 of the same Lambda engine family. Among them is high oil consumption, prone to stuck piston rings, and typical carbon build-up problems of the direct-injected engines. Detailed information you can read in our 3.3L Lambda engine review. An approximate mileage you can make with the 3.8-liter Lambda MPI is about 180,000 miles (300,000 km). GDI version will run a little bit less.
Modifications
G6DA - 263 hp (196 kW) at 6,000 rpm, 257 lb-ft (348 Nm) at 4,500 rpm. Compression ratio is 10.4:1. This is the Lambda MPI engine. Application: Hyundai Azera, Kia Sedona, Kia Amanti.
G6DK - Lambda II RS engine (RS 3800). For the Genesis Coupe, it produces 299-306 hp (223-228 kW) at 6,400 rpm and 265 lb-ft (359 Nm) of torque at 4,600 rpm.
G6DJ It is a 3.8L Lambda RS GDI engine with compression ratio of 11.5:1. Power output for the Genesis Coupe is 348 hp (260 kW) at 6,400 rpm and 295 lb-ft (400 Nm) of torque at 5,300 rpm. Aplication: Hyundai Genesis, Kia Quoris, Hyundai Genesis Coupe, Genesis G80.