Hyundai KIA 1.4 T-GDi Engine (Kappa G4LD) Specs, Problems & Reliability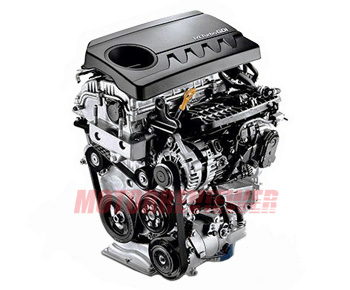 The 1.4 T-GDi is a 1.4-liter turbocharged and direct-injected four-cylinder gasoline engine. It is a member of the new Kappa engine family introduced in 2015 together with a 1.0L three-cylinder version - Kappa 1.0 T-GDi. This 1.4 turbo version debuted in the Hyundai i30 at Auto Expo in 2016 and already has become available in a wide range of cars: Hyundai Elantra, Hyundai Veloster, KIA Ceed, KIA Cerato, and etc.
The Hyundai 1.4T engine features smooth operation and low noise level, more like a V6 engine. It also provides extremely low fuel consumption, in contrast to the large amount of power and torque that you get. The engine is all aluminum and lightweight. It is smaller and 31 lbs (14 kg) lighter than the 1.4L G4FA from the previous Gamma family. The engine has an aluminum open-deck cylinder block, an aluminum 16-valve cylinder head with double overhead chain-driven camshafts, a head-integrated exhaust manifold, DUAL CVVT system (variable intake and exhaust valve timing), and hydraulic cam followers. The intake manifold made from plastic and has Hyundai's VIS (Variable Induction System).
Modern engines would not achieve high efficiency without good temperature management. In this case, the cooling system of the Kappa 1.4L engine has two separate cooling channels with individual thermostats for the head and engine block. The head thermostat opens at the temperature of 190 deg F (88 deg C), providing suppression of detonation due to better cooling of the head. The second thermostat keeps the block at the temperature of 221 deg F (105 deg C) for friction reduction.
The main features of this 1.4 turbo unit are direct injection and turbocharger. The new fuel system operates at pressures up to 200 bar (2,900 psi) and delivers fuel directly into cylinders using six-hole direct injectors. A single-scroll turbocharger is equipped with an electric wastegate actuator which improves low-end torque and part-load fuel economy.
Engine Specs
Manufacturer
Hyundai Motor Co.
Production years
2016-present day
Cylinder block material
Aluminum
Cylinder head material
Aluminum
Fuel system
Direct Injection
Bore, mm
71.6 mm (2.79 in)
Stroke, mm
84.0 mm (3.31 in)
Displacement, cc
1,353 cc (82.5 cu in)
Type of internal combustion engine
Four-stroke, turbocharged
Power, hp
140 hp (103 kW)/6,000
128 hp (95 kW) / 5,500 - North American version
Torque, lb ft
178 lb-ft (242 Nm)/ 1,500
156 ft-lb (212 Nm) / 1,400 - North American version
Engine weight
192 lbs (87 kg)
Engine oil capacity, liter
4.2 (0.4 - oil filter)
Oil change interval, mile
9,000 (15,000 km) / 12 months
Applications
Hyundai i30, Hyundai Elantra, Hyundai Veloster, KIA Ceed, KIA Cerato
Hyundai Kia 1.4 T-GDi Engine Problems and Reliability
Although the engine is quite new, it seems that it has no serious problems and flaws. The only thing that can be distinguished is a loud noisy operation of the engine when it is not warm enough. But nevertheless, it should be understood that the turbocharged engine experiences increased loads and it needs better maintenance, high-quality engine oil, and premium gas.
The Kappa 1.4 T-GDi engine life expectancy is about 120,000-150,000 miles (200,000-250,000 km), which is quite normal for this kind of engine.