Hyundai KIA 1.0 MPi/T-GDi Engine (Kappa G3LA/G3LC) Specs, Problems & Reliability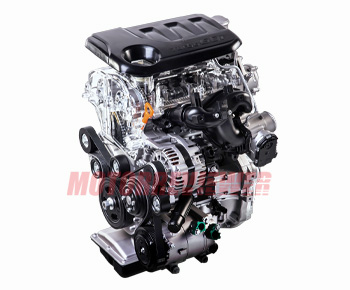 The Hyundai 1.0L MPi engine out of the Kappa family is a three-cylinder gasoline engine with multi-point fuel injection, and a part of the Hyundai-Kia product strategy directed to a high achievement with fuel efficiency. The engine was announced in 2011 and it is still a popular powerplant for the Hyundai i10 and KIA Picanto.
The cylinder block is aluminum and designed as an open-deck type with cast iron liner. There is also a cast iron crankshaft. The shape of counterweights was optimized to minimize vibrations of a three-cylinder engine, which made it possible to exclude balance shaft from the design. The crankshaft seats in the block with the 11 mm offset against the cylinders line. For friction reduction, optimized lightweight pistons with a compression height of 24.7 mm and a short skirt length were applied. Piston rings are coated with Physical Vapour Deposition (PVD); piston skirts are MoS2-coated.
The 1.0L Kappa engine has an aluminum cylinder head with four valves per cylinder and double overhead camshafts. The head design includes pent-roof combustion chambers and tumble intake ports. The intake and exhaust camshafts are driven by a timing chain. The first in 1.0-liter class, the valvetrain was equipped with Dual Continuously Variable Valve Timing (Dual-CVVT) system. To reduce valvetrain inertial mass and friction, engineers applied mechanical lash adjusters (MLA tappets) with thin walls and taper valve springs.
The G3LA is a naturally aspirated engine, which has a convenient port fuel injection. The intake system includes two intake manifold options - with constant length or variable length (Hyundai's VIS). Both of them are made of plastic to reduce weight and costs. The exhaust manifold is made of cast iron - a little bit heavier than a stainless steel one but 30% cheaper.
In 2014, Hyundai announced a turbocharged Kappa 1.0L G3LC engine at the Paris Auto Show. As the N/A version, the new engine is all aluminum, but the cylinder head was noticeably modified. The head has an integrated water-cooled exhaust manifold. That gives a faster warm-up catalyst and reduces thermal stress and wear to the turbocharger. The new engine comes with a single-scroll turbocharger and an electronically-controlled wastegate which optimizes low-end torque and throttle response. Multipoint fuel injection was replaced with direct injection. High-pressure fuel pump produces pressure up to 200 bar (2,900 psi) and supplies fuel for the six-hole direct injectors installed in the cylinder head. Fuel is delivered directly into combustion chambers.
The G3LC engine has a new split-cooling concept. The cooling system consists of two separate cooling channels for the cylinder head and engine block. Each of the channels has an individual thermostat. The cylinder block is heated more for lower friction and more efficiently run. The cylinder head is operating at lower temperatures to optimize injection and combustion.
The 1.0L MPi and 1.0L T-GDi Kappa engines meet a growing demand for smaller engines with low fuel consumption and CO2 emission. Again, Hyundai was able to offer as a simple solution as a more advanced variant with affordable price.
Engine Specs
Manufacturer
Hyundai Motor Co.
Production years
2011-present day
Cylinder block material
Aluminum
Cylinder head material
Aluminum
Fuel system
Multi-point fuel injection;
Direct injection
Bore, mm
71.0 mm (2.80 in)
Stroke, mm
84.0 mm (3.31 in)
Displacement, cc
998 cc (60.9 cu in)
Type of internal combustion engine
Four-stroke, naturally aspirated/turbocharged
Compression Ratio
10.5:1 - MPi
10.0:1 - T-GDi
Power, hp
66 hp (48 kW) /5,500 - MPi
68 hp (49 kW) /6,200 - MPi LPG version
100 hp (74 kW) /4,500 - T-GDi
120 hp (88 kW) /6,000 - T-GDi
Torque, lb ft
70 lb-ft (95 Nm)/ 3,500 - MPi
66 ft-lb (90 Nm)/ 3,500 - MPi LPG version
127 ft-lb (172 Nm)/ 1,500-4,500 - T-GDi
Engine weight
157 lbs (71.4 kg) - 1.0L MPi
Engine oil weight
5W-30 - MPi
5W-40 - T-GDi
Engine oil capacity, liter
3.6 (0.3 - oil filter)
Oil change interval, mile
9,000 (15,000 km) / 12 months
Applications
Hyundai i10, Hyundai i20, Hyundai i30, Hyundai Kona, KIA Ceed, KIA Stonic, KIA Picanto, KIA Rio
Hyundai Kia 1.0L MPi/T-GDi Engine Problems and Reliability
Despite the fact that a lot of effort was put into operation optimization of the three-cylinder engine, many owners complain of high levels of vibration and noise. Also, real fuel consumption does not always correspond to the declared by the manufacturer. Small engines are sensitive to increased loads due to a small torque, which leads to increased fuel consumption. The most dangerous problem is that Hyundai's 1.0-liter three-cylinder engine overheats easily if you do not keep an eye on the condition of the radiator.
In general, Kappa engines are very reliable and the shortcomings are related to exploitation for the most part. Average engine life for both power units is about 120,000 miles (200,000 km).