Nissan VQ35DE 3.5L Engine Specs, Problems & Reliability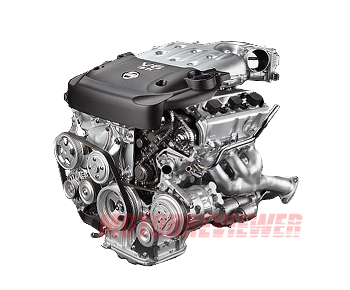 The VQ35DE engine is one of the most popular Nissan engines. It was developed to replace the VQ30DE engine (first generation of VQ series) in 2000. This engine was a winner of various awards as the best engine of the year.
The engine got a forged crankshaft and connecting rods (their length is 144.2 mm), molybdenum coated pistons (compression height is 30.1 mm). It has variable valve timing system on intake camshaft only (CVTC). The main feature is what the engine has a reliable timing chain and no hydraulic lifters for more power efficiency.
There are the second and third generations of the VQ35DE engine in the production history. They are different by intake manifold, channels in cylinder heads, reinforced engine block and softer valve springs. Also, they produce a varied range of power.
Nissan developed the special version engine VQ35DE Rev up for Nissan 350Z 35th Anniversary Edition and some Infiniti G35 V35 models. It has CVTC exhaust camshaft also, short intake manifold. Rev limit is 7000 rpm, and the max power is 298 hp at 6400 rpm.
The VQ series includes VQ20, VQ23, VQ25, VQ30, VQ37 and VQ40 engines also. The manufacturer became replacing the VQ35DE engine with the new 3.7-liter VQ37VHR engine on their models since 2007.
Engine Specs
Manufacturer
Decherd Powertrain Plant, Iwaki Plant
Production years
2000-present day
Cylinder block material
Aluminum
Cylinder head material
Aluminum
Fuel system
Fuel injection
Type of internal combustion engine
Four-stroke, naturally aspirated
Power, hp
217-304/5600-6400
Torque, lb ft
232-274/3500-4800
Engine weight
313 lbs (142 kg)
Engine oil weight
5W-30, 5W-40, 10W-30, 10W-40
Engine oil capacity, liter
4.7
Oil change interval, mile
10,000
Applications
Nissan 350Z, Nissan Altima, Nissan Teana, Nissan Murano, Nissan Pathfinder, Nissan Skyline (V35), Infiniti I35, Infiniti Q50, Infiniti G35, Infiniti EX35/QX50, Infiniti FX35, Infiniti Q70 (M35)/Nissan Fuga, Infiniti JX35/QX60, Infiniti QX4, Renault Vel Satis, Renault Espace, Renault Laguna Coupé, Renault Latitude
Nissan VQ35DE Engine Problems and Reliability
1. High oil consumption. Catalysts of the VQ35DE are very sensitive to fuel quality. They produce ceramic dust, which damages the cylinders and piston rings. As a result, the engine has low compression, high fuel and oil consumption, and other dead engine symptoms. 2. Engine overheating. That is not a typical problem, but it has a place to be. Check the radiator condition and expansion tanks of the cooling system for any leaks.