Nissan VK56DE/VD 5.6L Engine Specs, Problems & Reliability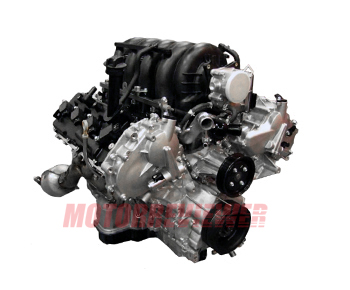 Nissan's VK56DE/VD is a 5.6-liter V8 gasoline engine, first introduced in the 2004 Nissan Armada, which was available in the North America market. The engine is made in the USA (in Decherd, Tennessee). The manufacturer offers this 5.6L V8s for the heavy and big trucks, SUVs, and full-size vans - Nissan Titan, Nissan Patrol, Infiniti QX56, Nissan NV2500, 3500 HD, and etc. The Nissan VK engine family also included smaller versions - 4.5-liter VK45DE and 5.0-liter VK50VE.
The VK56DE engine has an aluminum-alloy cylinder block with ductile iron cylinder liners, and it is similar to the VK45DE block but with some differences and dimensions. The height of the engine block was increased to 232 mm, the bore size - from 93 mm to 98 mm. The Nissan 5.6L engine has 154.2 mm long connecting rods and the new low-friction molybdenum-coated pistons, which also allows reducing the compression ratio to 9.8:1. In the result, the engine became a traditional V8 with a lot of torque, which makes it suitable for pickup trucks and other heavy vehicles.
This 5.6-liter V8 has aluminum cylinder heads with 4 valves per cylinder (two intake and two exhaust valves). The valvetrain is equipped by hydraulic lifters. The intake valve diameter is 37 mm, and the exhaust valves are 31.5 mm in diameter. The engine features chain-driven, double overhead camshafts for each cylinder bank (4 camshafts total) and Continuous Variable Valve Timing Control system (CVTCS) for the intake valve timing only. The VK56 camshafts have following specifications: duration - 232/230 degrees, lift - 8.8/8.8 mm. The headcovers and the intake manifold are made of composite material for weight savings. The VK56DE is equipped with conventional multi-port fuel injection system, coil-on-plugs electronic ignition and electronic throttle body.
The VK56VD 5.6L Endurance (DIG) engine
The VK565DE was discontinued in 2016 and completely replaced in the production by a modified version - the VK56VD. The new Nissan 5.6L V8 DIG engine started its life in 2010 under the hood of the newest Infiniti M56 premium sport luxury sedan. It was developed in response to the growing demand for better fuel economy, improved performance, and cleaner emissions. The new engine features DIG technology (Direct Injection Gas) - direct fuel injection system where fuel is injected directly into the cylinders via high-pressure direct injectors. That required a new cylinder head design. The engine also utilizes the Continuous Variable Valve Event and Lift (VVEL) System on both intake and exhaust sides. Nissan's engineers increased a compression ratio to 11.2:1 by installing pistons with a new design. The cooling system has gone from a traditional thermostat to a Multi Control Valve (MCV) system.
The direct fuel injection on the Nissan 5.6L engine allows to control injection process more precisely and, as the result, provides improved throttle performance, fuel economy, and emissions performance by reducing engine knock and improving combustion stability.
Engine Specs
Manufacturer
Decherd Plant, Tennessee
Production years
2003-present day
Cylinder block material
Aluminum
Cylinder head material
Aluminum
Fuel system
Multi-point fuel injection
Bore, mm
98.0 mm (3.86 in)
Stroke, mm
92.0 mm (3.62 in)
Displacement, cc
5,552 cc (338.8 cu in)
Type of internal combustion engine
Four-stroke, naturally aspirated
Compression Ratio
9.8 - VK56DE;
11.2 - VK56VD
Power, hp
305-420 hp (227-313 kW)/4,900
Torque, lb ft
385-417 lb-ft (522-565 Nm)/3,600
Engine weight
496 lbs (225 kg)
Firing order
1-8-7-3-6-5-4-2
Engine oil weight
SAE 5W-30, 5W-40, 10W-30, 10W-40
Engine oil capacity, liter
6.5l (6.9 qt)
Oil change interval, mile
9,000 (15,000 km) / 12 months
Applications
Infiniti M56/Q70, Infiniti QX56/QX80, Nissan Pathfinder, Nissan Patrol, Nissan Armada, Nissan NV2500 HD, Nissan NV3500 HD, Nissan NV Passenger, Nissan Titan, Nissan Altima, V8 Supercars Australia
Nissan 5.6L VK56DE/VD Engine Problems and Reliability
The VK56 5.6l V8 engine is sensitive to the quality of the fuel. The common problem associated with this is similar to the one on the VQ35 V6 engine. Bad fuel destroys catalyst converters on these engines, and that process accompanies by small production of dust and small pieces. The dust from the catalyst converters is absorbed by the engine, penetrates inside and grinds the cylinder walls, and then, washed by oil after that. This causes a rapid ware of all internal components (piston rings, cylinder walls, bearings). If it happened, well, you need a new engine. Symptoms of that disaster are the next: high oil consumption, loss of power, rough idle.
Timing chains are not reliable. In most cases, the right one is a weak spot. It stretches out sometimes even after only 30k miles. Aggressive driving with flour accelerations reduces the life of timing chains noticeable. The right chain also drives the high-pressure fuel pump, and in this case, the problem can be related to a failed pump. So, it is better changing timing chain along with high-pressure fuel pump, otherwise, it may happen again. By the way, the VK56 has a quite unreliable high-pressure fuel pump, which rarely goes more than 50,000-60,000 miles of mileage (80,000-90,000 km).
Besides that, keep an eye on the cooling system (radiator condition, level of coolant, and etc.), because the engine is inclined to overheat, especially the early models. They were equipped with unreliable AC condenser radiator cooling fan, which might jam and cause overheating. The engine suffers enough damage from overheating - twisted heads, blown head gaskets.
But in general, if you will keep it well maintained, use good quality parts, motor oil, and gas, the Nissan 5.6-liter engine last more than 250,000 miles (400,000 km).