Suzuki M13A 1.3L engine Specs, Problems & Reliability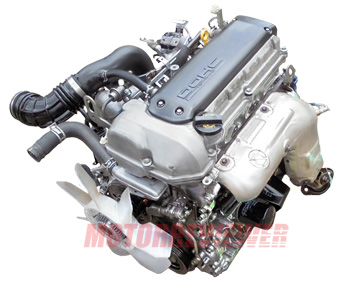 The M13A is a 1.3-liter inline four-cylinder gasoline engine, the smallest one from the Suzuki M engine family. The Suzuki M13A was used in popular little SUV Suzuki Jimny (M13AA) and compact vehicles such as Suzuki Ignis, Suzuki Swift, and Suzuki Liana. The engine production began in 2000 and was discontinued in 2018 when the fourth-generation Suzuki Jimny was released. The 1.3L M13A was replaced with a more powerful 1.5-liter K15B engine out of the Suzuki K engine family.
The engine has an aluminum cylinder block with cast-iron wet liners. On top, there is an aluminum 16-valve cylinder head with double overhead camshafts. The M13A engine uses a timing chain. The valvetrain features solid buckets with shims over buckets used for valve clearance adjustment (no hydraulic lifters). The valve clearance inspection is required every 20,000 miles (30,000 km). There two intake valves and two exhaust valves per each cylinder. The diameter of intake valves is 37.0 mm (1.457 in), and the exhaust valves are 25.0 mm (0.984 in). The engine is equipped with VVT (Variable Valve Timing) system on the intake camshaft, but the version without VVT was available for some markets. The headcover and intake manifold are made of aluminum.
The M13A features a conventional Multi-point fuel injection (MPFI) that works together with the electronically-controlled throttle - ETCS (Electronic Throttle Control System). The ignition system is also electronic. It uses one ignition coil for two spark plugs. The exhaust side features a cast iron exhaust manifold and a separate catalytic converter.
Engine Specs
Manufacturer
Suzuki Motor Corporation
Production years
2000-2018
Cylinder block material
Aluminum
Cylinder head material
Aluminum
Fuel system
Multi-point fuel injection
Bore, mm
78.0 mm (3.07 in)
Stroke, mm
69.5 mm (2.74 in)
Displacement, cc
1,328 cc (81 cu in)
Type of internal combustion engine
Four-stroke, naturally aspirated
Power, hp
84-91 hp (63-68 kW)/5,800-6,000
Torque, lb ft
81-86 ft-lb (110-116 Nm)/4,100-4,200
Engine oil weight
SAE 0W-20
Engine oil capacity, liter
3.8 l (4.0 qt) with oil filter - Suzuki Jimny
Oil change interval, mile
9,000 (15,000 km)/12 months
Applications
Suzuki Swift, Suzuki Jimmy, Suzuki Wagon R Sorio, Suzuki Liana, Suzuki Ignis, Chevrolet MW
Suzuki 1.3 M13A Engine Problems and Reliability
With timely maintenance, the M13A has a long lifespan. This engine has durable cast iron liners, reliable timing chain with 150-200k km longevity, and straight forward mechanical valvetrain. On average, the Suzuki 1.3L M13A engine needs a complete overhaul at mileage over 160,000 miles (250,000 km). To extend engine life, it is recommended to change the oil more often - every 6,000 miles (10,000 km), also avoid long engine running at high speeds - that range significantly increases oil consumption.
Suzuki M13A is a very robust engine and can withstand a lot of abuse. The downside is the high fuel consumption due to the lack of power and torque delivered for heavy vehicles such as Jimny. For this reason, there are many examples of replacing the M13A engine with 1.5-liter M15A or 1.6-liter M16A.