Suzuki K15B 1.5L engine Specs, Problems & Reliability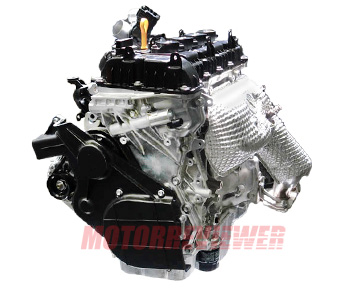 The K15B is a 1.5-liter inline four-cylinder, naturally aspirated gasoline engine debuted in 2018. Suzuki K15B engine is the biggest version of the K-series inline-fours. The 1.5L engine became a standard option for Suzuki's popular models, such as the fourth-generation mini SUV Suzuki Jimny (Sierra/Global), Suzuki Ciaz, and seven-seat compact MPV Suzuki Ertiga. The new engine replaced the M13A and M15A out of the previous small-displacement engine series.
The K15B is an all-aluminum engine. It has an aluminum open-deck design cylinder block with cast-in cylinder liners. The crankshaft is placed inside the block with an offset to the line of the cylinders. The engine is equipped with lightweight pistons with low-tension rings and nut-less split-type connecting rods. On top of the engine block, there is an aluminum alloy cylinder head with four valves per each cylinder and double overhead camshafts. The engine uses a strong, reliable timing chain - it is a silent timing chain to improve noise, vibration, and harshness. Both intake and exhaust camshafts come with variable valve timing (VVT). The valves are actuated by camshafts through bucket-type hydraulic lifters. The valve cover is made of plastic.
Suzuki 1.5L K-engine has Smart Distributor Less Ignition (SDLI) system which features electronic controlling and coil-on-plug design. The engine is also equipped with an electronically controlled multi-point fuel injection system and a high-pressure semi-return fuel system. The intake manifold is made of composite material for lightweight configuration. It fitted with an electronic throttle body (drive-by-wire). The stainless steel 4-1 exhaust manifold has an integrated catalytic converter.
The K15B engine follows the global design trends - it is lightweight, compact, and fuel-efficient. Despite a small displacement, in Suzuki Jimny, the K15B delivers strong low- and mid-range torque maintaining excellent off-road driving capability.
K15B 1.5L Smart Hybrid
The all-new K15B engine also comes with the Progressive Smart Hybrid Technology developed by Suzuki. This technology features an advanced dual battery setup, and integrated starter-generator mounted in place of a conventional alternator. The starter-generator unit provides brake energy regeneration during deceleration, torque assist functionality during acceleration, and engine start-stop function.
Engine Specs
Manufacturer
Suzuki Motor Corporation
Production years
2018-present
Cylinder block material
Aluminum
Cylinder head material
Aluminum
Fuel system
Multi-point fuel injection
Bore, mm
74.0 mm (2.90 in)
Stroke, mm
85.0 mm (3.30 in)
Displacement, cc
1,462 cc (89 cu in)
Type of internal combustion engine
Four-stroke, naturally aspirated
Compression Ratio
10.0:1
10.5:1
Power, hp
102-105 hp (75-77 kW)/ 6,000
Torque, lb ft
96-102 ft-lb (130-138 Nm)/4,000-4,400
Engine oil weight
SAE 0W-16
Engine oil capacity, liter
3.6 l (3.8 qt) with oil filter - Suzuki Jimny
Oil change interval, mile
6,000 (10,000 km)/12 months
Applications
Suzuki Jimny /Sierra, Suzuki Ciaz, Suzuki Ertiga, Suzuki XL6/XL7, Suzuki S-Cross, Suzuki Vitara Brezza
Suzuki 1.5 K15B Engine Problems and Reliability
The new 1.5L K-series engine appeared on the market relatively not long ago, and it is too early to speak about its common problems due to a lack of data. However, the new owners have complaints about increased oil consumption from the beginning, which is probably the norm for this engine. Also worth noting, despite conventional fuel injection, modern advanced injectors used for superior atomization are sensitive to fuel quality.