VW/Audi 1.8 TSI/TFSI EA888 Gen 1/2/3 Engine Specs, Problems & Reliability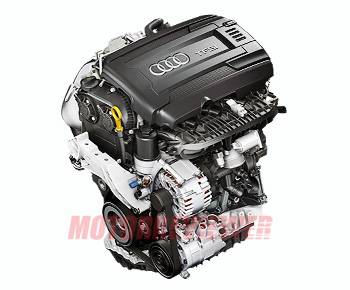 The 1.8 TSI / TFSI engine of the EA888 family was designed and developed by AUDI AG and introduced in 2007. It is a 1.8-liter four-cylinder gasoline turbocharged engine with direct fuel injection. The EA888 1.8 TSI and 2.0 TSI engines replaced the EA113 series 1.8-liter and 2.0-liter engines. The 1.8 TSI EA888 is continually refined and already has three generation described below.
1.8 TSI EA888 Gen1
The 1.8TSI Gen 1 by Volkswagen's codes BYT and BZB was a replacement for the 2.0 TSI EA113 engine. This engine was developed from scratch; the 88 mm (3.46 in) cylinder spacing is the only common feature with the predecessor.
The engine is built around a grey cast iron cylinder block and crankcase. This is the strong and reliable material which also has good acoustic dampening properties. For vibration reduction, the crankcase was equipped with two chain-driven counter-rotating balance shafts. The engine block height is 220 mm now. The engine got steel crankshaft with eight counterweights, new aluminum alloy pistons, and 148 mm long connecting rods. The 1.8TSI Gen 1 has an aluminum 16-valve cylinder head with chain-driven double overhead camshafts. The intake camshaft has a variable intake valve timing adjustment system. There are four valves per cylinder (two intake and two exhaust valves). The intake valve diameter is the 34.0 mm; the exhaust valve diameter - 28.0 mm; stem diameter for both valves is 6 mm. The valves are actuated by low-friction roller finger cam followers equipped with automatic hydraulic valve clearance compensation.
The engine has a variable length intake manifold made of plastic and BorgWarner KKK K03 water-cooled turbocharger integrated into cast iron exhaust manifold. The turbocharger provides the max pressure of 0.6 bar (8.7 psi). The fuel is delivered by a direct fuel injection system with sequential solenoid-controlled six-hole fuel injectors. The ECU for 1.8 TSI EA888 Gen1 is Bosch Motronic MED 17.5. The 1.8 TFSI engines for Audi applications (CABA, CABB, and CABD engines) feature the Fuel Stratified Injection (FSI) system and variable oil pump. The first generation of 1.8TSI EA888 was produced until 2010, but the second generation appeared already in 2008 (a year later after Gen1 was released).
1.8 TSI EA888 Gen2
The engineers quickly made work on bugs and released the second generation in 2008. The Gen 2 of the 1.8TSI engine for some time was produced together with Gen1, but the Gen2 became the most widespread version. It has the next engine codes: CDAA, CDHA, and CDHB. The engine got the new steel crankshaft with the reduced diameter of the main journals (from 58 mm to 52 mm). There are new pistons and piston rings caused the major problem with high oil consumption. All engines now are equipped with the variable oil pump. In the rest, it is the same Gen1 engine with minor changes in small details and ECU tuning. The production of 1.8TSI Gen3 continued until 2015.
1.8 TSI EA888 Gen3
The 1.8TSI EA888/3 or Gen 3 was released in 2011. This engine was offered at first for Audi vehicles and later for other brands of VW Group. The third generation is a deeply redeveloped previous generation and almost the new 1.8-liter engine in the EA888 family.
The engine has a new light-weight cylinder block with thin walls. The new durable and light crankshaft now has only four counterweights. The pistons and connecting rods also were redesigned. The most noticeable difference is the new cylinder head. It is a 16-valve aluminum DOHC cylinder head with an integrated exhaust manifold. Both camshafts come with variable valve timing system. In addition to that, there is a two-stage valve lift control switched after 3,100 rpm. The timing chain stays untouched, but the chain tensioner was replaced with a new one. The fuel system includes the combination of the direct fuel injection inside combustion chambers and traditional multipoint fuel injection before the intake valves. The 1.8TSI EA888/3 is equipped with IHI IS12 turbocharger. The max boost pressure of the new unit is 1.3 bar (18.8 psi).
The car model with longitudinal engine location has the next engine codes - CJEB, CJEE, CJED; CJSA is a transverse engine. Four-wheel drive vehicles usually have the CJSB engine version. The most common 1.8TSI Gen3 engines for the North American market are CPKA and CPRA.
Engine Specs
Manufacturer
Volkswagen AG
Production years
2007-present day
Cylinder block material
Cast Iron
Cylinder head material
Aluminum
Fuel system
Direct fuel injection; Direct injection + multi-point injection
Bore, mm
82.5 mm (3.25 in)
Stroke, mm
84.1 mm (3.31 in)
Displacement, cc
1,798 cc (109.7 cu in)
Type of internal combustion engine
Four-stroke, turbocharged
Power, hp
120-170 hp (88-125kW)/ 4,000-6,200
Torque, lb ft
170-240 lb-ft(230-320 Nm)/ 1,500-4,800
Engine weight
144 kg (318 lbs)
Engine oil weight
VW 502 00; SAE 5W-30, 5W-40
Engine oil capacity, liter
4.6 - Gen 1, 2; 5.7 (6.0 qts) - Gen 3
Oil change interval, mile
9,000 (15,000 km) or 12 month
Applications
VW Jetta Mk5/Sagitar, VW Passat B6, VW Passat CC, Audi TT Mk2 (8J), Audi 8P A3, Audi B7 A4, Audi A4 (B8), Audi A5, SEAT Leon Mk2 (1P), SEAT Altea XL, Skoda Yeti, Skoda Octavia Mk2 (1Z, Ming Rui), Skoda Superb Mk2 (3T)
1.8 TSI EA888 Engine Problems and Reliability
The Gen 1, 2 and even Gen 3 have the problem with a stretched out timing chain. It usually happens nearly after 60,000 miles (100,000 km). The problem is accompanied by a high engine noise and unstable operation and can lead to serious engine damages. The Gen3 has a new tensioner and these engines are less prone to such malfunction.
The Gen2 is well known due to its love to consume a lot of oil. That common problem is caused by too thin piston rings. The oil consumption is very progressive and goes up to 2 liters by 1,000 km at mileage around 100,000 km (60,000 miles). The solution is replacing the stock Gen2 pistons by pistons and piston rings from the Gen1 engine. The Gen1 and Gen3 don't have that issue in problems list.
Approximately on the mileage ranges of about 100,000 km (60,000 miles) or earlier, the adjustment of the turbocharger actuator is necessary for Gen3 engines.
The direct injection engine has an unavoidable issue with carbon build up on the intake ports and the intake valves. The fuel is added directly into the cylinder rather than injected into the port and washed out carbon deposit. That leads to restricted airflow, additional weight on valves and bad closing gaps. The engine will produce less power and consume more fuel. The Gen3 engines have fuel injection into the ports in addition to the direct injection; in this case, the last generation stays away from that problem and keeps the intake components relatively clean.
Unstable longevity, high oil consumption, timing chain problems made a bad reputation for the 1.8 TSI EA888 among car owners all over the world. Unfortunately, the most popular engine 1.8TSI Gen2 has labeled not only itself but the all 1.8 TSI EA888 family as unreliable engines.
Despite the above problems and issues, these engines are quite good. They produced a lot of power and torque at the same time consumes less fuel than competitors. All generations are easy to tune by simple ECU remap (Stage 1). Engines after Stage 2 and 3 (more efficient exhaust, performance turbocharger, and ECU upgrade) show amazing numbers in power and torque. Like all turbocharged engines with direct injection, the 1.8 TSI EA888 engine requires the high-quality oil and fuel, regular and proper maintenance. With reduced maintenance intervals and a good care, the stock Gen1/Gen3 engine life is about 150,000-200,000 miles (250,000-300,000 km); unpredictable expensive repair at 60-80k miles for Gen2 engines is highly potential.
Modifications
CABA - 88 kW (120 hp) at 4,000-6,200 rpm, 170 lb-ft (230Nm) at 1,500-3,650 rpm. Application: Audi A4 (B8), SEAT Exeo.
CDAA - 118 kW (160 hp) at 4,500-6,200 rpm, 180 lb-ft (250Nm) at 1,500-4,500 rpm. Application: Skoda Yeti, SEAT Leon Mk2 (1P).
CDAB - 112 kW (152 hp) at 4,300-6,200 rpm, 180 lb-ft (250Nm) at 1,500-4,200 rpm. This is a Skoda Yeti engine.
CDHB - 118 kW (160 hp) at 4,500-6,200 rpm, 180 lb-ft (250Nm) at 1,500-4,500 rpm. This version is for Audi A4 (B8), Audi A3 Mk2 (8P), Audi TT Mk2 (8J), SEAT Exeo.
CJEB - 125 kW (170 hp) at 3,800-6,200 rpm, 240 lb-ft (320Nm) at 1,400-3,700 rpm. Application: Audi A4 (B8) (2012-), Audi A5.