6BT 12 Valve Engine Review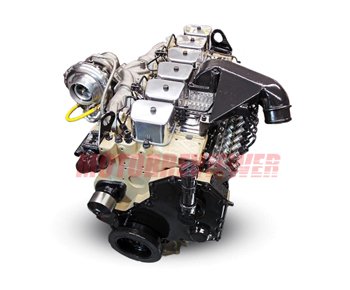 The 6BT is the most famous engine of B series. 5.9 liters Cummins engine was the first diesel engine used in full-size pickup trucks as an alternative to the big V8 gasoline engines. The production was started in 1984. The engine was developed as an engine for Case agricultural equipment. But in the future, the 6BT was widely used in light, medium and some heavy duty trucks and buses. The turbocharged 12 Valve Cummins engine found big popularity in 1989-1998 Dodge Ram pickup trucks for a huge torque at low rpm and all engine speed range, and a better fuel mileage compares to Dodge's gasoline V8 engines.
The 6BT engine has the smaller brother - 3.9L 4BT engine. They both have the same architecture (inline engine) but a different number of cylinders. The Cummins 6BT engine is inline 6 cylinders 5.9 liters turbocharged diesel engine (turbodiesel). The engine has cast iron engine block and cast iron cylinder head. The valvetrain is 12 valve OHV (2 valves per cylinder), solid tappets. In this order, the engine is often named as 12 valve Cummins. There is a set of timing gears at the front end of the engine, no belts or chains. An oil pump and a fuel pump are driven by gears also. The engine uses reliable and easy to be tuned mechanical injection pump, mechanical fuel injectors. Before 1994 the engines were equipped with Bosch VE44 rotary injection pump, but some early versions have CAV rotary injection pump. 1994+ engines have Bosch P7100 injection pump. All 5.9l engines were equipped with a turbocharger and since 1991 with air-to-air intercooler. Turbochargers are made by Holset - Holset H1C (1989-1993), Holset WH1 (1994), Holset HX35 (1994-1998). For helping to start an engine in a cold weather there is the grid heater mounted on the intake manifold, instead of a traditional glow plug system.
The engine was being offered with such transmissions like Chrysler 47RH (4 speed automatic), New Venture NV4500 (5-speed manual), and GETRAG G360 (5-speed manual). The 12 valve engine was being produced before 1998 and then was replaced by new 24 valve engine - 5.9L ISB Cummins.
Engine Specs
Cylinder Block Material
Cast Iron
Fuel system
Direct Injection (DI), mechanical injection pump
Stroke, mm
4.72 inch, 119 mm
Bore, mm
4.02 inch, 102 mm
Compression Ratio
17.0 : 1
Displacement, cc
359 cubic inches, 5.9 liters
Torque, lb ft
400 - 440 (542-597 Nm)/1600
Engine weight
1100 lbs, 499 kg, dry
Engine oil viscosity
SAE 15W40 diesel oil with a dual rating of at least CF4 and at least SG
Engine oil capacity, liter
12 qts (11.4 liters) with filter.
Oil change interval, mile
6,000 (10,000 km) or 6 month (3000 miles for severe duty)
Oil consumption per 1000 miles as normal
-
Applications
Dodge Ram pickup trucks, buses, marines, agricultural equipment, construction machinery
12 Valve Cummins Reliability and Problems
The cast iron engine block and the head is the basis for good reliability and longevity. There is not a lot of electronics and nothing fancy. The 6BT is a simple diesel with mechanical pump and injectors. It makes it undemanding to a quality of fuel. The 12 Valve Cummins engines are well known for starting quickly in any weather condition also.
But the engine has some faults. One of them is clogged grid heater. It is mounted between air tube and intake manifold. Over time, the heating element is covered with soot caused bad airflow into the intake manifold. In this case, an engine takes a little longer to start than normal, and die sometimes while idling or at low rpm's, consumes more fuel. The other problem of 12 valve engine is called as The "Killer Dowel Pin", or KDP. The engine has a steel dowel pin is pressed into the block located near a bolt between timing gear and fuel pump gear. Engine vibration slightly pushes this pin to back out. The pin may fall between the timing gears and cause a huge damage to the engine (blend valves, brake pistons, and timing gears). But there are a few very cheap solutions how to prevent the engine from this dramatic outcome on the market.