4BT 3.9L Engine Review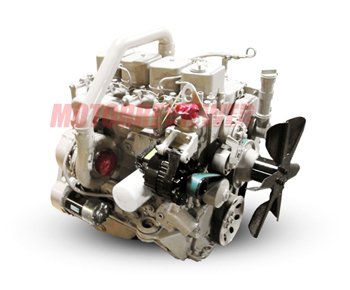 The 4BT engine is inline four cylinder water-cooled turbodiesel engine in the Cummins B series. The 3.9 liters strait-four together with 5.9 liters straight-six (12 valve Cummins) are the most popular engines in B series. There are 3.3 liters and 4.5 liters 4 cylinder engines also available.
The engine has cast iron engine block with engine bores machined directly into the block. All 4BT engine blocks are the same and they have a different transmission adapter plate only depending upon the application. The engine valvetrain is OHV. A camshaft is mounted into the block and driven by crankshaft through gears in the front end of the engine (as well as oil pump). The camshaft opens and closes valves pushing through rocker arms by pushrods and solid tappets. The cylinder head is made of cast iron too. The intake and exhaust ports are on opposite sides (crossflow cylinder head). There are 8 valves, 2 per cylinder. The 4BT features the mechanical direct injection system. The early versions equipped with the P7100 mechanical injection pump driven through a gear by camshaft's gear.
The 4BT engine has turbocharger but it is non-intercooled. Intercooled version (named as the 4BTA, where letter A means "Aftercooled") has lower compression ratio 16.5:1. Lower compression and cool air allow giving higher boost. The 4BTA engine is more performance, produced more power and torque, and more suitable for installation in a small truck or pickup, but keep in mind what the 4BTA is an industrial engine. Automotive charge air cooled engines have different numbers depending upon model and year of production. There is an industrial naturally aspirated version named as the 4B with 18.5:1 compression ratio also available.
The 4BT is very similar to the 6BT. It has the same architecture and many their parts are interchangeable. The pistons, injectors, connecting rods, valves, pushrods, and rocker arms are identical. The 4BT is a smaller displacement and shorter in length 4 cylinder version of the 12 valve Cummins engine.
The 4BT is not inherently balanced like 6 cylinder 6BT engine, so it produces a lot of vibrations and so smooth in operation compare to the 5.9 liter Cummins. The 3.9 liter Cummins was popular for many commercial step van applications (Chevy Step Vans for example), including bread vans and other commercial vehicles. The 4B engines were commonly used in industrial equipment such as power units, drilling machines, big water pumps, wood chippers and etc. In our day it has big popularity as an engine swaps in Jeeps, Dodge pickups and smaller trucks/SUVs.
Engine Specs
Cylinder Block Material
Cast Iron
Fuel system
Direct Injection (DI), mechanical injection pump
Stroke, mm
4.72 inch, 119 mm
Bore, mm
4.02 inch, 102 mm
Compression Ratio
17,5 : 1 (4BT)
16.5 : 1 (4BTA)
18.5 :1 (4B)
Displacement, cc
239 cubic inches, 3.9 liters
Power, hp
80-130/2300-2600
Torque, lb ft
243 - 391(330-530 Nm)/1600-1700
Engine weight
855 lbs, 388 kg dry
Engine oil capacity, liter
10 qts (9.5 liters) with filter
Oil change interval, mile
6,000 (10,000 km) or 6 month
Oil consumption per 1000 miles as normal
-
Applications
Industrial equipment, commercial vehicles (step vans, trucks), marines and boats
4BT Cummins Problems and Reliability
The 3.9 liter engine was widely used in different applications, that means it can be found easily and for really cheap price. The B series engines require very few electronics, they are simple and cheap to rebuild and repair. The P-pump engines are easier to modify and more reliable compare to modern electric VP pumps. But the fact is the 4BT is old, heavy diesel engine. It is noisy, shaky, smoky as an old diesel. The engine is quite difficult to install under a hood of a small vehicle due to large dimensions, it is tall and weight so much, also need a place for an intercooler and pipes. It is not enough power for a full-size truck or SUV, at the same time its weight puts more strain on a front suspension and make a negative effect on the handling of a small 4x4 vehicle.